Bookroo is a monthly book subscription for kids! With this subscription you can choose between board books (best for ages 0-3) and picture books (2-6+). The retail value of the books you receive will always be above the subscription cost, and the shipping is free.

Your books will arrive neatly wrapped in gift paper and tied with a bow. What a lovely touch and what a great gift for a grandparent to pick up!  Throw on a card and bow, and they would be presentable at any gift-giving occasion.  The paper was also slightly rubberized (not tyvek, but similar to other mailing packs), so the books are both pretty and well protected.  The care with which the books were packed tells me the curator has a great love and respect for books.
The two books in the box. We received the picture book box!  Each story was geared to the very young, and the rich illustrations make these great books for reading to a child.  The relatively simple storylines, basic language, and cute characters also make these accessible books for early readers to explore independently.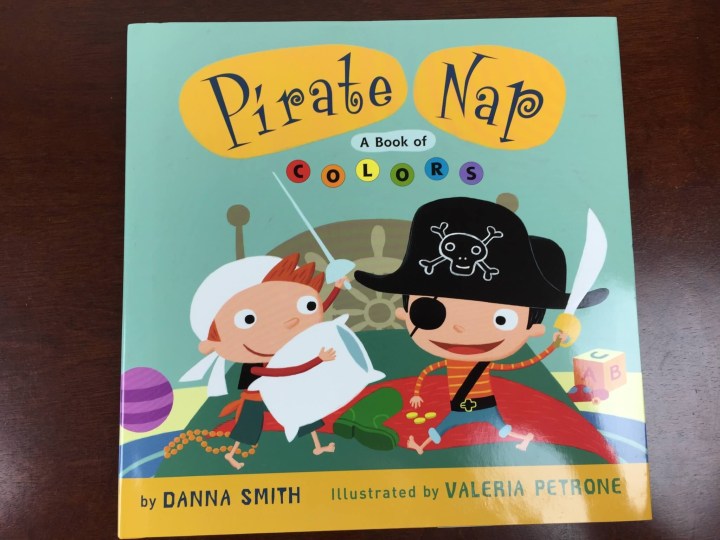 Pirate Nap: A Book of Colors ($12.33):  28 full-color illustrations track the daring exploits of tiny pirates as they swashbuckle, hunt for treasure, and battle monsters.  Each segment of the story features a color, set out in appropriately hued letters.  A fun and light story for reinforcing colors and practicing early reading.
The color names are set out to help kids associate colors with their written names.
Hugless Douglas and the Big Sleepover ($11.43):  Douglas the bear heads to his friend Rabbit's for a sleep-over.  On his way, he recruits a flock of sheep to join him, and the gang squeeze in to Rabbit's for the party.  Cute illustrations adorn each page, and kids will get plenty of practice counting to ten (counting sheep, in fact) with the gentle encouragement of a reading buddy.  The simple story is easy to follow, and an illustrated two-page spread at the end asks kids, "what would you bring on a sleep-over," offering some practical suggestions.
The total suggested retail price (SRP) for the books is about $28, and I wouldn't expect to find them at a children's book store for less than $20 (at time of review, the combined Amazon price was almost $24)  — so Bookroo's subscription price has come in under the SRP as promised, but also at or below the actual discounted retail price, which is unusual (and great!) for a book subscription. We were impressed with this one!
Visit Bookroo to subscribe or find out more!
The Subscription
:
Bookroo
The Description
: A subscription to Bookroo is intended to be an inexpensive way for parents to grow their child's personal library of books. Choose between board books or picture books.
The Price
: $19.99 per month
The Coupon
: Subscribe and gift a free month to a friend!