Pupjoy is a monthly subscription box for dogs that finds the healthiest dog treats with clear ingredient labeling, well-crafted dog toys and artisan accessories for the discerning pup. There are two box sizes, and each is totally customizable to whether you want grain-free treats, the play habits of your dog, the size of your dog, etc. Like all dog subscription boxes the best deal is on a year long subscription stacked with a coupon code.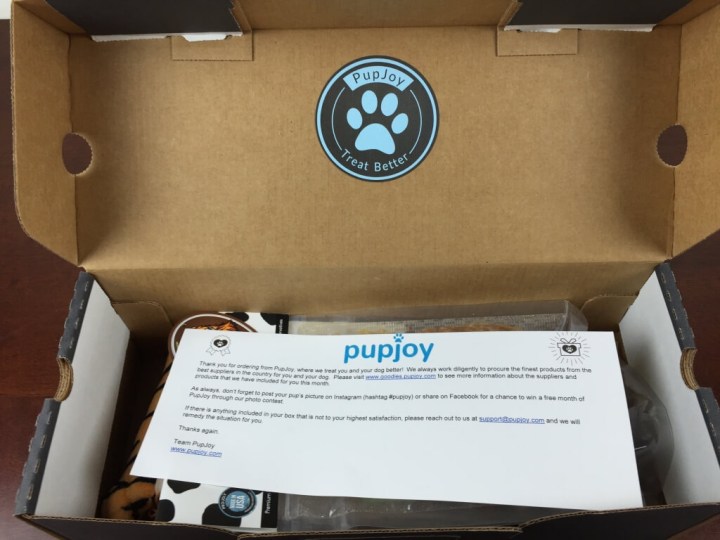 You can select toys, treats, or mixed boxes, grain free or training specific only treats, and tailor your toy preferences.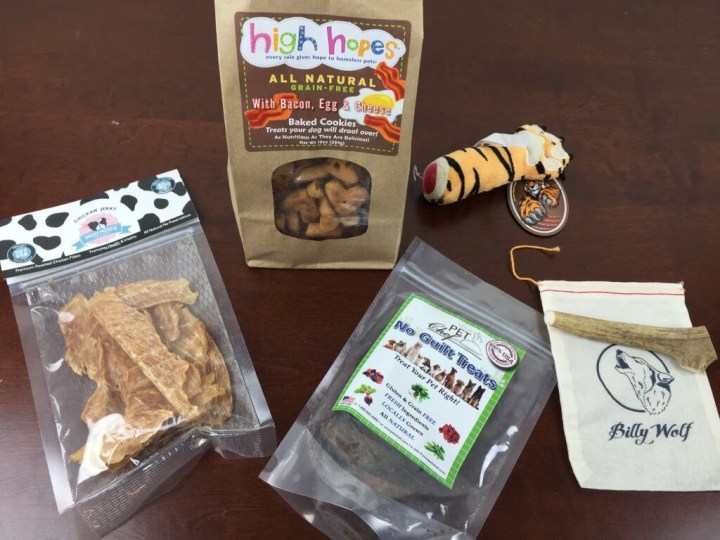 Everything in the box.  We think that this is the Grande box. This month Pupjoy sent a mix of toys and treats. We feel that sending toys every other month is a great schedule for her – she isn't a destructive dog. For big chewers and dogs that tend to go through toys, you can get more toys in your box!
High Hopes Baked Cookies with Bacon, Egg & Cheese ($7.99):  These grain-free treats rely on chick pea and potato flours to create their hearty crunch.  You can smell the peanut butter and cheddar cheese that is baked into them.  My dog isn't crazy about peanut butter, but she really went for these.
Your Pet Chef No Guilt Treats ($10):  Lamb, carrots, cucumber, and kale are the only ingredients, which means they are gluten and grain free!  The lamb was enough to keep my dog's interest.  The dried treat is like a biscuit-jerky hybrid — meaty, but easily breakable.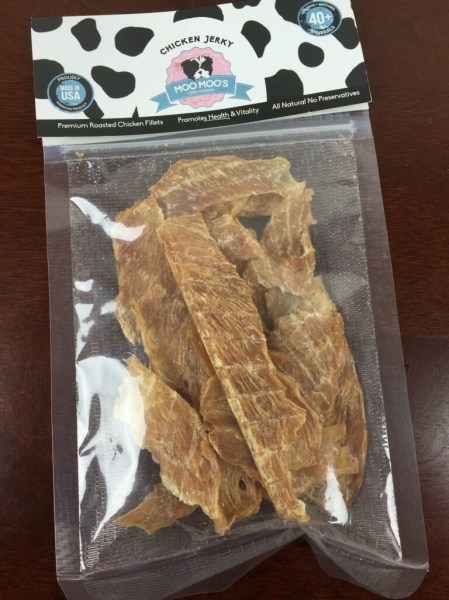 Moo Moos Chicken Jerky ($4.99):  These look like ordinary chicken jerky, but they are far from it.  I expected to find one or two ingredients on the package, but there are no less than 42 ingredients in this jerky — from algae and oyster shell to primrose and pine bark.  Amino acids are also added to "promote vitality." This is a neat find!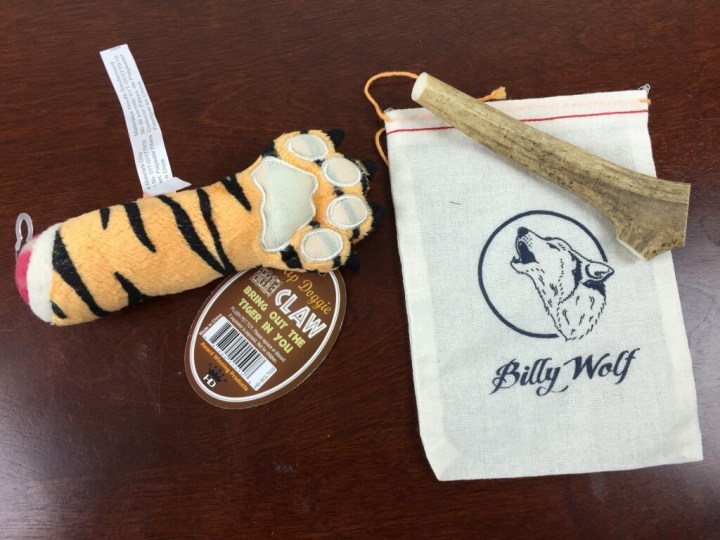 Hip Doggie The Claw Toy ($7.50):  a bit twisted, this plush is about 5″ long and is made to look like a severed tiger's leg.  The plush is very soft and actually pleasant to handle, and there is a squeaker inside to keep your dog engaged.
Billy Wolf Antler Toy ($16):  Clearly made of real antler, this approximately 5″ section is cut clean at the ends and makes for a very durable chew toy.  Cool toy for a small dog and we were happy to receive toys that were customized for Lindy's size!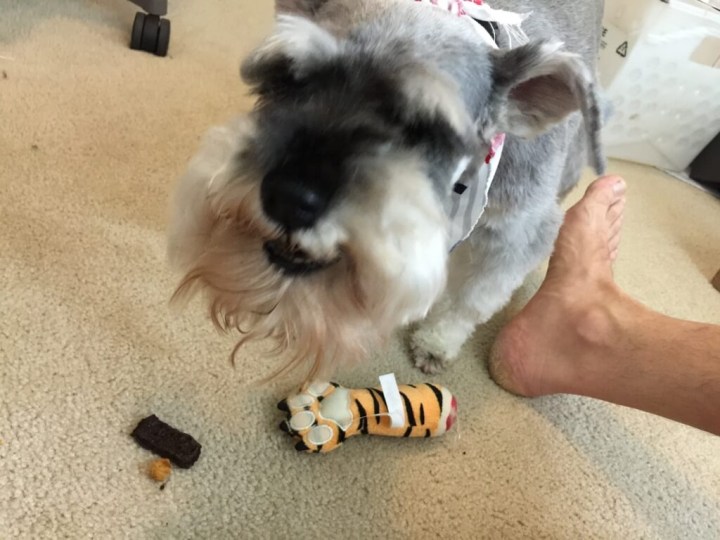 Taking a picture of a dog enjoying a snack is really difficult but yum! She loves it! The total value of our July box was about $46.50, so the value/price ratio is decent — especially since the last thing I have time for is shopping for dog treats and toys.  It's definitely nice having the subscription — we always have something healthy on hand that my dog loves, and we don't have to resort to table feeding to treat her (which she demands constantly)!
Visit Pupjoy to subscribe or find out more.
The Subscription
:
Pupjoy
The Description
: PupJoy resets the bar for dog subscription services, with fully customized ordering, concierge service and free home delivery. 4-6 healthy and high-quality products customized to your dog's preferences and dietary needs!
The Price
: $29 per month, $39 for the Grande (save lots on a year-long plan)
The Coupon
: Use code
HELLOSUBSCRIPTION
to save 10% on any subscription!