PawPack is a subscription box for dogs or cats.  Every month you'll get 5 or more items that are perfect for your furbabies!  10% of proceeds go directly to supporting rescue causes.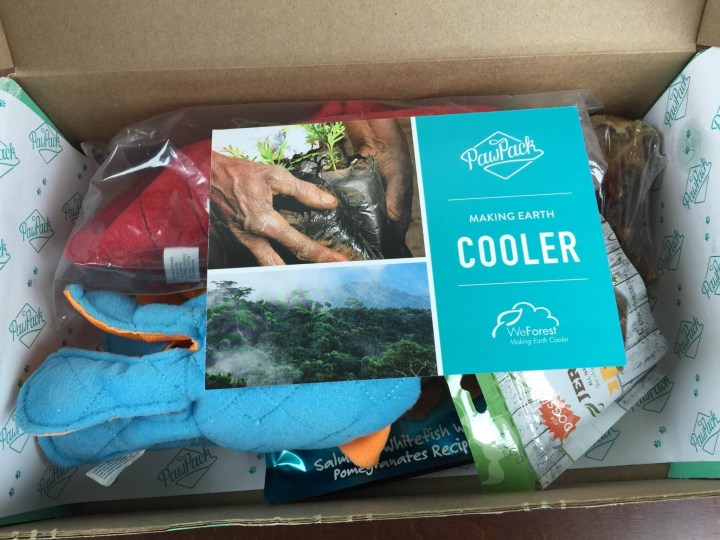 A PawPack box  for dogs or cats includes 6-7 full sized surprise items each month along with various samples and other goodies. Everything will always be either Eco-Friendly, Organic, or All-Natural. There are 3 sizes for dogs – 0-20 lbs, 25-40, and 50+. Boxes are $35 per month (down to $25 per month on an annual plan) and you can save 10% on a subscription with the coupon.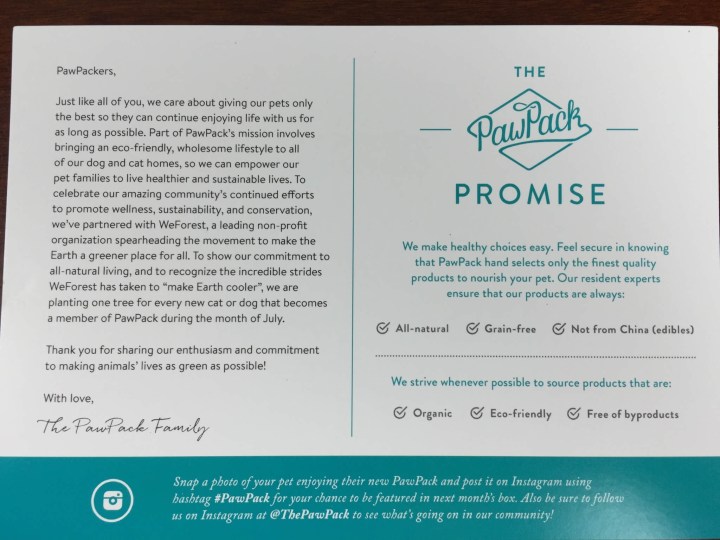 There's no information on the card, just a note on the back – this month was about making Earth cooler. They're donating money to plant a tree for every dog or cat that joins during July!
Everything in the July 2015 box! There were only 5 items in this month's box. I'm not sure if the 6-7 items changed, or they forgot or..?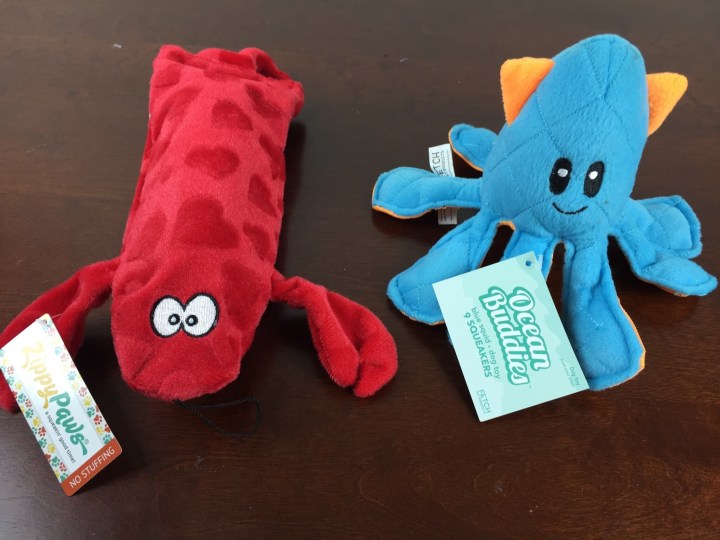 ZippyPaws Water Bottle Crusherz Refillable Plush Dog Toy ($6.22) This is super cute and fun for any dog that loves attacking water bottles.
Ocean Buddies Blue Squid Dog Toy ($12.99) NINE squeakers! Probably the most I've ever seen in a dog toy!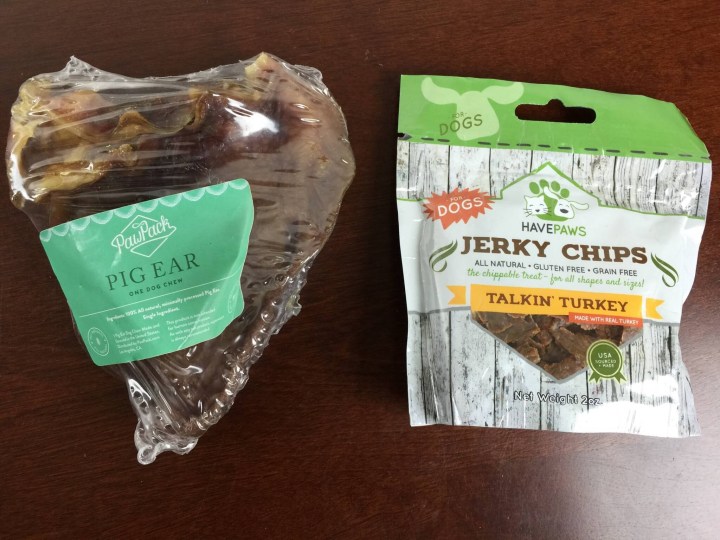 PawPack Pig Ear (~$2) Nice and disgusting, just the way my dog loves them. Sourced in the USA.
HavePaws Jerky Chips in Talkin Turkey ($5) Palatable turkey flavor – grain and gluten free, and free of artificial flavors, colors and preservatives. It's also USA sourced, which I appreciate. I don't think I've ever found a non-US treat in this box.
Wellness Core Superfood Protein Bars – Salmon & Whitefish with Pomegranates Recipe ($5.54) OMG this smells so terrible and my dog loves it so much.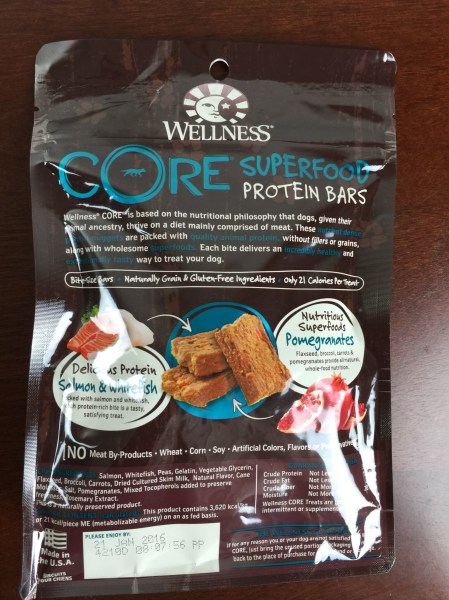 I love Wellness Core for my dog – no fillers or grains, lots of pure proteins, with superfoods packed in. I find that my dog loves all the superfoods (sweet potatoes, blueberries, etc.) and I guess she loves this one too!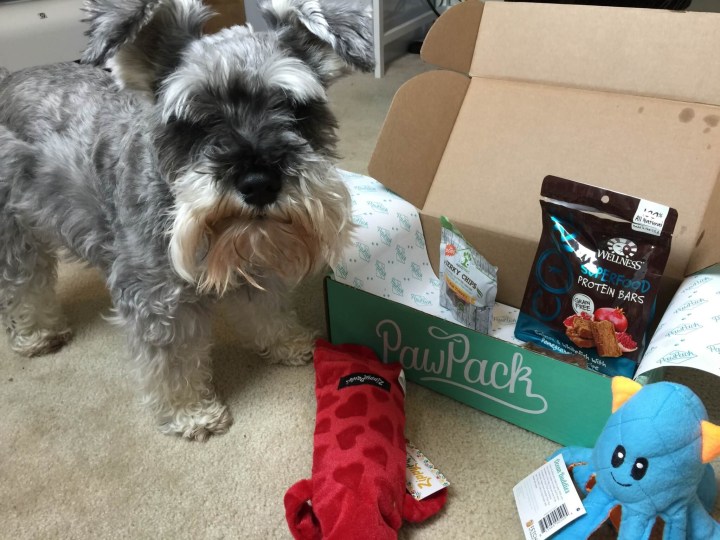 I loved that there was a great beach theme to the toys and one of the snacks this month! I have had intermittent problems accessing their site so if it says something about a redirect loop, I guess it will be back up later (they've been moving site platforms). We always find that the value of this box tends to be right at the box cost, and this month (at $31.75) was a bit lower than the cost of the box, which was disappointing.  If you sign up for a full year you probably won't be disappointed in the value, but I had wished there was one more item this month! Lindy was perfectly happy and her little pigdog self is behind me right now asking for more.
Visit PawPack to subscribe or find out more, or check out all our PawPack Reviews. Save 10% on all plans with coupon code mommysplurge – awesome deal on 1 year subscriptions! Find more subscription boxes for dogs in the pet subscription box directory.
The Subscription
:
PawPack
The Description
: This subscription box for dogs or cats will bring 5 or more carefully selected presents to your door every month! Everything will always be either Eco-Friendly, Organic, or All-Natural. PawPack features hypoallergenic products that are all natural and always GRAIN FREE!
The Price
: $35 per month ($25 per month on an annual plan)
The Coupon
: Save 10% on all subscriptions with coupon code
mommysplurge
!