Le Parcel is a period subscription box that will send you all the supplies you need for that time of the month plus a gift and some sweet treats. It's $20 per box, including shipping, and you can save 25% off your first month with promo code 254ME

Note: due to multiple subscriber complaints on the blog (and our inability to reach out to customer service) we recommend checking out the period/time of the month boxes in the directory.
All your period supplies come sealed up in these fun bags. You can choose up to 25 menstrual supply items – tampons, pads, and liners. You will also select the date of your last period as well as the frequency.
I was crazy impressed by the options of this period subscription box – I chose ultra, super, and super plus tampons.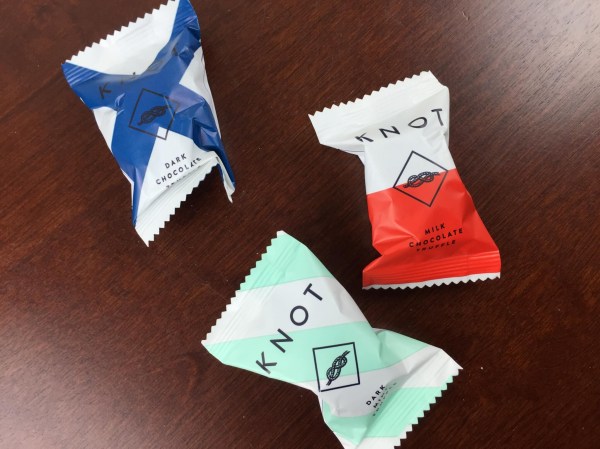 Knot Truffles in 3 flavors: milk chocolate, dark chocolate, and dark mint chocolate. I love these and they're the perfect must have chocolate now treat.
Bloke Green Tea + Sea Salt Natural Body Scrub ($4.67) A blend of matcha, sea salt, coconut and sweet orange oil. A great pampering item!
Me Om Mandarin Lotus Petal Hand Cream ($11.35) This is a nice thick moisturizing cream and it's not strongly scented. I think it's an excellent choice.
When I was checking out the features of the Le Parcel website last month I noticed that they offered light, regular, plus, super plus, and ultra Tampax Pearl tampons. I loaded up my parcel with 5 of each! Unfortunately 4 were missing from my shipment.
You can also select pads and pantyliners in a variety of brands and other options. I love the user interface for this subscription and the ability to really customize my period supplies, and the availability of hard to find absorbencies.
Visit Le Parcel to subscribe or find out more! Save 25% (before the shipping) on your first box with coupon code 254ME. You can also see more period and time of the month subscriptions in the directory.
The Subscription
:
Le Parcel
The Description
: Choose a combo of 25 tampons, pads, and panty-liners and have them sent just in time. Le Parcel sends chocolate in your package plus a special gift.
The Price
: $15 + $5 shipping per month