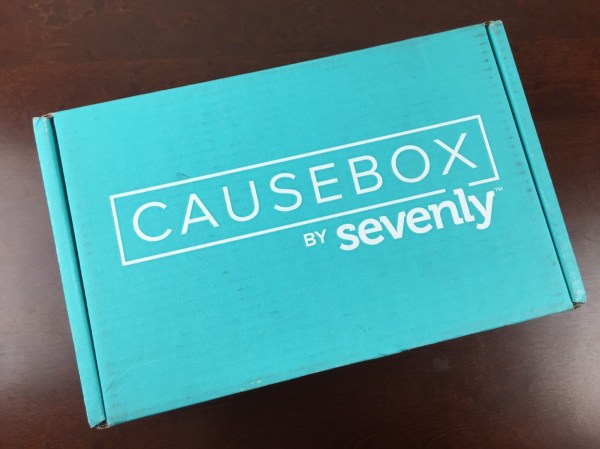 CAUSEBOX is a quarterly box from Sevenly sending a curated box of their favorite socially conscious products for women.

Every quarter you'll get $150 worth of items plus be able to designate where $7 of the purchase price is donated.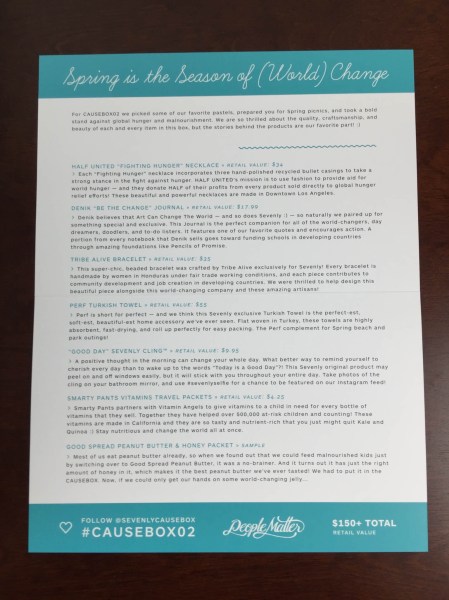 Half United Fighting Hunger Necklace ($34) This appeared in the last FabFitFun VIP box and I was honestly disappointed to see it in this box. It's a great item for this subscription and matches it really well… but it just appeared as an item in one of the largest subscription boxes for women. I already have 2. The recycled bullet casing symbolizes the fight against hunger but I admit, I wish they would move past the bullets.
Denik Be the Change Journal ($17.99) Love journals! Non-exclusive Denik journals sell for $11.95.
Tribe Alive Bracelet ($35) Crafted by Tribe Alive exclusively for Sevenly. Every bracelet is handmade by women in Honduras under fair trade working conditions.
I think the pricing for this is a more than a little disingenuous – Tribe Alive is selling it for $35 and donating $7. Similar bracelets are selling for $25 – and they have clasps!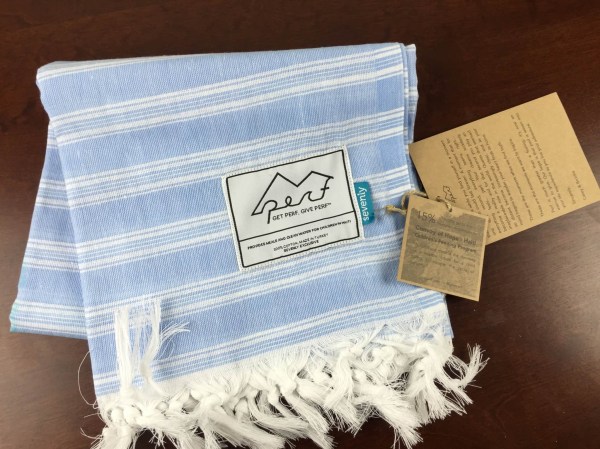 Perf Turkish Towel ($55) 15% of the proceeds from each towel go to provide clean water in Haiti. I get excellent quality towels on Amazon for about $15, so you can do the math and decide if its worth paying $40 extra to have 15% donated.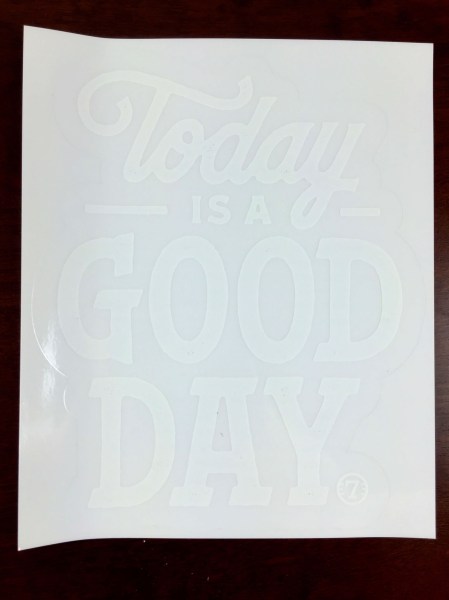 "Good Day" Sevenly Cling ($9.95) This is cute, I love it. I'm going to put it in my bathroom!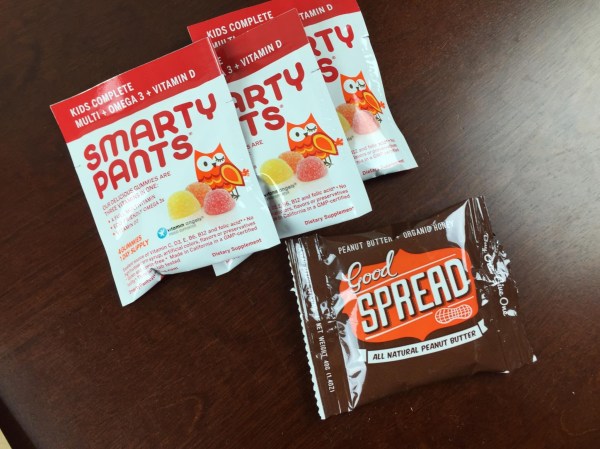 Smarty Pants Vitamins ($4.25)
Good Spread Peanut Butter & Honey Packet (Sample)

I liked that you know exactly how much money gets donated from each box – $7. I didn't like that the prices were extremely inflated, or that we received sample size items (the CAUSEBOX FAQ clearly states "Every item in the CAUSEBOX is full-sized!"). Do I think there was at least $55 of value (plus a bonus of $7 donation)? Absolutely! But I don't think is their best effort – and pales massively in comparison to their first box, which I missed out on. I think they should just be honest with the pricing, support socially conscious companies and the donations subscribers are making, and I would be perfectly happy. Do you agree? That being said, I'll use everything in this box except the necklace, so I'm happy with the items – there just weren't any "wow" items.
Visit CAUSEBOX to subscribe or find out more.
The Subscription
:
CAUSEBOX
The Description
: In each box, you will receive at least $150 worth of products for women from Sevenly's favorite socially conscious brands. We will also introduce a new, exclusive Sevenly product in each box (!) Everything inside the box reflects our belief that "People Matter." Also, every quarter, they donate $7 to a charity of your choice!
The Price
: $54.95 per quarter