Global Delights is an international food subscription box that takes you on a taste journey around the world!  Global Delights' focus is on diversity – tastes, textures, and countries. This is definitely one of our favorites precisely because of the diversity.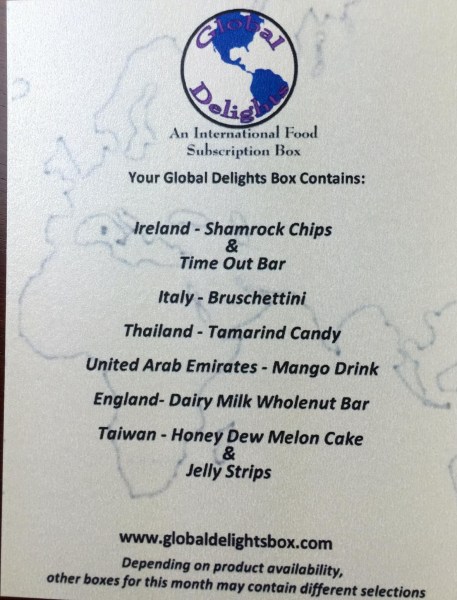 There's not really much information on the card – but I think that makes it fun to just explore the flavors and textures in the box!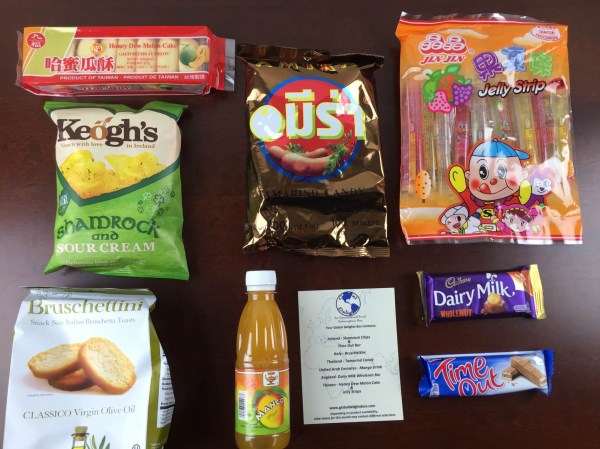 Everything in the March Global Delights Box.
Jin Jin Jelly Strips from Taiwan – These are so much fun and squeeze out a tube of jelly. The flavors are fantastic and they're less sweet than I'd imagined! The flavors are Grape, Green Apple, Lychee, Pineapple & Strawberry.  Loved the texture of this one.

Amira Tamarind Candy from Thailand – You can see from the main photo that this is a giant bag of tamarind candy.  Tamarind is an unusual taste and these plants grow in Africa & southeast Asia. My husband has been plowing through these hard candies – and used some to provide some flavor to some Thai rice noodles he cooked up too.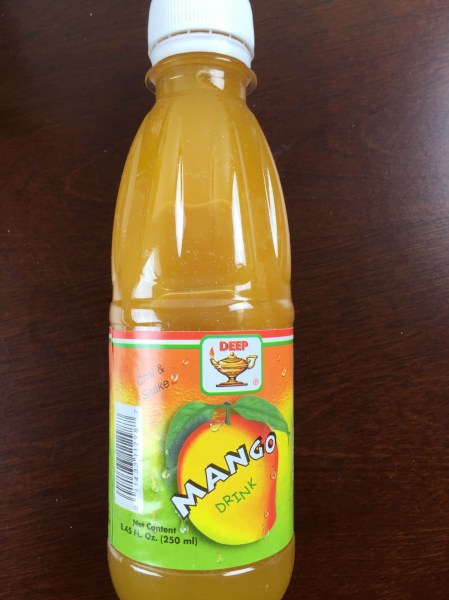 Deep Mango Drink from United Arab Emirates – Only water, Mango, sugar, and some citric acid to keep the color. We picked up some greek yogurt to make lassis. I didn't really associate this with UAE, more India, but I guess they sell it there too!
Asturi Bruschettini made with Classico Virgin Olive Oil from Italy – We ate these last night with all sorts of toppings – pate, Laughing Cow Cheese, basically anything we had around that you could stick on top of a toast. They're basically little toasts to make appetizers and they are light and crispy. We had a bag of these last month and we were happy to see them arrive in this box.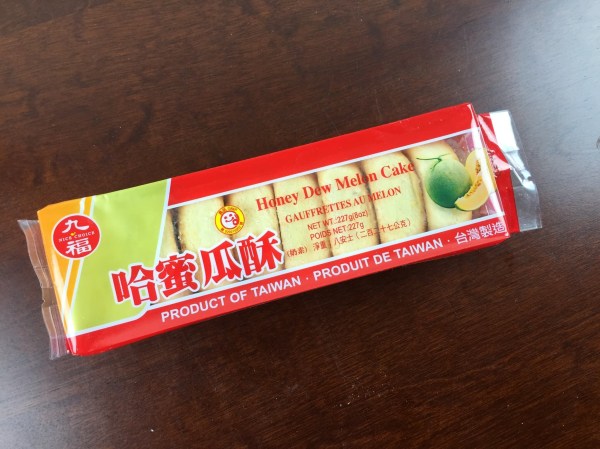 Nice Choice Honey Dew Melon Cake from Taiwan – This is like a Taiwanese version of a fig newton but it's all closed up on the end. I love honeydew and I loved the flavor of these! The inside is green and firm jelly like consistency and uses real honeydew melon. We all loved these!
Keogh's Shamrock and Sour Cream Chips from Ireland – Perfect choice for March of course, and the texture and flavor was incredible. You know how sometimes chips hurt your mouth because of the flavoring? These did not. They were exceptional.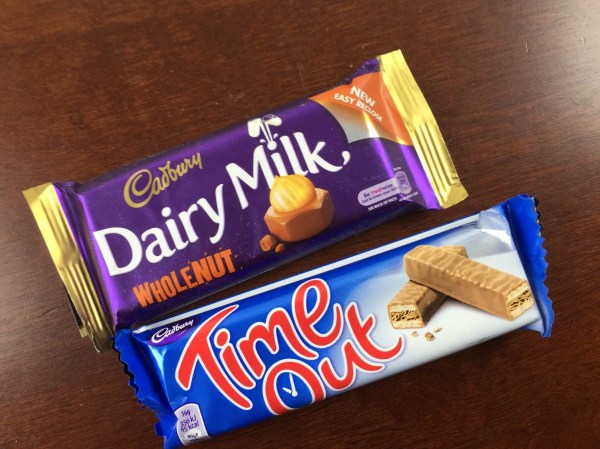 Cadbury Dairy Milk Wholenut Bar from England
Time Out Bar from Ireland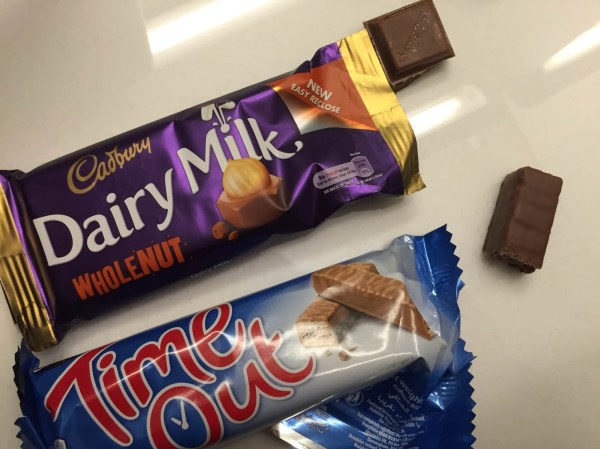 I took these two candy bars on my work trip last week and I was glad I had them with me. They were so delicious – I love getting Cadbury from England and the Time Out bar (made by Cadbury Ireland) was really good – It's like wafers with Flake in the middle – another kind of Cadbury bar. Delicious!
I don't do a cost breakdown on Global Delights but my family and I always find it to be fun to look up the foods and learn more about the countries they come from. This box always includes 1 or 2 really big items and we find that they are super enjoyable and I think Global Delights really pays attention to providing a variety of texture and tastes.
Visit Global Delights to subscribe or find out more! You can also check out all my Global Delights Reviews or check out all the international food subscriptions in the directory!
The Subscription
:
Global Delights
The Description
: Get a monthly box filled with an array of global delights – delicious finds from a wide variety of countries. You will receive at least seven international food items. Foods will range from cookies and candies to soups and entrees, nothing is off limits!
The Price
: $36 per month