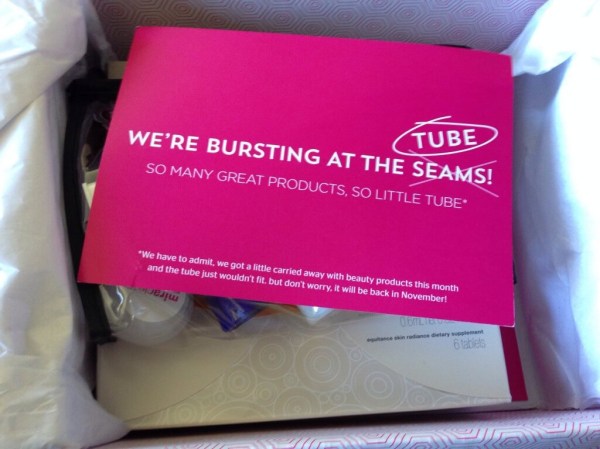 No tube in the September New Beauty TestTube! Waaaah! I have my whole collection of them here and ready for my aunt, whom I am going to force to do something wildly imaginative and awesome with (she's coming to watch the kids when I have the baby). She doesn't know about this yet.  Anyhoo, New Beauty TestTube is a sampling subscription that comes in a big box with a tube (usually) of your samples. You also get a subscription (it arrives quarterly) to New Beauty magazine.  It doesn't come with an information card, but a huge booklet. However, this is a quickie review (let's be honest, 90% of them are going to be really fast for the next month or so, I'm having a baby in 12 days! I'm not reminding you, it's pretty much the only thing on my mind at this point. But it is nice to get boxes in between thinking of everything I'm not ready for…). If you want to see the booklet, see all my New Beauty Test Tube Reviews.
Molton Brown Pink Pepperpod Nourishing Body Lotion ($14) I have some from another tube still, but I love this scent. Mine is almost gone so I am happy to have more. It's fantastic.
Eau Thermale Avene ($4) Hospital bag. I love spray water. I do. And this is perfect for rehydrating skin with zero work.
It's a 10 Miracle Leave-In Product ($10) This is a dupe but I love it on my son's dry straw-like hair!
OH NO my photo cut off this item! For real, Supersmile Toothbrush ($9) I was happy to get this because I can always always use another toothbrush.  Some people got YBF eyebrow pencil, a face mask, dr. brandt product, etc. Basically there were variations!
Lumene BB Serum (sample) CC cream, no color. I didn't try it because I had literally just rubbed in some Vitamin C serum on my face moments before opening this box.
Miracle 10 Cosmetics AHA Gentle Exfoliating Cream ($13) I love AHA anything. Usually I just buy alpha hydrox so I'm excited to try this new brand.
Equitance Brightening Collection ($37) I was pumped about this for several reasons! 1 – I haven't unpacked my stuff and 2 – I have noticed that the skin tone on my face is terrible. I have been working on pregnancy-related melasma for 4 years, and well, everything I have done in that time has been erased by a summer of pregnancy. Back to really paying attention to those dark spots.
I'm giving away a second box and it for sure has a variation, because I totally just peeked! Enter the giveaway below. Please note that this one goes on for a while because 1 – I cannot find my scale right now (we're not totally unpacked) and 2 – I'm going to have a newborn! So there's lots of time to get entries in if you're in love with this box!
Visit New Beauty TestTube to find out more and to subscribe. Check out all my New Beauty Test Tube Reviews! Don't forget to take a look at other Beauty Subscription Boxes in the directory.
The Subscription
:
New Beauty TestTube
The Description
: Six times a year receive a TestTube filled with deluxe and full-size beauty products – top brands, time-tested formulas and targeted innovations. Subscribers receive a subscription to NewBeauty magazine, delivered quarterly.
The Price
: $38/bimonthly
The Coupon:
Save $10 on your first tube!