Posh Pak is a subscription box for girls with three age ranges: Little Girl, Tween, and Teen! They sent along the 5-8 year old box for my girl (who is nearly 6), and it was perfect for her. I couldn't believe how many great items were in this box!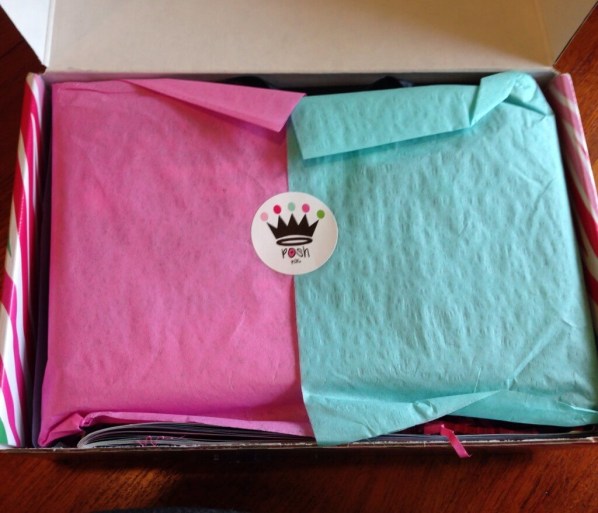 Wrapping – so cute!

This month's theme was Star Studded and the box will be featured in a celebrity gifting suite at the 2014 Primetime Emmy Awards!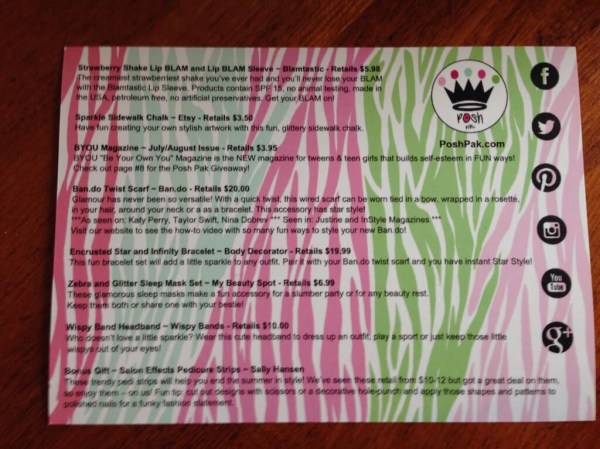 The information card have everything on it, including celeb information where appropriate.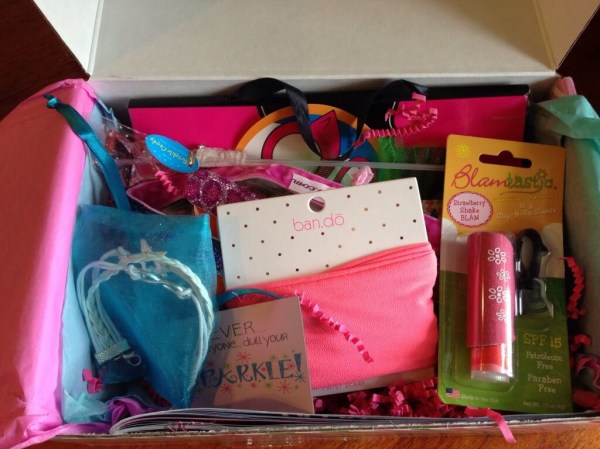 I tried to hide what I was doing from my daughter so I could actually take photos. She was SUPER excited when she got her hands on everything!
August PoshPak!
Bonus Gift – This is the launch box so I think there was something extra! Sally Hansen Pedi Strips & boomerang nail file & hair tie (in next photo). I think these are darling. They are peel and apply and last for 10 days. I think we're going to take these camping with us – no mess and we can still have some fun girly time. It will be a special treat before the first day of kindergarten!
Blamtastic Luscious Lip Balm ($5.98) Petroleum & paraben free, plus SPF15, and it has a clip. We had an unfortunate incident with losing a favorite lip balm (I told her not to put it in her pocket…) So this is PERFECT!
Wispy Band Headband ($10) Ummmm can I steal this? No really. Good thing we can share!
Ban,do Twist Scarf ($20) My daughter loves turban scarves and this one is an infinity one that you can also use as a bracelet. Definite hit!
Hair Tie ( was on pedi strips & nail file)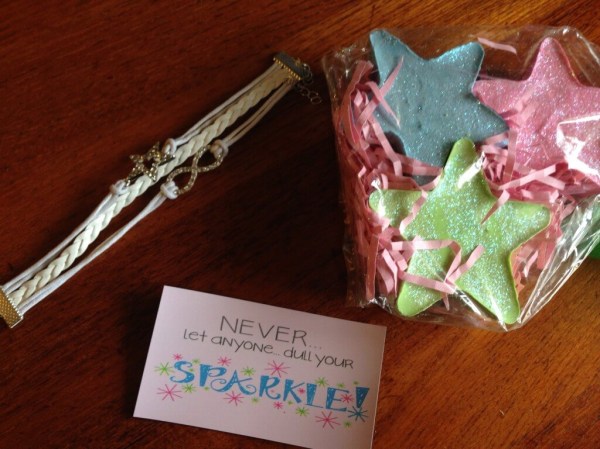 Encrusted Star and Infinity Bracelet by Body Decorator ($19.99)  Cute & Trendy!
Magnet – Never Let Anyone Dull Your Sparkle!
Sparkle Sidewalk Chalk ($3.50) This is SO adorable and perfect for this age group.
Twinkle Candy Sucker (.50) Big hit!
BYOU Magazine (July/August) Issue  ($3.95) This is a girl-positive celebrity magazine. To be honest, mine looked for the puzzles, the rest didn't interest her, but was totally age appropriate.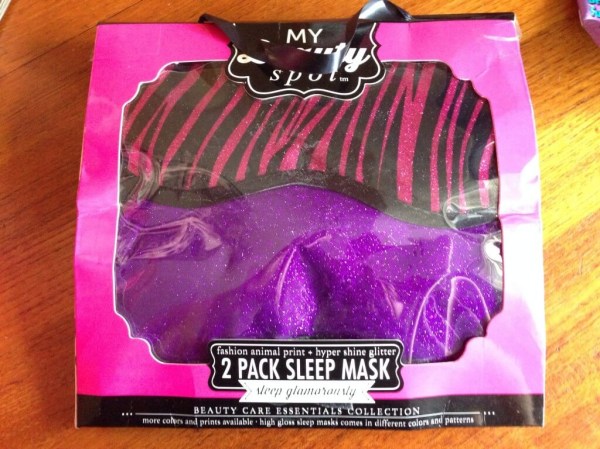 Zebra and Glitter Sleep Mask Set from My Beauty Spot ($6.99) You can mix and match your different jammies or save one for a sleepover. With mom 🙂
This was a fun, happy, and age-appropriate box, with an incredible value – around $75 – over twice what the box cost! I loved how this box was differentiated from the Posh Pak for older girls with cutesy nail products, softer colors, and superfun arts & crafts items. See you at the Emmys PoshPak!
 Visit Posh Pak to subscribe or to find out more about this box! You can also check out the teen & tween subscription box list.
PoshPak
: Inside the Pak you will find 4 to 6 items ranging from health/beauty, fashion accessories, tech, school supplies, tasty treats and some designer labels, just for girls. Choose between the age ranges of 5-8, 9-12, and 13+!
Cost: $29 per month.