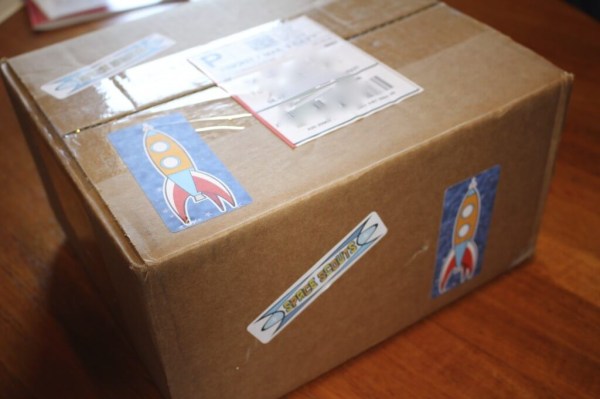 Space Scouts is a brand new affordable subscription box for kids 6+. The characters in the box (Roxy & Jett) will guide your child on a scouting expedition through the solar system! There are fun activities, games and toys, all age appropriate! My daughter is 5 and a half (hasn't been to kindergarten yet) and she absolutely loved it.
The Subscription
:
Space Scouts
The Description
: Each month your child will explore a new place in Space — stepping into the worlds of space exploration, space science, and astronomy. Engage your child in fun learning activities, hands-on discovery, and exciting challenges. Ages 6+
The Price
: $14.95 per month
Space Scouts Review – Months 1 + 2
This is what arrived in my box. Month 1 comes in a reusable metal lunchbox and Month 2 comes in a bubble mailer.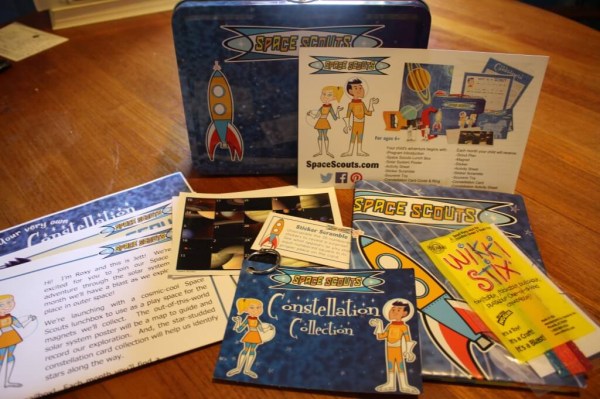 Month 1 – everything! Month 1 includes:
Introduction to the Space Scouts Program
Space Scouts Lunchbox
Space Scouts Solar System Poster
Space Scouts Activity Sheet
Space Scouts Sticker Scramble
Space Scouts Souvenir Toy
Space Scouts Constellation Card Startup Kit (cover & ring)
Introduction to Space Scouts Constellation Cards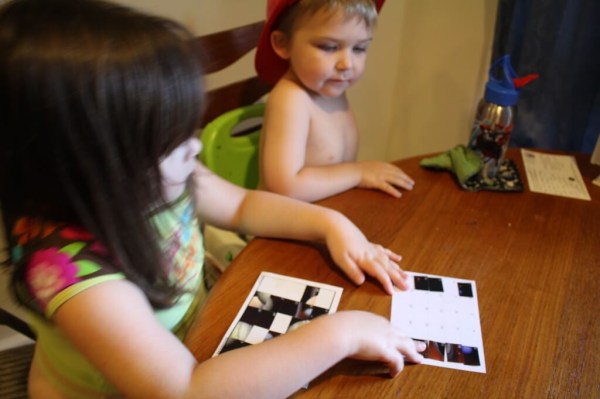 The sticker scramble was really a hit.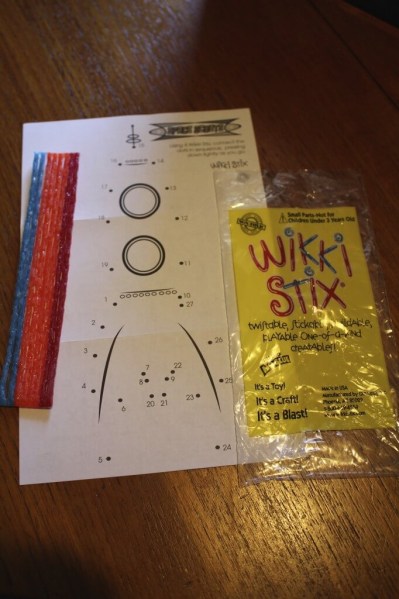 So were the Wikki Stix. I think they're wax covered string? They are awesome. Super bendable and reusable.
This activity was connect the dots with the Wikki Stix.
She enjoyed this and had fun trying to figure out the names of the planets!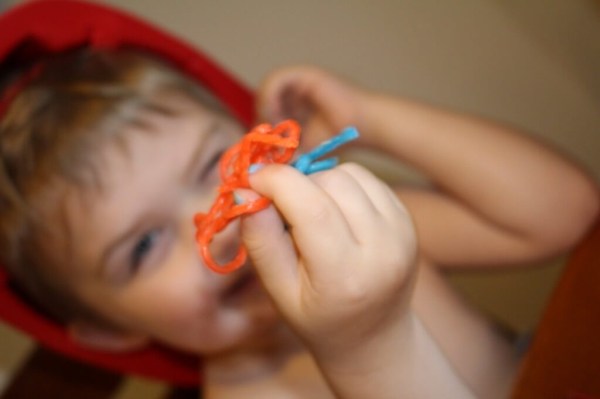 He was so proud of his creation.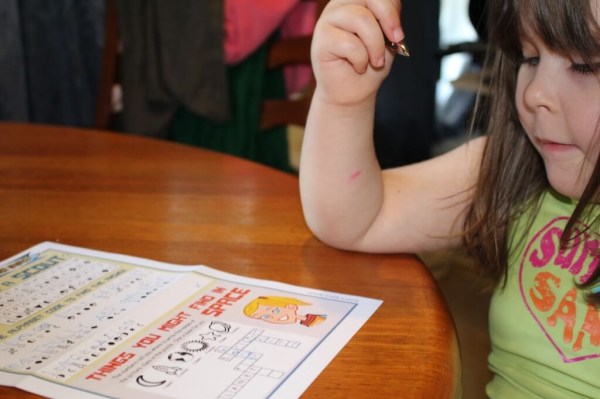 There are multiple games and activities included in every box. I loved the matching/decoding activity for her (as well as practice writing her letters smaller) and especially the starter crossword!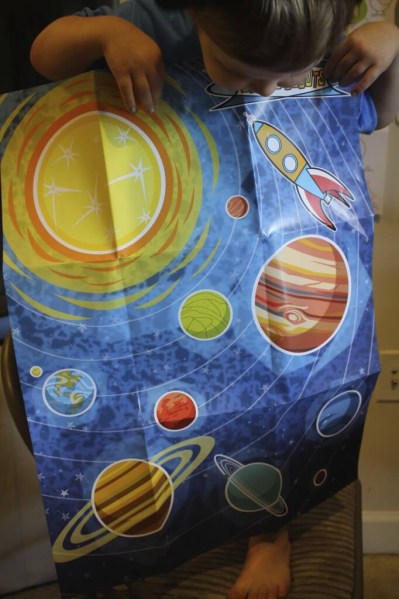 The starter kit also comes with a solar system poster.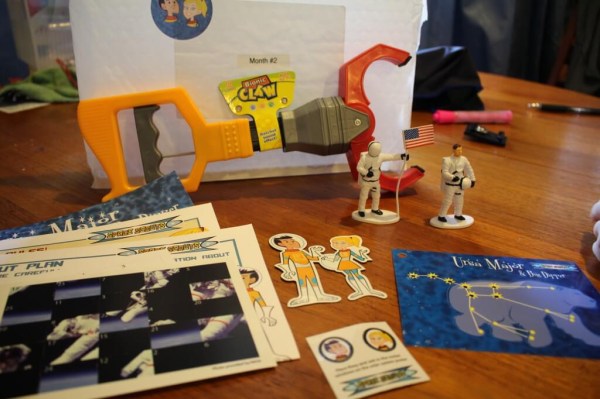 Month 2 – The kids had seen the general information card in the first box that showed the photo of the space grabber. They were out of their minds when they opened the second month and found it.  Seriously, this toy has been played with over and over. They will not put it down, and I'm excited that they have added something science-based to their imaginative play (which has been firefighter, pirate, etc focused). Every month comes with:
Space Scouts Exploration Plan
Space Scouts Magnet
Space Scouts Sticker
Space Scouts Activity Sheet
Space Scouts Sticker Scramble
Space Scouts Souvenir Toy
Space Scouts Constellation Card
Space Scouts Constellation Activity Sheet
You can see that our focus for Month 2 is the Ursa Major constellation!
Just an example of some of the paper-based activities!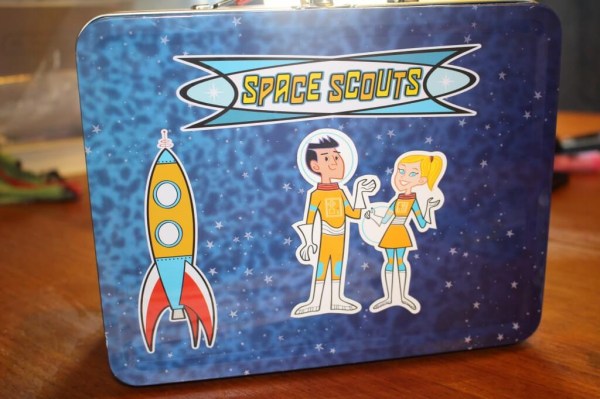 We put the magnet on the lunchbox.
And the stickers on the poster!
She was just practicing her astronaut retrieval.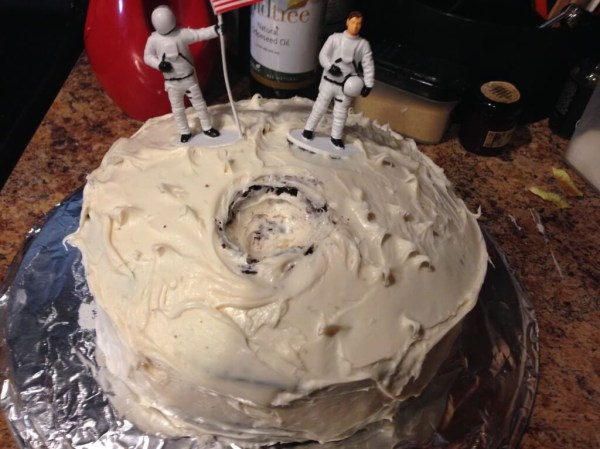 Space Scouts also inspired our moon cake!
Visit Space Scouts to subscribe or find out more! We were totally impressed with the price and the activities in the box! My kids adored the theme and had a great time!