I think all y'all know that my husband is finally back in town! Hooray! This makes it so much easier to post his reviews! Today I have the Notched Box from Bespoke Post Review up on his blog as well as a Five Four Club mini review below – mostly because he hasn't written anything yet for it and we got TWO more packages from them this weekend! Plus Birchbox Man. So definitely look for those next week. We're still getting Moustache Coffee Club for him and he's recently tried out some Click Protein Espresso Beverage (sample pack offer here) and I'll post the review/giveaway soon! (p.s. he really liked it!!!)
June Five Four Clothing
Five Four Club is a men's clothing subscription that is affordable and customizable. It's $60 per month and you can save $15 off your first month with code AFMOMMY15. Or you can get $75 of mystery items free with your first box (sunglasses, t-shirt and button-up, etc)! Use code AF75ITEMS. Or get 2 bonus items with code BONUS2.
Tom's June shipment included three shirts.
Juniper ($38) is a white sort of henley tee with a pocket and Samuel ($35) is a grey stripey tee. My husband loves the feel of the fabric on Five Four. He says it doesn't feel old man.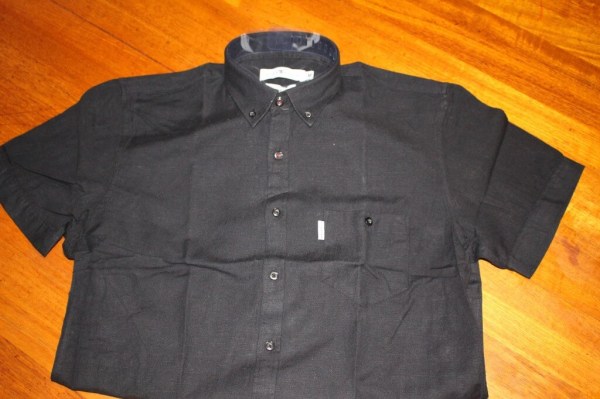 The "Cambridge" ($50)  is a black linen shirt that has been perfect for summer and layering.