Escape Monthly is your vacation in a box and the June Escape Monthly was one of the very many boxes I received while I was gone for a whole day and a half. There is now a new mini version of the box that skips the travel guide that appears in every box, and the box is $24.95 per month. July's box is India and I'm excited to get that one. We had a chance to go last year without the kids, but it wasn't worth the expense to us to go without them, so we took them to Disney World instead. I still really want to go. Maybe ten years from now, because I have no desire to travel internationally with really tiny kids. So instead I can get a box to transport me everywhere!
The Subscription
: 
Escape Monthly
The Description
: Escape with destination-inspired themes. Pamper & indulge with full-size luxury products from bath, spa & beauty to gourmet snacks & gift certificates plus travel guides & entertainment. One subscriber wins the escape vacation.
The Price
: $50 per month, $24.95 per month for the mini
The Coupon
: Get 20% off for life! Use code 
INDIAESCAPE
June 2014 Escape Monthly Review
Oooh the strip! Now this would be a vacation I could justify the no-kids expense on. Maybe in a couple years. Actually having the kids really slows the travel down, you know?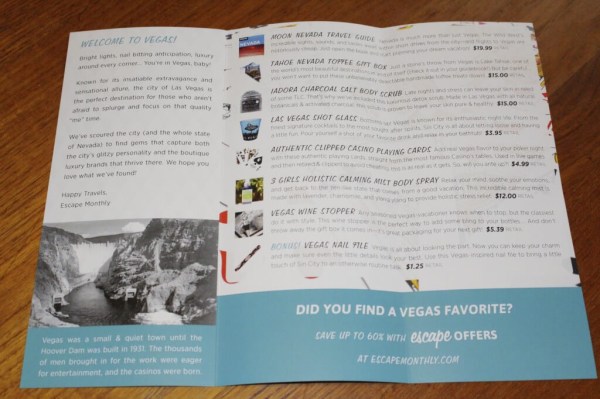 Everything in the box were "gems" (haha) that capture the city's glitzy personality and the boutique luxury brands!
Even my husband remarked how nice the squiggles were in this box – half white, half gold. I usually don't save squiggles but I saved these!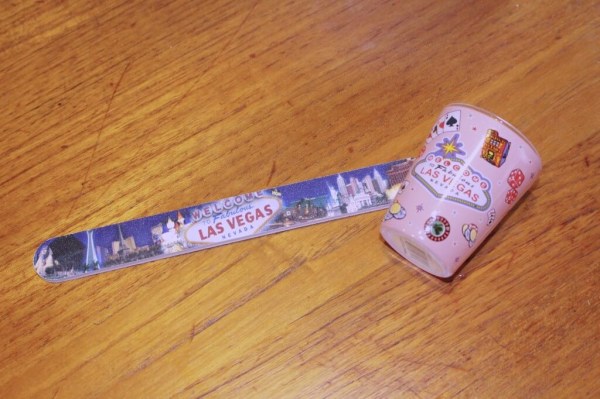 Las Vegas Shot Glass & Nail File ($6) Yes I love these!!! I don't care if I've ever been, they are SO CUTE! I can't remember the last time I had a shot, which is really sad. Probably the next one would be one of those fancy ones like a buttery nipple.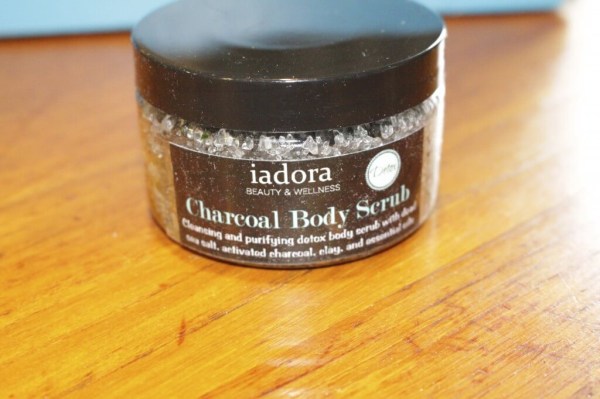 Iadora Charcoal Salt Body Scrub ($15) Detoxing is essential for your Vegas trip!
Tahoe Nevada Toffee ($6) In the shape of the state! AND IT WAS DELICIOUS! I had to make my husband eat the rest before I ate the whole thing. He did not complain.
3 Girls Holistic Calming Mist Body Spray ($12) This is halfway gone. My daughter is really into it. We've had it for 2 days. I admit, it smells great!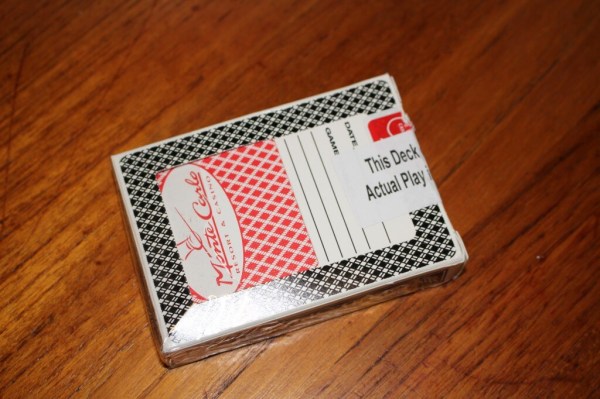 Authentic Clipped Casino Playing Cards ($4.99) Both my husband and I were kind of "ew" about these. No, I don't really want cards that someone else played with. But they're a totally legit tourist item and my husband's brother LOVES Vegas and we needed a little gift for him for his birthday. These went home with Tom to give to him!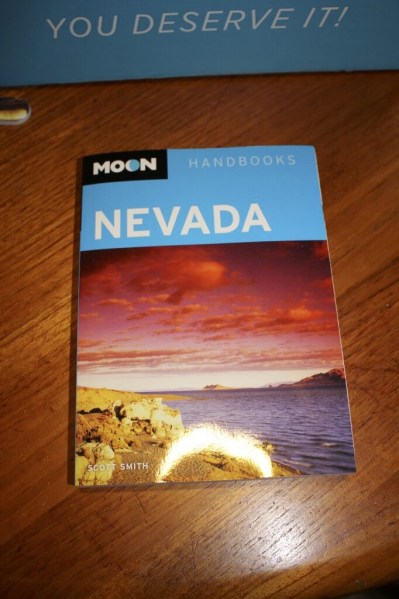 Moon Nevada Travel Guide ($15.47) A travel guide comes in the classic size Escape Monthly box.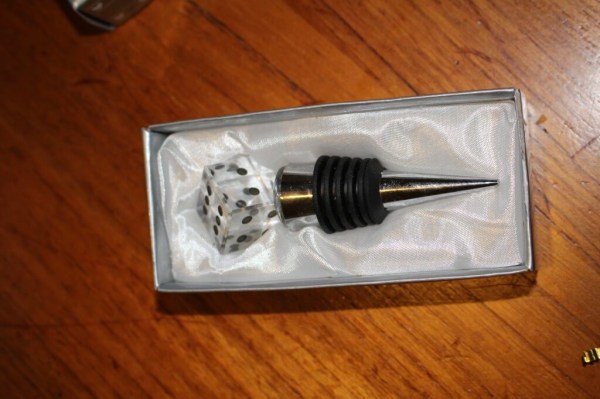 Vegas Wine Stopper ($8.46) Or for liquor! Whichever! This is cute!!!
FYI, Escape Monthly is a box that my husband really enjoys. In fact, besides the spray, I think everything else besides my nail file & shot glass pretty much went to him! How funny is that!? He even likes the travel guide. He's sort of obsessed with going gambling. There was this one time in grad school… yeah some things shouldn't be remembered but I won all the money! I came up with $67.92 as a total value, which is totally great, plus we pretty much loved everything! Don't forget to use coupon code INDIAESCAPE to save 20% off your subscription (only on the big one, not the mini)!
Visit Escape Monthly to find out more or subscribe! Check out all my Escape Monthly Reviews! Don't forget to take a look at other Lifestyle & Combo Subscription Boxes.