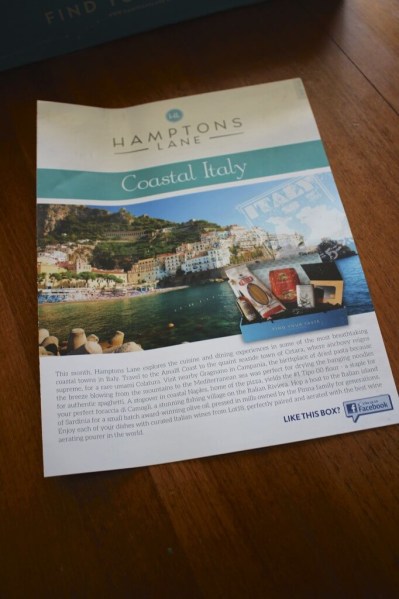 Hamptons Lane is brand new subscription box featuring thematic and fantastic cooking and kitchen items – both food and tools! I was a fan of the first box but I loved the May Hamptons Lane box even more! It wasn't just Italian, it's Coastal Italy! I love the specific regional focus!
FYI – How this box works.You still get the savings from the subscription box model (it's $45 per month including shipping) but you can skip the month if you already have the items or whatever – you'll know what's in the box ahead of time! Just go ahead and register for a new account and you should get monthly emails letting you know what's in the box until you are ready to pick up a box!
The Subscription
:
Hamptons Lane
The Description
: Each month, Hamptons Lane curates an amazing box of artisan foods, kitchen tools, and serveware for the food lover. Each month is different – spotlighting a different region, food, ingredient, skill, or activity – and you can always skip if you don't want that month's box, free of charge.
The Price
: $45 per month
The Coupon
: Get $10 off your first box! Just use 
this link to save
! FYI because you aren't charged immediately, this will show up on billing day, but it will be there when you are charged.
May Hamptons Lane Review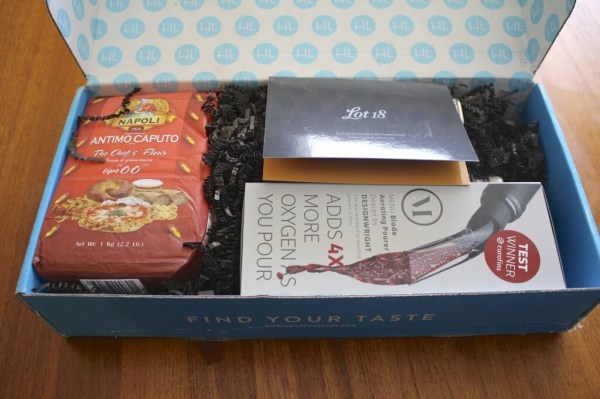 I loved that this box was full!
Everything that comes in the May Hamptons Lane Coastal Italy Box!
$25 Gift Card to Lot 18 – FYI, this works even if you are already a member. It's an actual gift card! Some states you can't send wine to, like mine, but there is a selection of housewares available. Fortunately my husband works in Vermont and he'll be getting some wine to bring back and I'm going to get some post-baby Chardonnay. 🙂 You can use this gift card on shipping. Rock.
Extra Virgin Olive Oil from Antichi Uliveti del Prato (~$17) One of the things I noticed about this box is that everything is imported. I was impressed. This is a single-varietal EVOO and I'm going to make some focaccia with the flour and sop it in this olive oil.  Sounds pretty danged good to me.
Nettuno Colatura di Alici ($20.75) Made from an ancient Roman recipe of Italy's Amalfi Coast, it is extracted from anchovies packed in chestnut wood barrels for at least five months. I will ignore the fact that it is made of little fish and enjoy the wonderful briny taste in something delicious.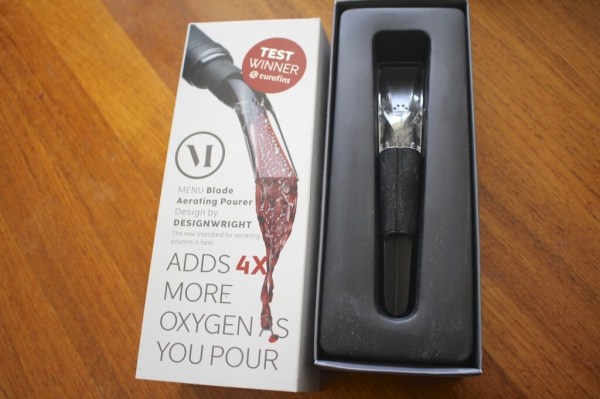 Blade Wine Aerating Pourer by Menu ($19.95) I honestly love this space-effective wine aerator that is apparently more effective than decanting. But also I don't have to have a decanter sitting around just to drink some red!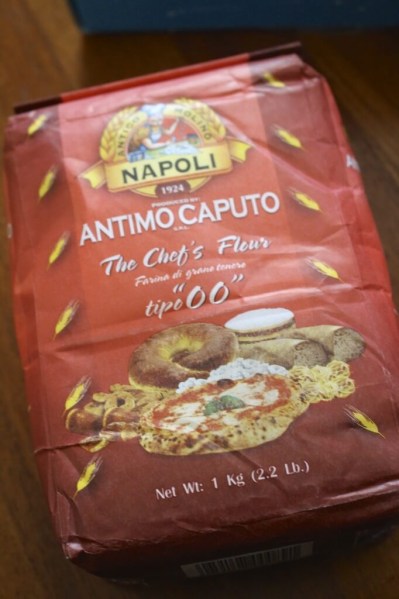 Antimo Caputo Tipo 00 Flour ($4) The kids & I will enjoy making focaccia with this, and we will make one batch. But honestly I'm going to save the rest for pizza night. Daddy will be around next weekend and his super awesome secret power is that he can throw pizza! He will love this and be very very happy I finally found him real pizza flour [EASY BUTTON].
Pastificio Faella – Spaghetti ($8) I don't know if I've ever had artisan Italian pasta, so I'm pretty excited about it. Will it be Giacomo's in the North End? Probably not (it's not fresh) but it will still be great!  This spaghetti is made via bronze die extrusion with a long drying time to create an incredible texture and porousness for catching sauce.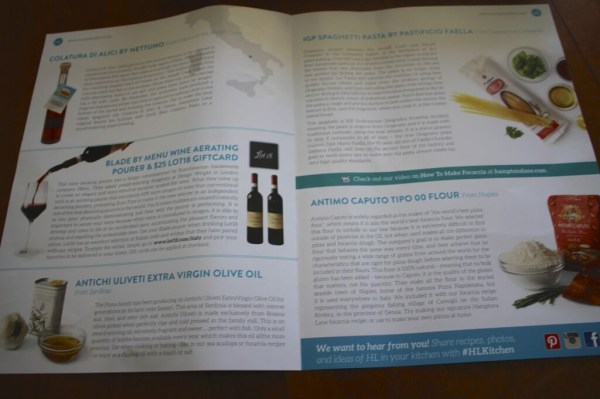 There's information on each item in the box.
And recipes on the back, along with Lot 18 wine pairings! Upcoming boxes from Hamptons Lane include picnic time and summer cocktail party!  I can't wait to see which one comes next!
I absolutely loved the May Hamptons Lane subscription box and we'll use everything in it! I came up with over a $90 value for everything in this box, including the gift card. It's a great discount on wine and if you don't want to drink it you can always pick up an item like the sommelier wine key & case absolutely free, and use it for a gift! This is an excellent value and provides the perfect base ingredients for all sorts of fantastic coastal Italian fare.
You can sign up and save $10 on your first Hamptons Lane box (FYI the $10 off will be automatically deducted when you are charged midmonth), or if you're interested just sign up and get on the list!