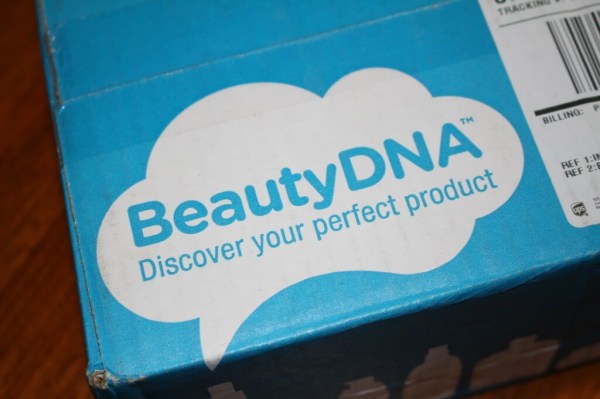 Beauty DNA is a new beauty subscription box that uses an extensive questionnaire of preferences and likes/dislikes in order to match you to the best beauty products for you! You're able to choose what kind of products you're interesting in receiving, the ingredients, and all sorts of properties like what fragrances you prefer! I just went in and tweaked my box – I want to make sure I don't get certain things again, etc. It's a nice box, and mostly at this point I'm subscribing because I'm just super curious what's inside.
I noted last month that I received a product that contained parabens. I'm sure in part because of survey feedback complaining about this issue, the quiz has been updated to show this (see what it looked like last month).

I think this is a fine resolution and if you're 100% anti-one of these things, it may not be the service for you. I try to reduce these ingredients (parabens sneak in everywhere and I do end up using some makeup etc with them) to minimize my overall exposure. Some products just aren't out there, so this is OK.  After taking this shot I decided to switch fragrance free to no preference. I can customize my fragrances so much, and it seems to be one of the preferences that Beauty DNA can really work with, that I'm ok with it! I do like fragranced things, just not heavily fragranced moisturizers that have so much fragrance they sting my eyeballs.
The Subscription
:
Beauty DNA
The Description
: Unlock the secrets to finding the perfect products–complete your Beauty Profile and change the way you discover beauty products forever. Get one full-size product every month and a customized report on your match
The Price
: $25 per month
May Beauty DNA Review
This is perhaps the most exciting box to open because you absolutely have no idea what's inside.

CAUDALIE Gentle Conditioning Shampoo ($18) Huh. The main thing it's targeted for is dull hair, which I put as a mild concern. My other concerns are "severe" – thinning, lack of volume, etc. Out of everything, I'm not sure I would've gone for dull as what to peg my next product on.
Beauty DNA also says I can purchase this at Sephora. It is not available there. While there are plenty of Caudalie products I'd like to try, they just don't sell the shampoo. 
Caudalie says that this detangles as well. I'm not sure whether I'm supposed to use it with a conditioner or not (I think the answer is no, but that would have been suitable information for the card). It's for sensitive scalps, which I definitely have, so I'm happy about that.
It's sort of funny that they remark that this has no powdery scent. Many beauty products do and I cannot stand it. But I don't believe I've ever met a shampoo or a conditioner with a powder scent. I refined my profile so I won't get shampoo. I have enough to last me a while. This is overall a nice product, my criticisms are really directed towards the matching process and information on the card.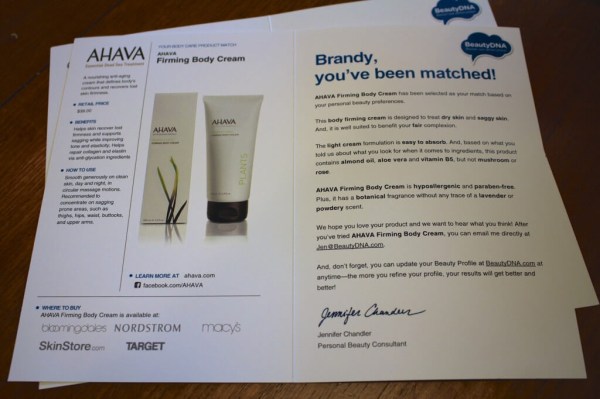 I got two products in my box, as the shampoo's value is only $18  – which is pretty swell, it might be a product I'd repurchase! Part of the allure of this box is high-value beauty products for $25 per month.  I was surprised to see another body product but I just finished up some Ahava serum yesterday and I was pretty excited to see more Ahava!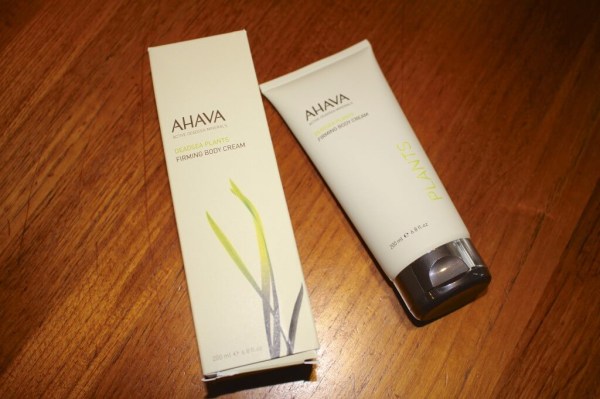 AHAVA Firming Body Cream ($39) This body cream has excellent reviews, both as to the texture and as to its efficacy in reducing sag and increasing firmness. I think the beauty match algorithm did a better job here, and once again, it avoided my "hate" scents of rose, lavender, and mushroom (yes, I have it block mushroom because I don't like the smell of that either, were they able to find a product that smelled like it!).  This product's information card spoke far more directly to my primary body concerns of dry/saggy skin. I'll have to get the legs another year, right now I'm testing this on my arms.
The total value of my May Beauty DNA subscription is $57, so I saved over half on 2 high end products. I liked this box and it was fun to get 2 products. A definite improvement over last month (that peel is still in a drawer and will be until the summer is over!).
Visit Beauty DNA to find out more or to subscribe.  You can also see all my Beauty DNA reviews or check out more beauty boxes in my subscription box directory!