I loveeeeeee getting Topbox. It's pretty much just subscription box voyeurism for most of my readers because it's only available in Canada! Lisa of Girl Meets Box and I trade boxes and it's super fun! Thank you for letting us southerners see what y'all have up there! This month the tube was a special design for Murale, a drugstore that I have never heard of. And Whoops! Looks like I forgot to press publish on this post!
The Subscription
:
Topbox
The Description
: Get 4 generous helpings of premium delight each and every month! This is a *Canadian* subscription box and they do not ship to the US.
The Price
: $12 CAD per month
April Topbox Review
I saw this card and I was basically like ZOMG DRAGON'S BLOOD WHAT IS THIS I NEED TO KNOW RIGHT NOWWWWW.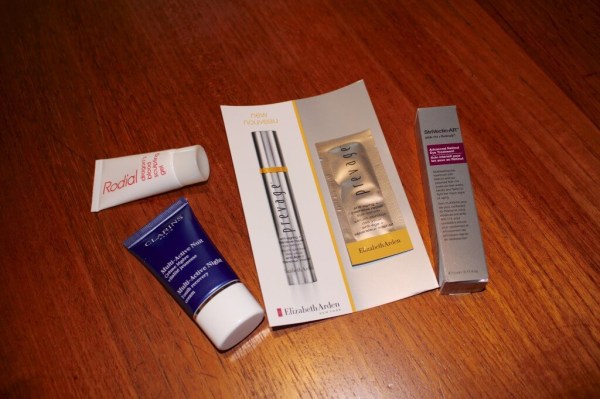 I ripped everything open immediately. Funny enough most of the Canadian brands are also US brands, they just have different levels of popularity there! I'm sure lots of youngsters were furious over this box, but as I'm in my mid-30s and love trying out new high-end skincare products, I'm super excited about it!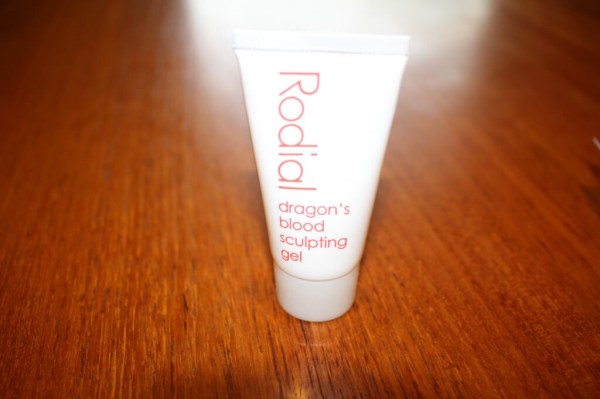 Rodial Dragon's Blood Sculpting Gel ($28.80)
An innovative anti-aging gel which helps to define facial contours and plump sagging skin. Dragon's Blood Sculpting Gel works by forming a unique second-skin film around the face which effectively protects, reduces redness and firms for a smoother, plumper and more youthful-looking complexion.
This is actually a UK brand I think and it's for improving your appearance underneath your makeup.
Elizabeth Arden Prevage 'Anti-Aging + Intensive Repair' Daily Serum ($15.22) The Prevage line has absolutely amazing reviews.  I doubt the size is large enough to see a difference, but it's probably something I might try in a full-size!
It features a blend of powerful antioxidant Idebenone with the excusive ingredient Arazine, to help neutralize environmental free radicals and minimize the signs of aging. Over time, PREVAGE® Anti-Aging + Intensive Repair Daily Serum smoothes lines and wrinkles and improves the appearance of age spots to reveal more luminous, firmer and younger-looking skin.
Clarins – Multi-Active Youth Recovery Night Cream ($19.33)
An antiaging hydrator with the renewing and reparative benefits of a full night's sleep, in a jar. Say goodnight to early wrinkles. This luxurious day-cream helps skin recuperate while supporting natural cellular renewal. Recommended for normal to combination skin types, skin looks more refreshed upon waking, and the appearance of fine lines and wrinkles is diminished.
I admit, I pretty much figure by using all the night creams and serums, something is bound to work. I hate putting my eggs all in one basket!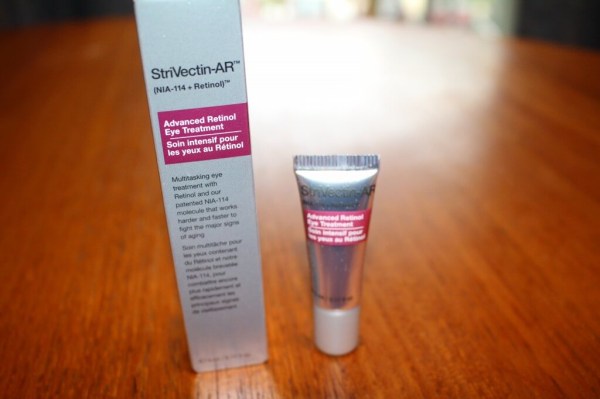 Strivectin Advanced Retinol Eye Treatment ($25)
Includes powerful antiaging actives NIA-114 (a form of niacin) and retinol to battle the signs of aging and reveal renewed skin without causing irritation. NIA-114 activates and ramps up retinol's effects while it also reduces retinol sensitivity. And nourishing shea butter lends a hand in the hydration department.
I love Strivectin products and this is a healthy sample size!!! I am looking forward to trying this one too!
The total value of my April Topbox was a ridiculous $88.35! I was thrilled about every single product and I can't wait to incorporate them all into my routine! Oh and my Topbox was totally different than Lisa's – you can see hers here!
Visit Topbox to subscribe if you're Canadian! Check out all my Topbox Reviews! Don't forget to take a look at other Beauty Subscription Boxes.