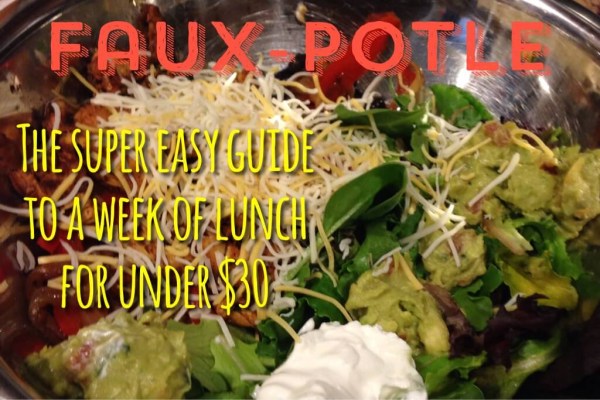 I went to Chipotle this week. Looove it! But it's kinda pricey for every day. Like the first time I went there they gave me gobs and gobs of food but the DC area Chipotles are more than a little stingy with the fixin's. And $9 for lunch with no drink is NO JOKE. I love the flavors but admittedly this is not an exact Chipotle copycat recipe. This is more like a guide of what you can do and how easy it is to prep some DIY Chipotle for SIX meals. Because that's what it worked out to be, for under $30!
Here's the shopping list
brown rice
bunch cilantro
2 limes
3 bell peppers
1 super big white onion
bag of spring mix
can of seasoned black beans
bag of shredded cheese
tub of sour cream
2 tubs of guacamole
1.25 lb chicken
fajita mix
This is going to feed you 5 lunches for your work week plus an extra meal to eat because you'll be starving after you put everything together!
The Veggies: 3 red bell peppers ($3) plus one EXTRA LARGE white onion ($1) Sauté. Blacken. But don't forget you're using your anodized pan. I turned it up to high. Whoops. Guess I'll be using my enameled cast iron for everything now…
Cilantro-Lime Brown Rice – Um, this was my leftovers using 3 rice cooker cups of rice. Next time I'll cut it in half plus my rice will be more flavorful. Just cook your rice up, let it cool, squeeze in two limes and  toss with 1 bunch of cilantro all chopped up. When you chop the cilantro cut off the stems and take the 7 minutes to strip all the leaves, totally worth it. Cilantro ($1), Limes ($1), Brown Rice ($0.50). If you want to keep it at this level of cilantro/rice ratio, add more limes.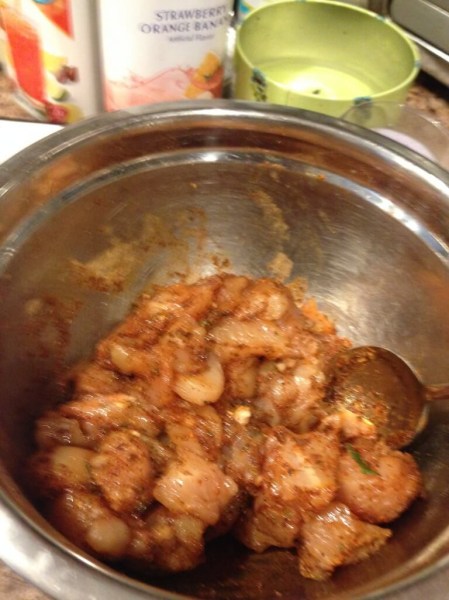 The chicken! You can get your chicken cheaper but I buy mine at Costco, so 1.25 lbs is $3.75. Add a fajita mix, your own seasoning blend, however you'd like it. You can do the adobo thing like all the other recipes, or you can be like me and have a million fajita seasonings to use up and just use that. Let's call your seasoning mix of choice $1 on the safe side. BTW, if you need a recipe, use some multiple of this – YUM.
1 tsp chili powder
1/2 tsp cumin
1/2 tsp oregano
sprinkle chipotle
When it was done cooking, I used my Pampered Chef meat masher thing to break it up so I didn't have big honking pillows of chicken. I thought this was super.
Seasoned Beans: OH SNAP I DIDN'T MAKE MY OWN! Yeah I bought a can of Bush's seasoned Black Beans! What! ($1)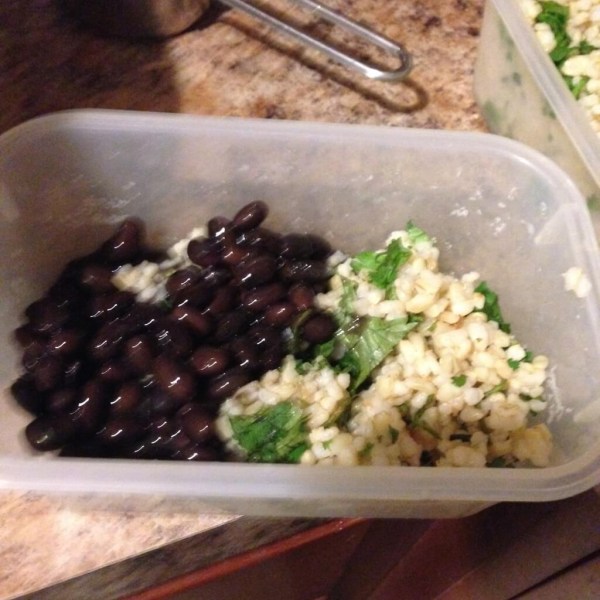 Assembly: I decided to put all the things that I would want warm in individual tubs and store them that way. I can gently heat them and add my cold ingredients.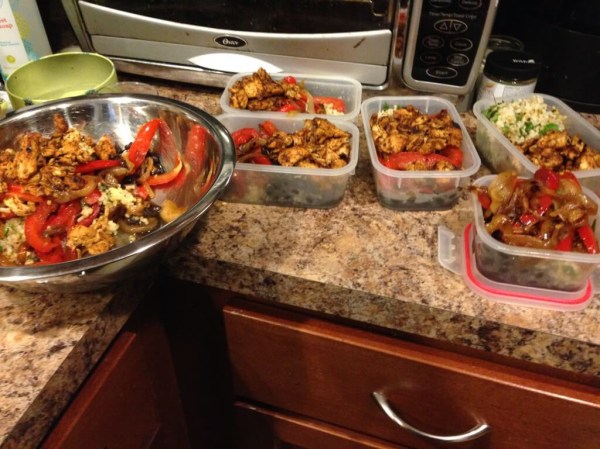 Ratios: I made six meals – one is vegetarian 🙂 ! Here's what I put in:
1/4 cup black beans (scooped out of the liquid)
1/3 cup of my cilantro-lime rice
heaping 1/2 cup of my onion/pepper mix.
scant half cup of cooked chicken. If i hadn't tasted a few bits it probably would have been even.
Then I added
a handful of spring mix
1/4 cup cheese
2 T sour cream
a ridiculous amount of guacamole (1/3 my container)
Salsa. Lots.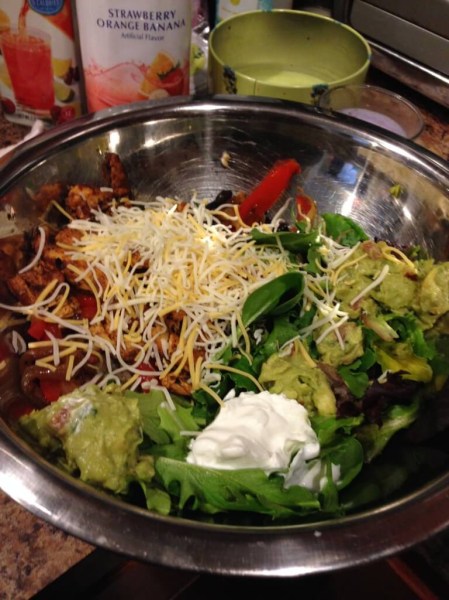 Toppings
Sour Cream – An 8 oz tub of Daisy will cost you $1.
Guacamole – I can get 3 tubs for $8 or 9 at Costco. I ate 1/3 a tub with my salad because it's not faux-potle with gobs and gobs of guac (and it's better for my blood sugar, I'll just keep telling myself that). So $6 worth of Guacamole! You could totally
And the Cheese! I get mine cheaper but I'll be realistic and say $3 for your bag of shredded taco/Mexican cheese.
Mixed Greens – I bought a Costco sized tub of greens that was way too much, but a bag of spring mix will run you $2.
Salsa – This is where my fauxpotle fails, I didn't make pico, or corn salad, or any crazy stuff. Look, it's good, and you need to get all the toppings when you go to Chipotle, but honestly, it's really good with just an ordinary salsa or your favorite fancy salsa. Let's call salsa for the week $2.
The Grand Total For One Week of Faux-Potle Lunches!
I'm up to $25.25 but honestly I needed another 1/4 lb of chicken! ($0.75) So the grand total is $26 for 6 faux-potle Chicken bowls, less than $4.50 per bowl, and I saved $26 for the week over eating out every day! Yes, half off Chipotle! This is all the Chipotle goodness without messing with super complicated recipes and I promise you, just as much guacamole, because it would not be right without an obscene amount of avocado on my food. That was the priciest part and if you can do without, you'll save a bundle. This is good, fresh food. Not the cheapest, but totally delicious and really good for you!
Of course I spent more than $26 because I went to Costco and bought a giant thing of salad, 6 times as much chicken as I needed, 6 times as much cheese, twice as many peppers, you get the idea. I think you could reasonably pull this off at the same price at Trader Joe's or a grocery store though for a few dollars more, especially if you stockpile chicken at a good price.
To be honest, if it weren't raining cats & dogs all this week, I'd probably just go eat at Chipotle once or twice, because I love getting my walk in, but it's not feasible for me this week, and I really needed lunches that would be lower carb because I'm not getting the exercise to counteract it. This definitely worked for me! YUM. And also I totally ate some of the rice with cheese and sour cream, nothing else. Also yum! How do you Faux-Potle?