When we got the April Silly Rhino in the mail E said over and over OPEN THIS ONE MOMMY OPEN THIS ONE. We just had to! He ran all around the house with it. The kids definitely get to know by the packaging what their favorites are and I guess this one is a favorite!
The Subscription
:
Silly Rhino
The Description
: Every month, receive only the safest, environmentally conscious, highest quality and awesome toys, personal care items, accessories and gear, suitable for babes ages 0-4 (that means no batteries in our toys…ever!)
The Price
: $35.99 per month, down to $33.99 per month with a six month subscription
April 2014 Silly Rhino Review: 3-4 Year Old Boy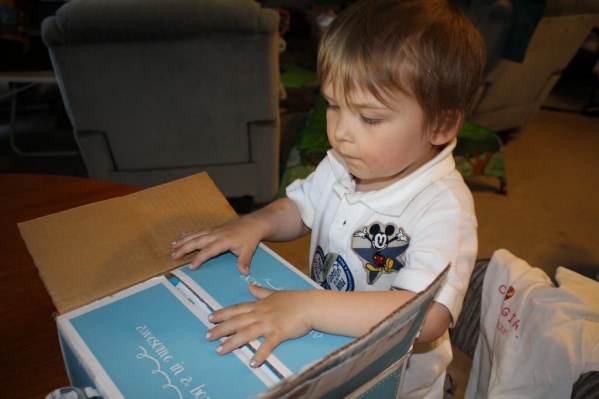 He was so excited. Like totally besides himself. 
The information card! Silly Rhino doesn't have any sort of strict theme but I definitely discerned an earth friendly theme this month for Earth Day with some reusable items and sustainable ones in there!
Knockout Monkey ($15, $12 on Amazon) Um, I would totally pay more for this because it's super high quality and such a hit. It had to be immediately removed and it's been played with hours and hours every day. I don't know why he's so into it, but he totally is. You take the mallet and hit out the inside pieces and of course most of the time everything falls down which is totally hilarious.
Good Lunch Snack Set ($14) I am really digging everything from Ore Originals, which I'd never heard of before. This is a snack set with 3 bags – 2 are fabric pouches with hook & loop and the second is see through with a slide. I love using reusable bags for the kids lunches!
Box Play Sticker – Farm ($5) You slap this on a cereal box and you have a farm! I'm going to have to remember to save a box! He was super excited to use this but we didn't have the right size box to use for it. He loves farms!
What I like about me Book ($7) I think this one might be a little more for my daughter, who does notice differences more than E seems to, but as I don't have an everyone's different but we're all humans book yet, I was happy to have it!
The value of the April Silly Rhino box was $35-40 depending where the items are sourced, and I thought it was a little low. HOWEVER, they switched this month to using super reliable Priority Mail for delivery, so I thought it was still good, and you're definitely still getting what you paid for the box!
Visit Silly Rhino to find out more about this subscription box or to subscribe! You can see all my Silly Rhino Reviews or check out all the baby & toddler monthly boxes in the subscription box directory!