Little Pnuts is a baby, toddler, and preschooler subscription box that sends a quarterly special delivery of all natural, non-battery operated toys. Little Pnuts seems to be a pretty solid company, successfully operating a baby subscription box business well before they became hot! I had several reader inquiries about this box and was delighted when Little Pnuts sent me a box to review with my kids. It is a quarterly box that targets ages 0-6 and send toys that focus on developmental milestones and that are ecologically friendly, made of natural resources, and sustainable. As with any box that focuses on high-end natural toys, I have found that my daughter is perfectly happy to play with the toys that are sent for her brother's age. We have had this box for nearly a week – I kept these toys in the living room because I really wanted to see how well they would be adopted.
The Subscription
:
Little Pnuts
The Description
: Little Pnuts sends high end toys: sustainably made, ecologically friendly, organic, and naturally made. No battery operated or "big brand toys." Billed monthly, shipped quarterly.
The Price
: $25 per month but shipped quarterly. Annual subscription provides significant (20%) discount.
The Coupon
: Save 10% on your subscription with coupon code
MommySplurge14
.
Winter Delivery Review – 3 Year old box
Little Pnuts is wrapped up beautifully and is very high end. I was impressed! I was even more impressed with Little Pnuts as a company when I found out they use Lighthouse for the Blind as their Fulfillment/Warehouse provider!
The information card was quite extensive and included information on developmental milestones, a play idea, a note about this quarter's box, and more.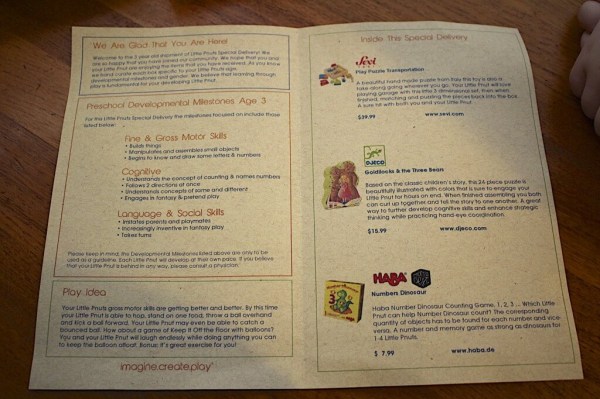 I like how they explained how each item worked with developing those milestones.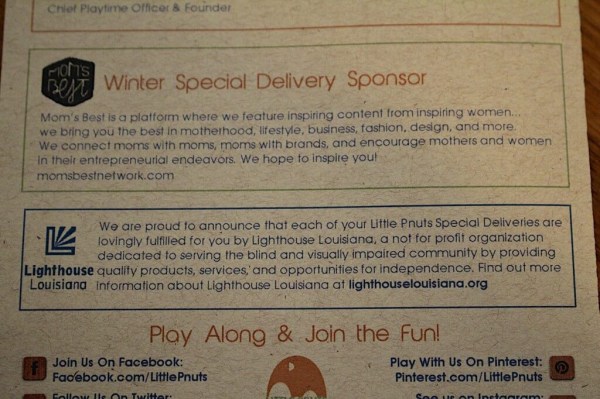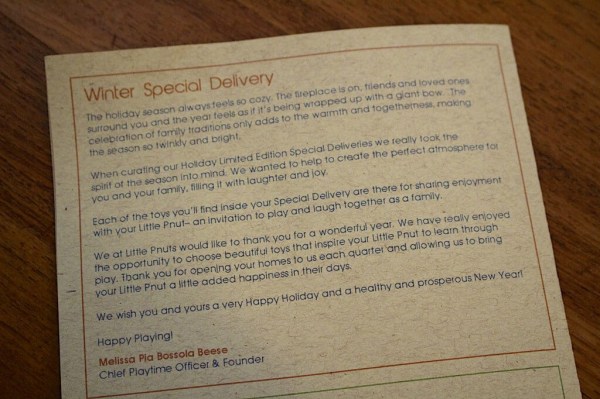 I really liked the focus on family fun in this box!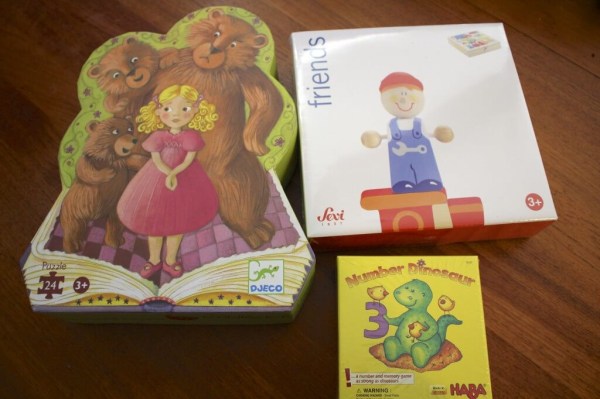 My kids didn't really let me take a lot of product pictures. They were too excited about the toys!
Djeco Goldilocks and the Three Bears Puzzle ($16.69) We actually opened this box when my son was away in his speech therapy preschool. My daughter couldn't wait to get her hands on this one – I think the theme really piqued her interest! It's a very solid, sturdy puzzle that has large, easy to match pieces but enough to be a challenge. My 3 year old is a puzzle fiend and we often complete several puzzles per day. He was excited by this one too.
BTW, we are at the table whenever my son is really intrigued by something. He likes to play with new toys at the table. He's sort of a particular guy!
Sevi Play Puzzle Transportation ($37) I had never even heard of this brand but as I understand it appears in Little Pnuts regularly! It's an Italian brand but very much like Haba.  My son fell in love with this one in an instant and he hasn't set it down. Please ignore the bad review on Amazon on this toy, it's absolutely amazing.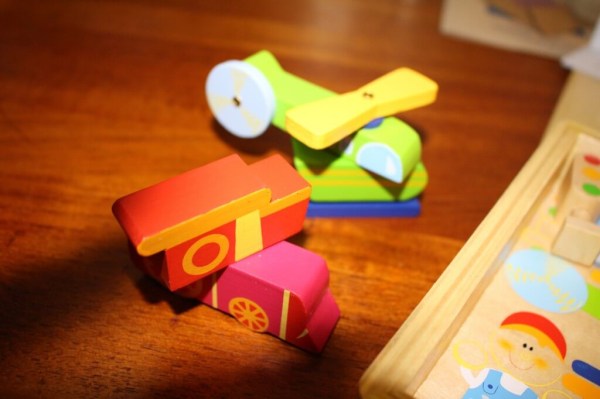 This toy encourages pretend play with the themed 3 dimensional figures, plus all the pieces are mix and match. I actually took this photo before I looked at the instructions. It was actually my son who grabbed them and said "read the directions!" and discovered how to take them apart and build with them. A few pieces were hard to take apart at first, but after a few tries my son was able to do everything by himself. Little Pnuts encourages playing with your kids but I have not been well and E sat on my lap today while I napped in the recliner with all his truck pieces and played probably for an hour. When he's all done he has to match everything back up and stick in back into the box (and a huge plus – it comes with its own beautiful storage box).
Update – Something I wasn't aware of until I wrote the review is that Little Pnuts works individually with special needs families to customize their boxes to give the appropriate experience to each child based on recommendations from pediatricians, speech/cognitive therapists, and occupational therapists. I'm guessing I wouldn't have received the next item because I could have identified for them that matching numbers is a milestone my son hasn't quite reached yet – but he has enjoyed this game and has gleefully told me several times that he's matched dinosaurs!
Haba Number Dinosaur ($6.64) I usually love Haba but this one wasn't as big of a hit for us. However, my son has an expressive speech delay and because of that he is delayed in some other tasks that a 3 year old might be doing already (and FYI, he has no cognitive delays – he has the brain of a 5 year old!). This was more complicated than a normal matching game – you match the numerals to the number of items, and there's a small wooden dinosaur that gets passed back and forth depending on whether you get a match.  My five year old liked this game because it was a more advanced twist on matching, but my son wasn't really into it all that much.  I'm going to save it for a few months from now when he may be more interested in it beyond the little wooden dino!
Little Pnuts is a box that I wished my mother-in-law (since she insists on buying toys) would get my children instead of what she does buy them (they regularly go in the for sale pile without being played with).  This box had a retail value of just over $60, which is $20 per month, about equal to the retail value plus shipping. For sure subscribe to this box using an annual plan to get the best value – but I wouldn't stress too much about it, especially if it's a gift. I enjoyed the curation and my son has a new favorite toy that has already sparked a lot of conversation and fun play. I think this is a solid subscription box that isn't going to disappoint with odd or inappropriate choices as I sometimes get in other boxes. I also like the idea of getting a quarterly box that has more expensive but more valuable toys that will last much longer than cheap plastic ones.
Visit Little Pnuts to subscribe or find out more about this subscription box. Don't forget to use coupon MommySplurge14 when you join to save 10% off your subscription. You can also check out more baby & toddler subscription boxes in the directory!