This week my Hello Fresh arrived a day late due to weather. Whomp whomp. I made a pot roast I had in the freezer while I waited impatiently for it to arrive. I have been avoiding the walk to the grocery store like the plague! Today I got hits on search for "food and recipe monthly subscription boxes" so that's what we'll call Hello Fresh this week! It's $69 for 3 meals for 2, you can pay a bit less and get a veggie box, or more and get it for four people.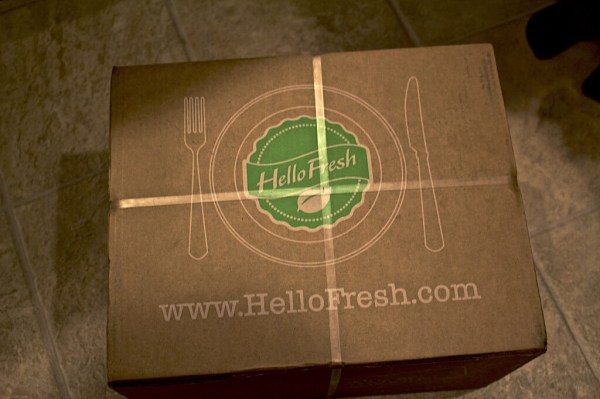 The Subscription
: 
Hello Fresh
The Description
: Each week Hello Fresh delivers beautifully photographed step-by-step recipe cards, with the exact fresh ingredients needed to create a selection of new recipes.
The Price
: $69/week (59 vegetarian)
The Coupon
: Save $25 on your first order. Use code 
SPLURGE2014 
 . Expires January 31, 2013.
Hello Fresh Classic Box 1/22/13 Delivery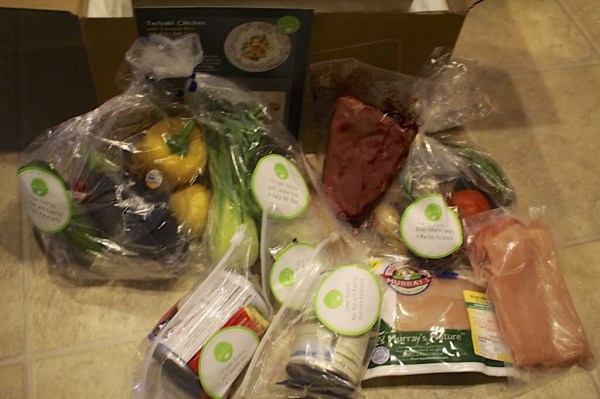 Despite being a day late, everything was in perfect condition. You can see all the meat is individually package. It rests against two large ice packs (which were frozen solid). Then the produce is bagged up, and the pantry items are bagged up separately. Sometimes when my fridge is empty I just throw them in there, but I left them on the counter this week.
Lemon Roasted Mahi Mahi with Roasted Vegetable Ratatouille 
This is my favorite Hello Fresh recipe of all time! Which is hilarious because I'm not a big fish eater (I will pretty much only eat white fish – I tried to make myself eat salmon last week and it was a disaster) and I'm not fond of eggplant either. BUT THIS WAS TOTALLY AMAZING! I loved every single bite of this dish. You roasted the veggies and then simmered them with tomatoes while you bake the fish. As usual I cooked the fish a bit longer than it says to (HF always goes for "lightly baked" while I like my fish to be done). Someday when I figure out how to buy fish on my own (seriously, I can't, I will just wait for Hello Fresh to do this one again) I will surprise my husband by making this one by myself.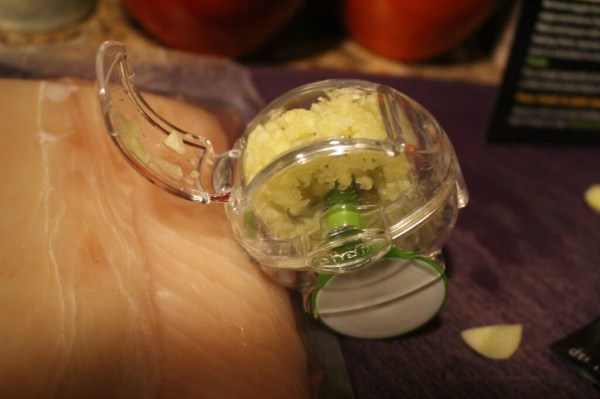 I got tired of mincing garlic by hand. I bought this chef'n rolling garlic mincer. If I chunk the garlic up it works great!
OH SO GOOD. I love the lemon zest on there!
Teriyaki Chicken with Coconut Rice and Bok Choy 
I love that Hello Fresh sources such quality meats! It's certified humane and you can look up the farm. This one was simple – cook rice with some coconut milk, toast some cashews, fry up some chicken, add a marinade, and wilt bok choy. It was ok, it wasn't my favorite. I really had to cook the crap out of the bok choy for my tastes. I think I did it wrong.
Seared Steak with Dijon Tomato Salad and Marble Potatoes
Whoops, I forgot a picture of the ingredients! I make such great steak in my oven following the directions. The meat is so high quality you only need salt & pepper. Also… whoops, I bought a meal with a dirt salad – tomatoes and cucumbers. I am… not a fan. I saved those for my husband and cooked a bag of green beans and dressed them with the Dijon dressing. To die for. The boiled potatoes you finish off with butter & rosemary. This hit the spot and filled me up.  I loved the tangy dressing on my green beans and when my husband comes home for good I would gladly order this one again and he can have dirt salad and I can have green beans.
Visit Hello Fresh to subscribe or check out upcoming meals and use promo code  SPLURGE2014 to save $25 on your first order! That works out to be less than $7.50 per person per meal. My code expires 1/31, so you'd better hurry!  If you're reading this before midnight you can still order meals for next week – I'm getting the Chicken and Golden Beet Pilaf with Goat Cheese, Steak Tagliata with Garlic-Rosemary Sweet Potato Wedges, and instead of the shrimp dish I'm picking up Roasted Pork Chops with Caramelized Parsnips and Pear, which is almost exactly like the Roasted Pork Chops with Sauteed Apples and Kale I just unpacked, but I love cooking with fruit so I don't care! I'll update with the following week's menu when it's up!
Feb 12 Delivery:
Chicken Paillard with Rosemary Potatoes and Gremolata (one of my favorites, it's so good!), Balsamic Beef with Sauteed Broccoli over Creamy Polenta (skipping this, not a polenta fan), Mahi Mahi en Papillote with Sun-Dried Tomato Risotto and you can also choose: Sweet Italian Sausage with Fregula Sarda and Spinach or Gnocchi with Butternut Squash, Spinach, and Goat Cheese.
Check out all my Hello Fresh Reviews! Don't forget to take a look at other Fresh Food Subscription Boxes.