iBbeautiful sent me this subscription box for my review.
For November iBbeautiful sent me a teen box to review! I've purchased the tween version in the past for my dumpling, but not the teen version. I was excited to see what was in the box, and I loved it! I would have liked it just for ME!
You can pick up a special one-time holiday box for your special teen or tween girl and save 10 percent with code splurge10tween or splurge10teen. iBbeautiful normally ships late in the month, but they're moving up shipping this month, so you must order by December 7 to get the holiday box!
iBbeautiful is a teen and tween subscription box company with fun beauty, accessory, and lifestyle products. I think it's the cutest box and any teen girl would love it!
The Subscription
:
iBbeautiful
The Description
: Choose a box with or without the graphic tee and specify teen or tween age range. Products range from lip gloss, nail art, hair products, accessories such as rings, bracelets, and necklaces. iBbeautiful's slogan is "b unique, b happy, b you," which is adorable and perfect for a teen or tween girl.
The Price
: $18 or $28 with graphic tee per month
November 2013 iBbeautiful Live Lucky
iBbeautiful comes sealed with duct tape! So trendy!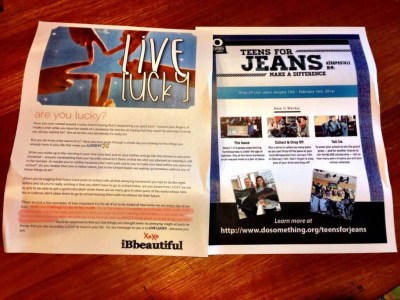 The theme is Live Lucky and reminds girls to think about everything they are lucky for! I thought it was a great seasonal message – to give thanks!
Nice fun squigglies!
The information card!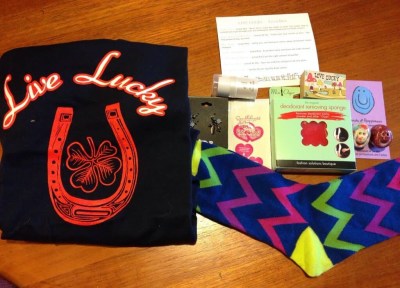 Live Lucky T-shirt Great shirt! I think it's so cute and I love that it's a graphic tee with a message!
e.l.f. All Over Color Stick This was a great teen item – a little cosmetic that's not too much. I approve. Passing this on to my teen niece!
Sparkle Hearts Sparkly Body Lotion I was excited to see this paraben and phthalate free sparkle lotion!
Miss Oops Deodorant Removing Sponge I love these sponges and this is an item a mom might not think to get her teen, but a teen would love!
Fun Socks! Love the chevron pattern on these! And teens LOVE SOCKS. Seriously.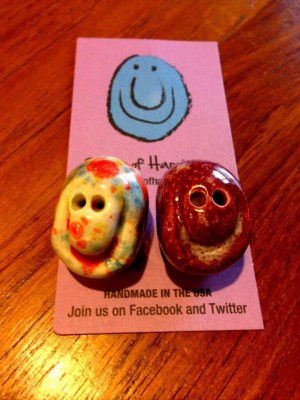 Seeds of Happiness A happy little lump of clay. Keep one to make you smile and give one to whomever you think needs it. Love anything with a giving theme.
Live Lucky Trinket Box OMG this is so cute. My daughter wanted it and I totally kept it. I love gnomes. Store a trinket and the gnome is your little secret!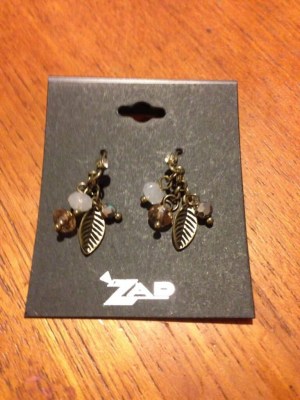 Lucky Drop Earrings These are CUTE and getting packed up for our Florida trip for my teen niece! She'll be one lucky girl this holiday!
She's been marching around proclaiming how lucky she is (and she's right!). We made a Thanksgiving box and drew things we were lucky for and put them in the box.
The November iBbeautiful box has a value of $38.50 plus $10 for the graphic tee (or at least that's how much it costs to add on). I think it's a great value box and I just love the idea of something special just for them that's properly curated and age-appropriate!