I miraculously received my December Julep Maven box before I left. Julep had ordering issues on the release date, and although I'd changed my address, I guess it didn't save it, and it arrived home in DC instead of home in Florida. I sent Julep an email about it in response to my shipping notice because I didn't expect to receive it before I left. With Thanksgiving, Black Friday, and Cyber Monday in between, I haven't yet received a response, but I got my box, so I'm pretty darn happy. My photos aren't the best – last night was pretty busy trying to get ready for our trip!I have to say, these are some of my favorite Julep polishes yet, and I probably should have upgraded this month, but I'm really pleased with what I received!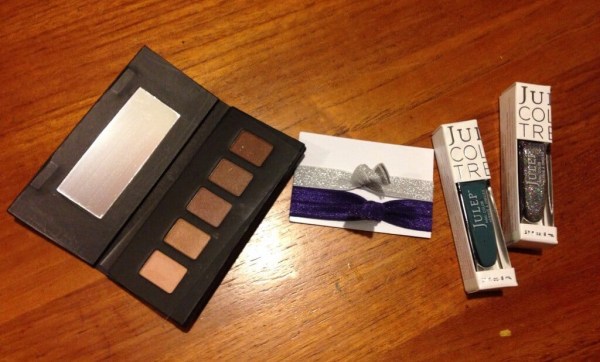 The Subscription
:
Julep
The Description
: Nail polish box and a beauty box. Get either 3 polishes, 2 polishes and a beauty product, or 2 beauty products per month.
The Price
: $20 per month
The Coupon
: Get your first box free, just pay shipping! Use code
FREEBOX
.
December 2013 Julep Boho Glam
Did you see the new replenishment option in your account? If you're not yet a member you can get a free intro box ($3.99 shipping) with code FREEBOX at Julep. I was happy to see this new basics option, and you can see all the various boxes for December Julep here.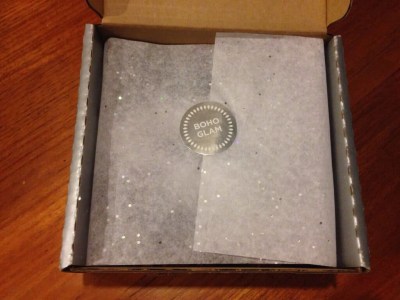 I like that Julep goes to the effort of making their boxes present-like. It's really fun getting a present in the mail, even when you purchase it yourself.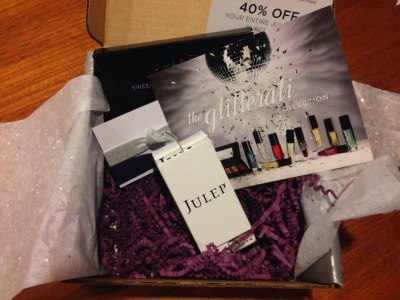 Everything is really nicely boxed up! There's a 40% off Julep coupon that expires at the end of the year. I tucked that in my purse before we left – we won't be back until next year!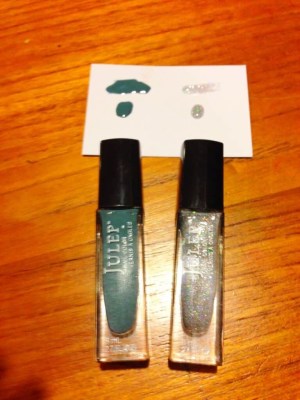 Misti – Boho Glam ($11.20) Smoky blue-grey crème. I found this to be much darker than the Julep swatch photos and I totally love it. It's different in every light and the perfect fun winter color (this is the boho in this box!)
Joelle – Boho Glam ($11.20) Full coverage smoky holographic glitter. This one's the glam! I did an accent overlay nail but I'd wear this one by itself too. Love how I can make any color a holo polish.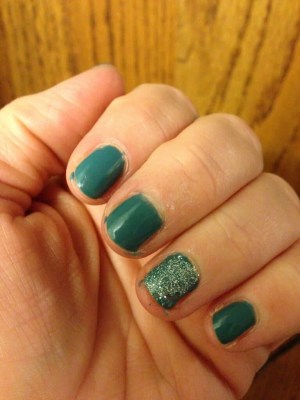 I snuck both these polishes in my quart size bag this morning. I couldn't go without!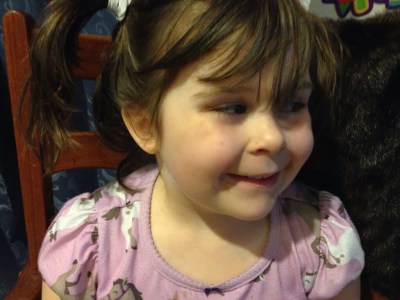 Twistbands ($3.67) Worked great! After she took them out and strew them around the carpet I slipped them right on my wrist until I found them a home. There was a code for Twistband Club – use TWIST4JULEP to take 25% off! This was a nice bonus item.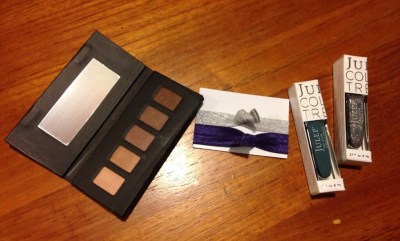 Sweep Eyeshadow Palette: Neutrals ($19.20) Same photo as above, but a look at those shadow colors. I was surprised to find the middle color was quite pink. It's a nice palette and I thought the colors applied smoothly.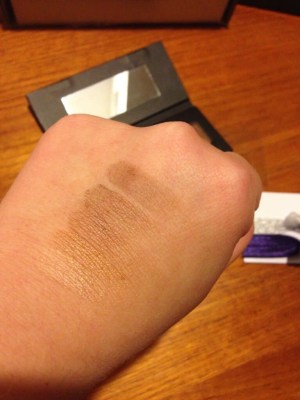 No primer. This was shimmery but subtly so, and the Sweep shadows do not contain talc.
I admit it, I'm totally addicted to getting new polish colors every month with Julep. Do I need them? Probably not. But with 3 pairs of paws to paint (my son likes his nails painted too!) it's really hard to resist. Julep does a great job of providing me new polish every month, and every color really is different. Even if you decide to be very selective about the boxes you get, it's great to be a subscriber to take advantage of the Maven pricing! Julep has free shipping through Dec 24 but it's normally a Maven-only benefit!