Whenever I'm at my grandma's house I have to steal chocolate chips out of the bag. She hates it but I do it anyways. I'm so terrible!
Julep is having a cool sale today and I'm very tempted – 5 polishes + the color caddy for $30 (use code CADDY). I skipped the color caddy on cyber monday but I wish I hadn't! I love it when stores do 12 days or however many days of Christmas/deals because there's always something fun.
I'm still shopping for presents for my daughter. Over the past year she basically found all of her Christmas gifts. So she needs something to be surprised. It'll probably be the Sofia the First doll. I think we need another trip to a toy aisle to decide. She basically wants anything she sees on TV (trying to talk with her about advertising… they say that children don't understand advertising until they're about 13). But I want to know what she really wants (and only want to buy what will be played with!). Santa bought E an Imaginext playset and will probably hit up Costco for some accessories. Santa likes to ignore the fact that the children have enough toys. Oh Santa.
Anyways, with all the holiday deals I haven't been doing any real blog posts (I know I know I've said this like 50 times). Just some fun shots to share.
Making cookies from Bluum. They were really good.
I think this Lalaloopsy babies are the best. I like them even better because there are a whole wall of them.
Seeds of Happiness. My kids loved them.
Aunt Jenny sent us a felt Christmas tree. They were so proud! I think E was eating something, I don't remember. Daddy helped put up the tree. We have a tree to decorate here at the grandparents' house, plus our tree with daddy. First we have our first birthday party here. And then my crazy mother in law (yeah, I said that on my blog, she's CRAZY) wants to do two birthday parties for my children. Their birthdays are 2 days apart, the week before Christmas.  They are already having 2 celebrations plus Christmas.
I think we could just go with one party in Vermont, ya know?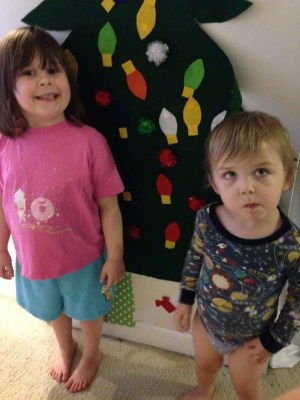 She's too cute not to share!