Besh Box sent me this subscription box for my review.
I was super psyched to get a Besh Box in the mail yesterday! Growing up in Panama City I love me some good home cooking and chef John Besh takes it to to the next level! Besh Box is designed to inspire your kitchen creativity with his favorite recipes, tools, and techniques, great ingredients and some extra flair – music & drink ideas to keep your kitchen humming! The Besh Box website also has a community area so you can share what you made with your box! We happen to have everything in our kitchen here to make the featured recipe, so I'll be cooking soon & sharing next week – but I wanted you to get the flavor of this box!
The Subscription
:
Besh Box
The Description
: This monthly box is brought to you by Chef John Besh. This box contains one of his favorite recipes and the tools that make the most of them, along with cooking techniques, special ingredients and the drinks to make it extra special!
The Price
: $55 per month
December 2013 Besh Box Holidays from the Heart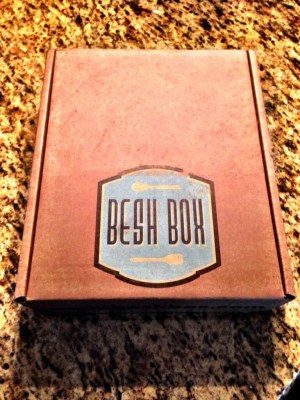 I love the looks of Besh Box. It's always nicer when it's pretty, isn't it?
Gorgeous presentation and perfectly giftable. My grandparents were super excited to dig into this box – I'm home for the holidays too!
We just kept on pulling out more items and were excited about each one! I thought everything was beautiful & useful.
Info Card The information card gives John's inspiration and ideas behind the box.
Back of the Card Info and tips about all the items – 7 of them!
The playlist & the recipes! My family is beating down my door right now to start cooking that Apple & Pear Tart with Pecans.
Epicurean Scraper ($10) I love a good scraper and this one is pretty enough to tuck in on your counter to grab it any time. It's made of wood but dishwasher safe! I've never used tools from this company and I'm looking forward to testing it out – they sell pizza peels as well and I'm looking for one as a gift!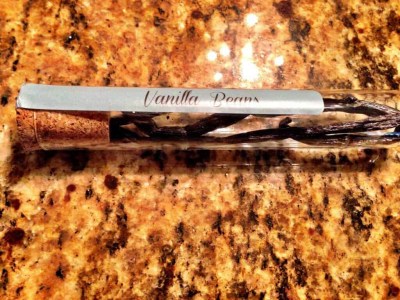 Vanilla Bean ($5) I love vanilla beans! I usually buy them to make ice cream for the kids – nothing beats real true vanilla flavor and scent. Delicious!
Shopping List Post-Its I'm not sure if these were part of the box or just in mine, but I loved them to make little listys with. I have a feeling my daughter will steal them.
Inglewood Pecans ($14) I love pecans for both savory and sweet dishes! Growing up in the south this is my go-to nut (I think silly northerners tend to use walnuts but you should use pecans instead – because I say so!) and these are delicious and soft – and a fresh, local product.
Raw Materials Design Kitchen Towel ($16) This is the best kitchen towel ever. I've never had one like this – and there's a towel in every box! It's made of cotton twill and will get softer with each washing. I need more boxes to get more towels. I love the industrial but natural & homey look of this towel.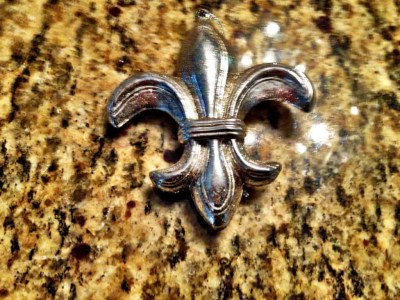 Fleur de Lis Ornament This is so pretty! I'm gifting this to my cousin, who is truly in love with New Orleans and visits whenever she can (fortunately it's only a short day's drive away!).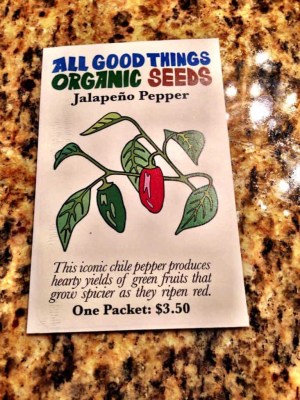 All Good Things Organic Jalapeno Seeds ($3.50) Some seeds to get some nice spicy peppers started – great idea to think ahead! They're also organic.
Eppicotispai Double Pastry-Pizza Wheel ($15.60) Made in Italy, you can use this to help cut & shape your dough (made with butter obvs!) so your hands don't melt your butter too much. The pockets of butter are key to a flaky crust! Plus you'll have nice decorative edges.
There was a ton of items packed into this gorgeous box and I already know we'll have so much fun creating holiday treats in our kitchen with the December Besh Box! I'm truly looking forward to seeing what gets cooked up next!
This post may have miscellaneous affiliate and/or referral links. Please read my disclosure notice for any questions. I will always tell you when I am reviewing something I got for free. I received this box for free in exchange for my honest review.