Fancy Food Box sent me this subscription box for my review.
I was so excited when Fancy Box contacted me to review! Because their shipping goes throughout the month for various boxes, I had them ship home to Florida, though apparently the Fancy Food Box shipped right away! And can I tell you I am so glad I did? Because my grandparents were wild over it. They would. Not. Stop. I mean totally nuts over this box! And they sort of ate everything right away. Merry Christmas to my folks! Grab one of these for your parental units before the 20% off coupon (code HOLIDAY) goes away!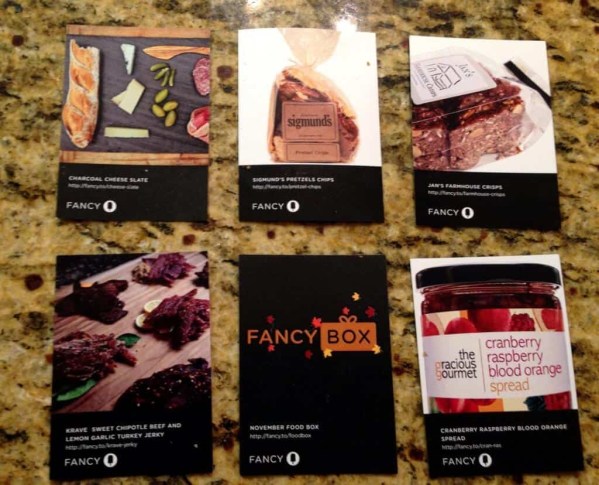 The Subscription
:
Fancy Food Box
The Description
: Fancy's Food Box is strictly food – gourmet items, unique finds, drinks, tools, and recipes.
The Price
: $47 per month
November 2013 Fancy Food Box
My Fancy Food Box came in a big pink box!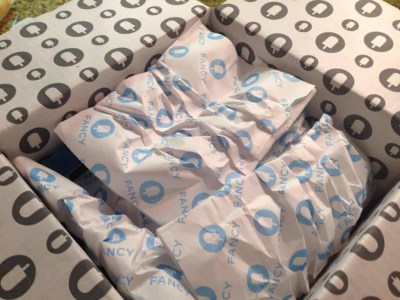 Instead of brown paper now there is Fancy packing paper. It looked nice!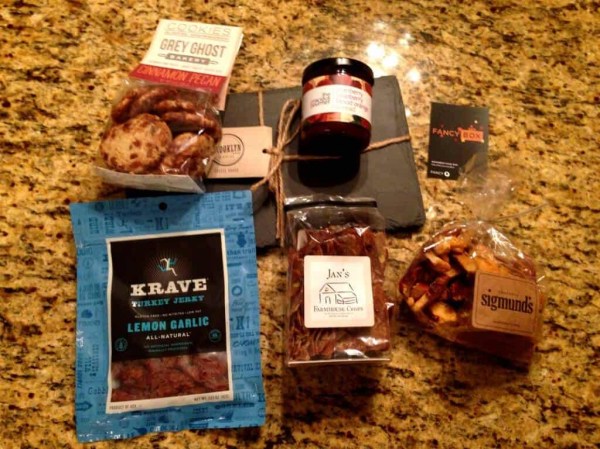 I thought this was a great box and it came with SO much stuff! I had to stand on the bar stool legs to get everything in one shot!
Sigmund's Pretzel Chips ($5) Unfortunately the bag to this was broken and they were pretty stale, but the flavor was nice and we ate them anyways. FYI I have dealt with Fancy customer service as a subscriber before and they have always done more than necessary!
Jan's Farmhouse Crisps ($9) These are like uber-fancy crackers with cranberries, flax seed, pistachios, and roasted pumpkin seeds. And totally toppable. Great for holiday season and very seasonal themselves with those ingredients!
The grandparents were intrigued.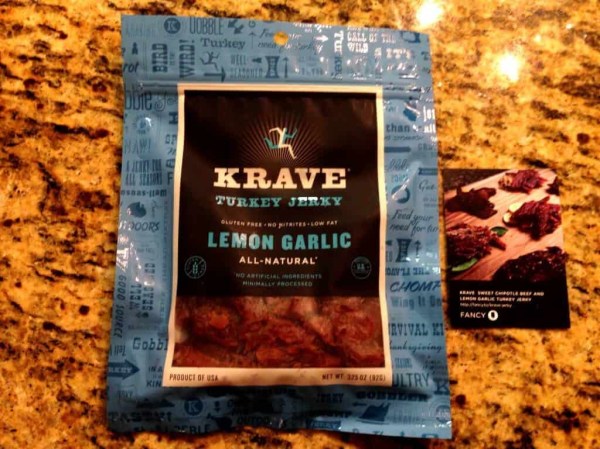 Krave Jerky ($7) It was cute to have turkey jerky in a box that arrived before Thanksgiving! Our flavor was lemon garlic and it was very tender.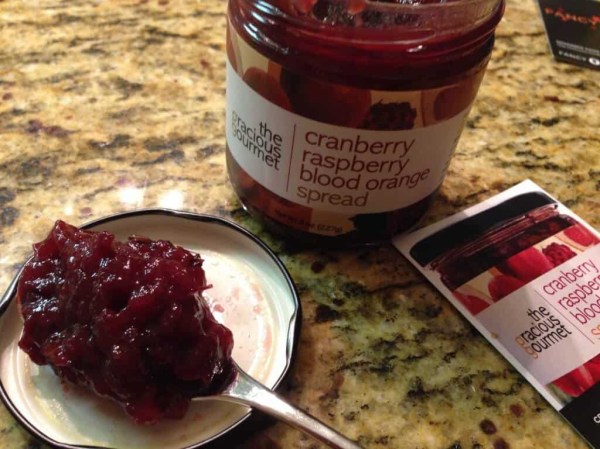 Gracious Gourmet Cranberry Raspberry Blood Orange Spread ($9) My grandfather has never gone on in his life about a product like this before. Seriously. He went on & on about it. He is in LOVE. I found it on Amazon in a food service size and I'm totally getting it for him. He is never all like I LOVE this. He called it "simply outstanding." And it was! The Gracious Gourmet says you can find more recipes on their site, but I think Grampa liked it just like that – with the spread as his centerpiece.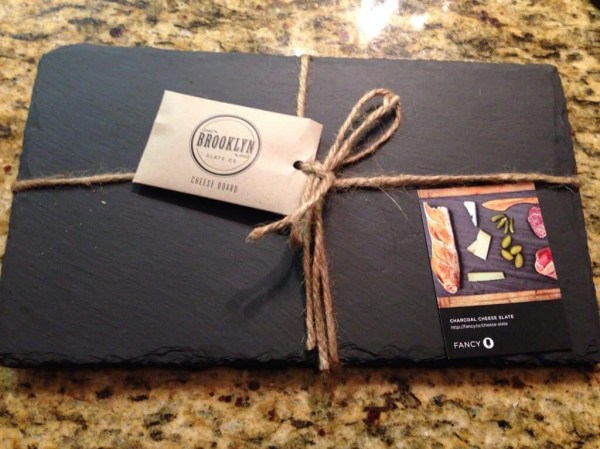 Brooklyn Slate Cheese Board ($26) I totally wanted one of these! I'm leaving it here, but I'll get it later. It's so cool and comes with chalk and cork protectors to apply to the bottom. It's quarried in New York State and cut in Brooklyn.
I wrote "Snax 4 Winos" on the board. A loving family joke!
Yes it was delicious as it looks. We found a bar of cream cheese. And ate everything. The remaining spread was served with pork tenderloin for dinner.
Grey Ghost Cinnamon Pecan Cookies ($9) And dessert! These were delicious. And unlike similar cookies didn't hurt my mouth (does that ever happen to you? something about some sort of ingredient hurts my mouth – obviously these didn't have it in there!).
So basically the November Fancy Food Box was a tremendous success. And I'm totally getting a jug of that spread for my gramps. If you're looking for a holiday gift for hard to buy family members, I'd choose this over a gift basket. You won't know what's in it, but my family thought it was so much fun to open to the box and pull out the items one by one. I could barely keep their hands off of everything for my pictures!