October WhimseyBox was themed "Sew all the things." I had my doubts about finishing October
but I did it! I'm not the biggest fan of sewing crafts, but this quick clutch used a blanket stitch, and everything went quickly. I totally love
's new level-up completion buttons and I have decided what to do with my new clutch – it will store my jewelry tools! I lose them every month, which is why some of my other craft boxes have been delayed (ahem, I need to get organized!). I have also decided to store all the buttons I get in my various boxes (many) on the clutch, and it should look really neat when it's full! As I find them (coughgetorganizedbrandycough) I'll add them and when it's full I will post another photo!
The Subscription
:
WhimseyBox
The Description: In each Whimseybox you will receive a new DIY craft project each month with the materials and instructions to make the craft, plus a reusable storage box and a 5×7 original art print.
The Price: $15/month
The Coupon: Save $5 off WhimseyBox with my link!
comes neatly wrapped with the instructions on top.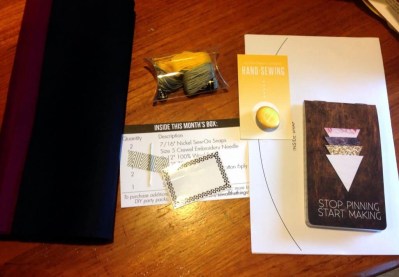 I was pretty hesitant about a hand sewing project, which is why it took me a couple weeks to do this project. Went fast once I started!
The instructions are complete & pretty clear. I like that
puts the instructions in the kit!
This is the felt cut, with snaps sewed, blanket stitched together.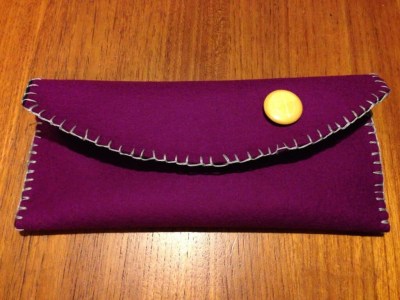 Putting it together for the final step was a snap (har har). I just blanket stitched the sides again.
Here it is holding the cute notebook that came with the box!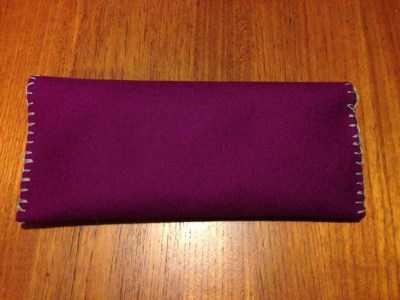 And here's the back – just for completeness!
is a fun box – but I hope we don't get another sewing craft any time soon! It seemed a bit repetitive, as I just blanket stitched away. The alternative projects (with online instructions) didn't involve so much blanket stitching. I was pleased though because it came out pretty nice even though I didn't pay very much attention!