The kids were super excited when November Bluum boxes arrived! I get one for each! This month my 35 month old toddler son's box was "Let's Play A Game" and my one month shy of 5 year old daughter's box was "Cozy Up." Neither fit the theme very well but Bluum doesn't really pretend to have a theme at all!
The Subscription: 
Bluum
The Description: Age-specific subscription boxes for babies and toddlers starting at $14.90. Each box contains 5-6 full-size products revolving around a monthly theme. A toddler box is available for $24.95. Earn rewards points for reviewing products or opting in to that month's Bluum box to redeem for a free box.
The Price: Boxes start at $14.90. A toddler box is available for $24.95.
The Coupon: Save half off your first box! Use code HALFOFF. Try using this code to save half off your first box! Use code PAMPERS.
November 2013 Bluum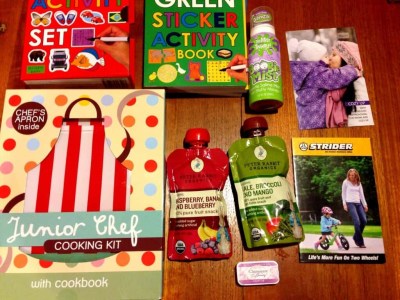 This was everything in the girl's box.
Junior Chef Cooking Kit with cookbook ($?) An apron & cookbook! It's cute! The kids love aprons.
Sticker Activity Book Set ($9) The kids love the sticker books!
Boogie Mist ($5) Delightful. In all seriousness it gets the job done, especially when your child refuses to blow her nose.
Peter Rabbit Organics Pouches My son will eat these (no I am not getting the boxes mixed up – my daughter will only do the applesauce).
Clairvoyant Beauty Lavender Lip Balm ($10) Ten dollars? Seriously?! WOW! A Lavender-infused blend of Oils and Cupuacu Butter keeps lips soft and naturally protected from the Sun.
My son's box did not contain the pouches, boogie mist, or junior chef kit. It did have the lip balm and the sticker activity book, plus these items..
Pink Babylegs No, I didn't get this box mixed up, Bluum does seriously weird stuff sometimes.
Scratch & Grain Chocolate Chip Cookie Kit ($7.49) Yummy, this will be fun to make!
Savory Numi Tea ($7.99) I think they sent this in both or at least one box last month? I'll pass it on… to someone…
I wasn't impressed with our boy's box this month at all! Still, Bluum is fun and I've received some great items in it that I've gone on to purchase on their own! I thought our girl's box was great and I was please to have received both an apron & cookie kit between the two boxes!
Visit Bluum

Check out all my Bluum Box Reviews! Don't forget to take a look at other Baby Subscription Boxes & Subscription Boxes for Kids.