October Project DIY was such a fun box! I put it off because I couldn't find my jewelry tools and as it turned out, they weren't really necessary to complete the projects because of the large size of the jump rings! Lesson learned! I just loved the fun style of this box and how different it was. Nothing is dainty or sweet about it at all (except for those dainty little rosary pearls providing enough of a contrast on the punk style to make it super wearable), but it's still fashion forward and the end results are amazing! I love how everything really worked together and you can mix & match the pieces to make your own look. Don't forget that I have a current giveaway for the November MJ Project DIY box!

The Subscription: Project DIY
The Description: Monthly subscription from M&J trimming (findings like rhinestones, ribbons, buttons). Get items for a new project every month like necklaces, bracelets, and more.
The Price: $30 per month
October 2013 Project DIY Punk Revival
Love the looks of this box!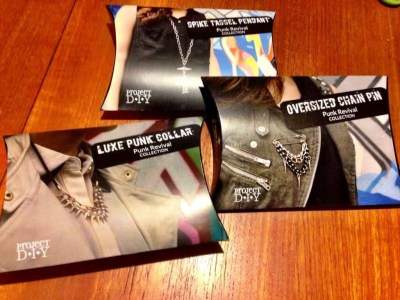 Project DIY has new packaging than the initial box I reviewed. I love these new pillow packs!
Chain Pin
All the materials are packaged neatly in one bag.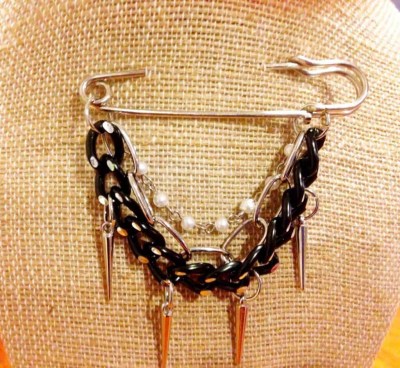 This one was simple to do! I attached everything with the jump rings! I think this would look great on a wool coat for winter!
Luxe Collar
This one was the hardest project in the box but was still pretty easy. I followed all the directions right on my Project DIY app on my phone.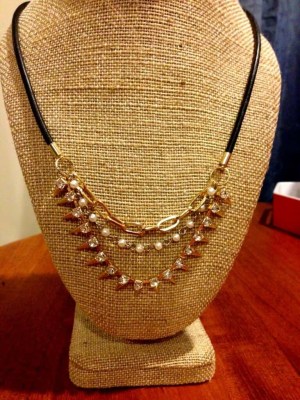 I finally found my bust, along with my jewelry tools, so I can show you the necklaces. The kids hid it in the gift closet… I love how this looks and it's not a high choker at all!
Spike Tassel Pendant
I was so surprised how lightweight the spikes are. They are completely hollow and held together with a glue dot.
One view here.
And another here!
The contrasting colors, shapes, and styles of this collection just made it work, and it's chic enough to be wearable and capture the punk style of the latest trend without looking like a 15 year old goth! I can't imagine I wouldn't like anything that Project DIY releases – I think the styles are amazing and I just love how unique they are. I was pleased how easy this box was to do while still ultimately producing great results. These are pieces I want in my collection and it's so fun to make them myself!
Visit Project DIY

Check out all my MJ Project DIY Reviews! Don't forget to take a look at other Crafts, DIY, & Hobby Subscription Boxes & Jewelry & Accessories Subscription Boxes.