I was hankering for some fancy makeup, so I decided to pick up another Mirenesse Glamm Bag! This time I got 2 of them – one for me and one for one of you! Details at the bottom of the post. Be sure to read here all about how to actually purchase one of these. There's a trick to doing it to save the most $. In this order I picked up 2 Glamm Bags, a free sample, and a Mirenesse Lip Bomb in an insanely vampy red. I made a silly video and you can see it at the bottom before the giveaway.
The Subscription
:
Mirenesse Glamm Box
The Description
: Offers makeup, skincare, and mixed boxes. Discover new beauty from this coveted Australian brand with up to 5 handpicked luxury products delivered to your door!
The Price
: $25 per month
The Coupon
: Join the VIP Club for $5 and get a $25 voucher.
Read this review for details on how to redeem it
on Glamm Boxes. Use code
VIP20
.
November 2013 Mirenesse Glamm Box Makeup Box
The Mirenesse Glamm Box actually arrives in a beautiful black box and is wrapped in tissue and then in this bag.
Every item is enclosed individually like so!
Seamless Velvet Shadow Long Wear Wet / Dry Minerals Indian Princess ($17.97) You can see how this cute compact operates by watching the video or clicking through. It's too gorgeous to use. I can't. It's paraben & talc free and I totally appreciate that. I'm going to get hooked on this box!
Secret Weapon 24Hr Mascara – Brown ($28.77) This is in brown, which I never receive! This was a pretty neutral mascara and will be perfect for swiping on without looking really done up! I have it on in the video.
Icon Sealer Concealer in Ice ($25.20) I was thrilled to get this in my box because I never get concealer! This applied really nicely. While it says you can use it as a shadow base, I purchased eyeshadow base with my last set of Glamm Boxes, so I will just be using this to conceal! It is not cakey and it's a really great concealer!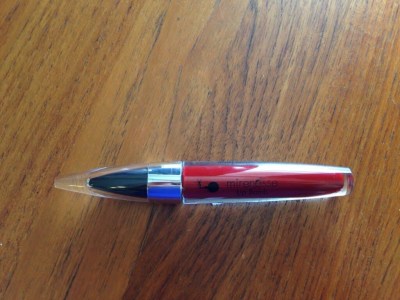 Mirenesse Lip Bomb #2 ($28.08) I guess I was feeling super brave when I ordered this! It's a gloss, stain, and lacquer all in one. It did end up sort of getting on my teeth though. I need to color my hair and not wear purple in order to pull this one off! I'm still happy with it, it just needs the right ensemble!
I snuck in this video while my kids were on FaceTime with daddy! So I look like a total trainwreck. Let's try to ignore it. And yes, I was squeezing in unboxings while they were keeping occupied!
And I have a giveaway! One lucky winner will win this bag – in all likelihood it will be exactly the same as mine. If you don't have the same skin tone, you can swap out what you don't want! In the spirit of international subscription box day & deference to my Canadian friends, I'll ship this one to Canada too. Ends 12/16 at 3am Eastern. Sponsored only by me so I can share with one of you – no association with Mirenesse!