Fair Treasure sent me this subscription box for my review.
Fair Treasure is such a lovely box! They send 2-3 fairly made treasures every month. Nothing is hokey and everything is beautifully handcrafted by artisans from all over the world.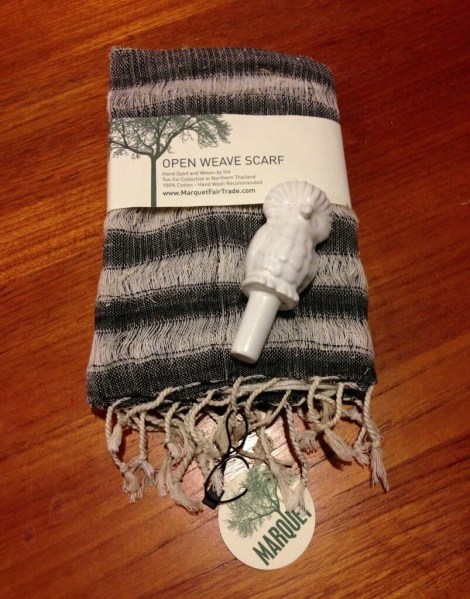 The Subscription
: 
Fair Treasure
The Description
: Fair Treasure contains 2-3 pieces of curated home décor, jewelry, and other accessory goods that are ethically sourced.
The Price
: $30 per month
October 2013 Fair Treasure
Ton Fai Marquet Open Weave Scarf ($20) This is so pretty. Mine had bits of the Fair Treasure packing material on it, so I hand washed as directed, and I was able to really see its true beauty!
I love how everything got nice & fluffy. If you're wondering, I just used some Honest Company dish soap.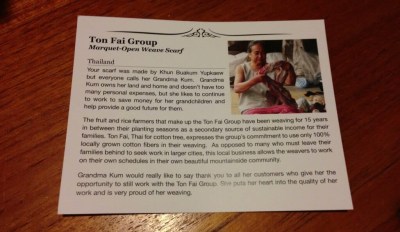 Grandma Kum makes this particular scarf (I find it fascinating and absolutely unique that Fair Treasure is able to identify the exact artist). Ton Fai only uses locally grown cotton for their products.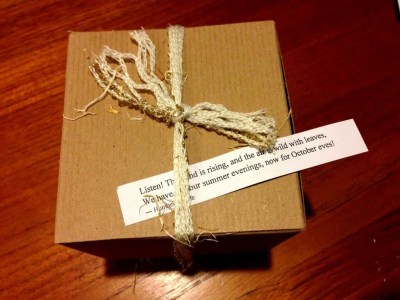 Jallpa Nina Artisan Group Ceramic Owl Topper ($18) This is so gorgeous. It's available in three different colors and is dishwasher safe!
I love this simple and really quite modern design. This is what I mean by not hokey. I would expect to see something like this in a curated collection of homewares finds!
Jallpa Nina specializes in handmade stoneware and porcelain inspired by a minimalist view of Inca heritage. They provide clean & well-ventilated working areas for their artisans.
October's Fair Treasure has a value of $38, which I think is more than fair. I love the whole idea of this box and I think Fair Treasure does really execute perfectly on it. It would be great to gift, to send to yourself as a gift for yourself , or to collect items for parceling out for gifts. It definitely makes it easy to locate and purchase these types of items, which you'll see at great markups elsewhere. Plus it's just pretty!