I opted to get Blissmo last month before I realized that we were going on vacation, so this baby was waiting for us when we got back. I really like Blissmo box! I think many of the items are super unique ones that I haven't seen in other boxes. Everything seems well curated and just really interesting to me!
The Subscription
: 
Blissmo
The Description
: Discover safer, healthier personal care products & foods. Premium organic, non-toxic & eco products. Select from 2-3 box options every month or skip the month.
The Price
: $25/month
September 2013 Blissmo
Ips The Original Egg White Chips, Aged White Cheddar ($1.79) I haven't tried these yet but I'm totally fascinated with them! What a unique (and allergy free?) idea!
Plentils, Sea Salt ($1) These were ok. I stuck them in a resealable box for my kids after sampling.
This Bar Saves Lives – Wild Blueberry Pistachio ($2.22) All natural, non-GMO, ethically sourced ingredients. This bar alternated from tasty sweet to not quite as sweet. It was interesting.
Keenwah Chocolate Sea Salt Clusters ($1.25) Yes. Yummy & nutty. Buy them.
Susie's Smart Breakfast Cookie – Banana Coconut ($3.25) These were okay, but a little too wheaty for my personal tastes.
Quinn Popcorn, Lemon & Sea Salt ($5) This was totally cool (see photo below – you pour on oil & seasoning after popping – it's TOTALLY NATURAL micro popcorn!). And Completely Delicious!
The Good Bean Roasted Chickpeas, Sea Salt ($2.75) I don't know why everything in this box is sea salt. That's obviously the theme. I'm not the hugest fan of roasted chickpeas so I'll tuck this into a package for my aunt.
Coolest popcorn ever!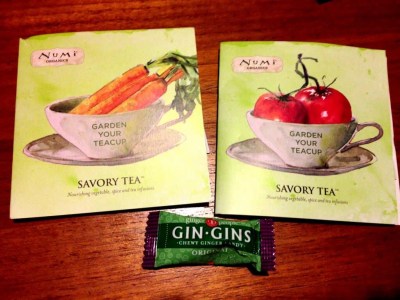 Numi Savory Teas & Gin Gin. We all know what I think of Savory Tea. It's just as great as regular tea. Which is not.
I come up with a value of over $17 for this box, not including the Numi & Gin Gin candy, so let's call it $20! I think if you like Blissmo, just sign up for a 6 month subscription – you can skip any month if you don't care for the selections and then you won't be paying for shipping. I do like Blissmo and the next time I choose to pick one up I'll be getting a non-food box!
Visit Blissmo

Check out all my Blissmo Reviews! Don't forget to take a look at other Green & Eco-Friendly Subscription Boxes.