This is the earliest I remember Goodies coming in a long time! Alas, September Goodies Box is my last. I redeemed my survey points for this one and I'm not getting the kids box this month either. I don't think I've been getting the value out of this box that I had been and this box is totally indicative of the issues I'm having!
The Subscription
:
Goodies
The Description
: Walmart's curated snack box. The power of Walmart makes this one relatively inexpensive.
The Price
: $7 per month
September 2013 Goodies
Nestle Pure Life Splash Açai Grape ($0.50) I was disappointed to see such a low value item suck up so much of the shipping costs (and therefore reducing the value of the box).
Zone Perfect Greek Yogurt Chocolate ($1.20) Ok. Yeah that's alright.
Bare Fruit Apple Chips ($0.60) Goodies Box didn't get the message that they have sent this to me multiple times, I bought a case of them (FROM GOODIES) and have also received this in other boxes. I was disappointed to see this. Good, but not new. I got the big bags for about 1.20 a few weeks ago at Goodies.
Attiki Thyme Honey ($0.25) I can't read Greek, Goodies says it's made from thyme flowers, which is cool. I was very disappointed to find that the container was significantly less than half full. The stock photos show it ALL the way full.
Kashi Sundried Tomato, Basil, & Feta Hummus Chips ($1) I hope these are great. Even if they aren't, I was happy to find them in my box.
Numi Beet & Cabbage Savory Tea ($0.67) Made with decaf black tea. No. Also my goodies account is all like "skip the honey." But I also got honey. The whole thing is weird.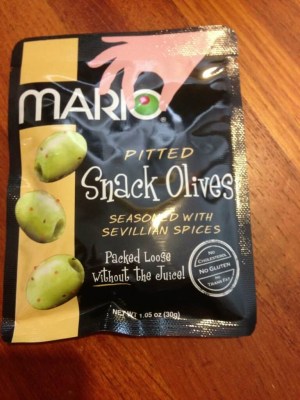 Mario Pitted Snack Olives Seasoned with Sevillian Spice ($1.89) Yes! I love olives. Yummy!
I liked this box better at the end of the review than when I started (that happens, it really does!). But I still think the misses outweighed the hits for me on this one. The water really irked me. I don't care if it's flavored water. My box was worth just over six bucks and I am pretty happy with that – Goodies is only $7. I just wish that it A) didn't have WATER in it b) my honey wasn't sad and more than half empty c) I didn't get barefruit AGAIN and d) I had never known about beet & cabbage tea. I think I am probably being a bit cranky but can't help but feeling that Goodies couldn't afford to send me a full container of lovely Greek honey because they shipped me a bottle of water…
BTW, I was prepping this post to go out & hit up Goodies Facebook page, where someone else said virtually the exact same thing. Whew, it's not just me!