September POPSUGAR Must Have Box came hot on the heels of Fall Popsugar Box, but that's alright because double Popsugar is double the fun! For those of you totally waffling about signing up, October is now sold out, you really need to get into PSMH when you can! If you sign up now you should still get the NOVEMBER box!
DEAL: Save $20 on your first box with this link and coupon code MSA20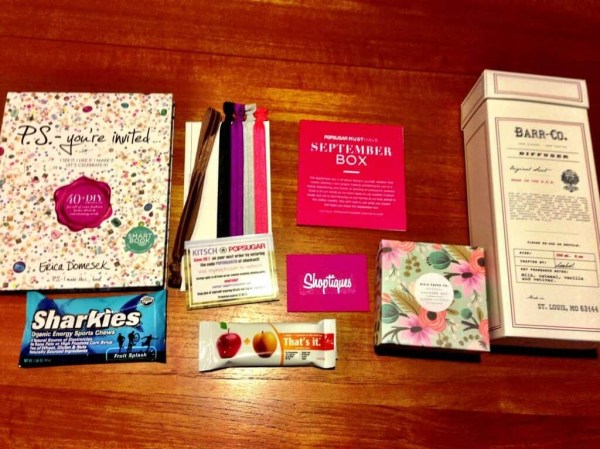 The Subscription
:
POPSUGAR Must Have Box
The Description
: Seasonally themed must-haves selected by the POPSUGAR editors. Beauty, Home, Treats, Accessories, Jewelry, and Personal Care. Occasional luxury boxes for women, men, and home.
The Price
: $35/month
DEAL
: Save $20 on your first box
with this link
and coupon code
MSA20
September 2013 POPSUGAR Must Have Box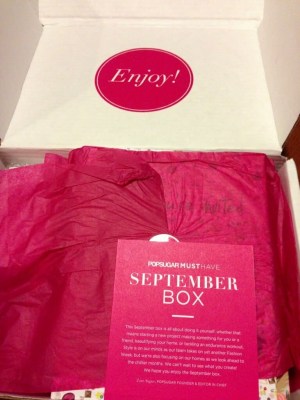 I like how POPSUGAR Must Have Box always tells me to enjoy! I'm really a fan now. A big fan!
P.S.-You're Invited . . .: 40+DIY Projects for All of Your Fashion, Home Décor & Entertaining Needs ($16) "Dive into the world of DIY to craft amazing accessories, vivid decorative accents, and creative fashions that add a dose of fun, style, and beauty to everyday life!"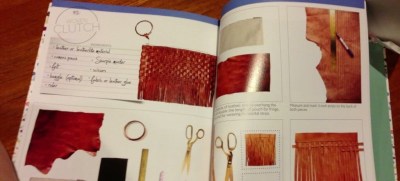 This book is great!! I loved how it was basic instructions and a whole lot of inspiration. There's enough instruction to get you through projects but there are so many I was totally inspired to craft. I liked this book much more than I expected to.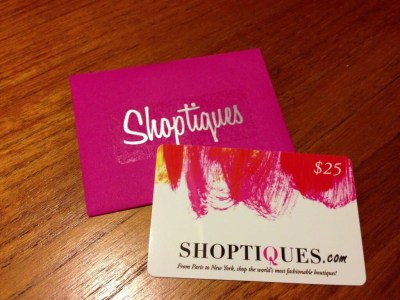 Shoptiques Gift Card ($25) I LOVE a good shopping site (see my list of places I shop here! I think this is a better value than some of the gift cards we've seen in past boxes. Did anyone use the Charm & Chain card?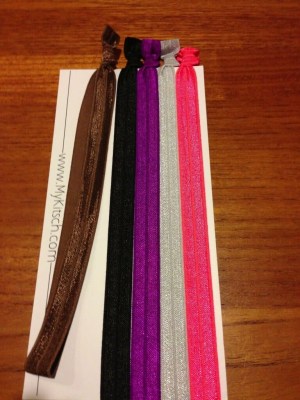 Kitsch Headbands ($12) Oh so thankful it's not more hairties! I will totally use these! These were soft and stretchy and not too tight. I got a different brand in another box once and it popped right off my apparently abnormally large head. These were perfect. They also came with a 20% off coupon and I'm totally buying dog feathers with it.
Rifle Paper Co. Botanical Coaster Set ($16) These are super pretty! I will dutifully use them to protect my teak furniture from my Coke Zero habit.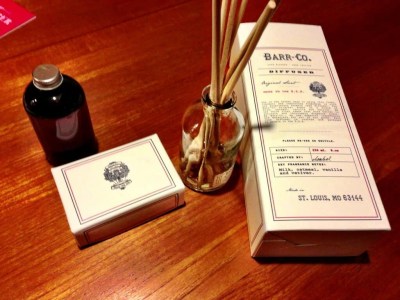 Barr Co Reed Diffuser ($46) In "original scent" – a blend of milk, oatmeal and vetiver. This was intriguing and an unusual fall scent. The oatmeal was comforting but it was still clean and fresh. I liked the style of this diffuser and was totally happy that I could just pour in what I wanted and save the rest of the oil for later.
So pretty! I actually laid all the stuff out for the big photo and realized after I had the most beautifully composed piece that I forgot the diffuser! I had to redo it.And I didn't even notice it, I was totally happy with the box without it.
That's It Fruit Bar ($1.75) I've had these, they are GREAT! This one is apple & apricot. That's it! They really mean it. I think it's really cool.
Sharkies Fruit Chews ($1.70) Can I say meh? These are organic/vegetarian sports chews. Only good if you NEED to add sugar in your diet. Runners & cyclists rejoice, they contain 36 grams of carbs. This *was* a really huge package and I'll let my kids eat them as a treat.
Nearly $120 in value for a $35 box! You can always add yourself to the waitlist for an earlier box. But if you do want a POPSUGAR Must Have Box sometime this year, might I suggest signing up soon? Good thing this box came today so I could have a new diffuser scent. My daughter stole the diffuser from the Sparaj box (enter the giveaway while you're here!). Both were fantastic! As the Barr Co diffuser exceeds the cost of the box, I'm pretty psyched!