Fair Treasure sent me this subscription box for my review.
Fair Treasure is a really neat subscription box and I was totally thrilled to be able to review this carefully curated box of fair trade treasures. Every Fair Treasure box contains at least $30 of fairly sourced items like home goods, jewelry, and accessories.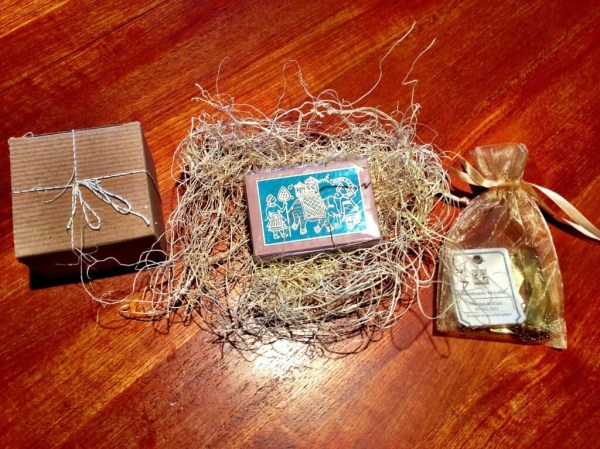 The Subscription
:
Fair Treasure
The Description
: Fair Treasure contains 2-3 pieces of curated home décor, jewelry, and other accessory goods that are ethically sourced.
The Price
: $30 per month
September 2013 Fair Treasure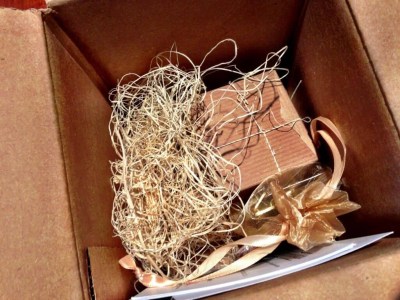 I loved the little nest the packaging created! It was very sweet and it smelled so delicious! I couldn't figure it out, because nothing in the box smelled, I think it was the box itself! I loved that sensory experience. I got this box on Friday and I smelled it fifty different times, I swear.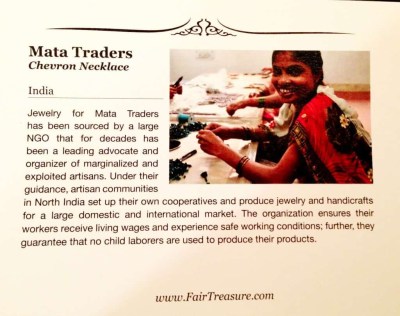 Mata Traders Mata ensures their workers receive living wages and assists artisans in forming co-ops to band together to prevent exploitation of the workers.
Mata Traders Brass Chevron Necklace ($28) This is a huge brass statement necklace and I totally loved it! It's a chevron pattern and totally in, and you can wear it that way, or as a more earthy bold (but minimalist) nod to the chunky breastplates and collars worn elsewhere. I liked the vibe of this necklace and thought it would be versatile! I also thought the texture on the brass made it very interesting and durable.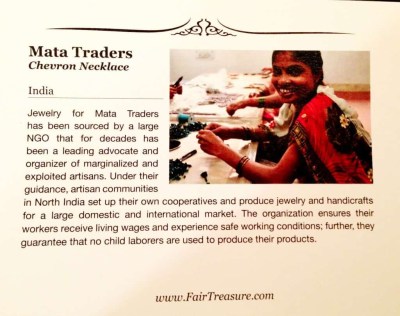 Indika Imports Indika works with artisans to focus on sustainability and ecological awareness. I thought it was interesting and awesome that they buy what the artisans produce, instead of dictating the items!
Indika Imports Elephant Gift Cards ($4) These are so pretty and while I'd like to say I'd use them for notecards, I have this plan already to slice off the backs, mount, and frame them for my daughter's room. She has an India-inspired bedroom set (designed by moi) and she gets lots of little treasures from India, as my brother-in-law is from India! I was super excited when I saw these because it will match the very bright very bold colors! You can see them on my Facebook page.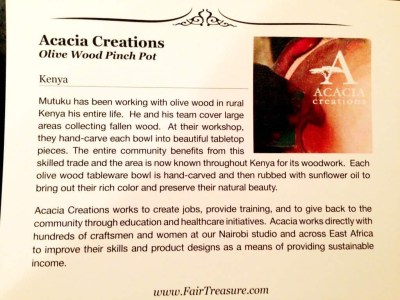 Acacia Creations Acacia's olive wood pieces are handcarved from wood from fallen trees and Acacia helps provide workers in this region with new skills and sustainable income.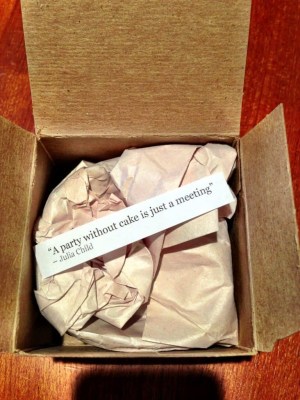 Acacia Creations Olive Wood Pinch Pot ($13.50) I thought this bowl was absolutely darling, and I'm a salt freak, so it's probably staying right on the table. You could also use it for bath salts, to store dry facial products (I'm thinking mask mixes or exfoliating powders), anything that deserves a special touch. Or your toy dinos can eat out of it (what my kids used it for before the salt got in it).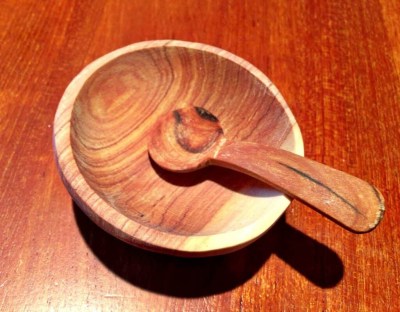 We spend so much time worrying about what's going to be in the boxes we choose to subscribe to, I thought it was great to have a box devoted to choosing based on how its made, how the workers are paid, and just being ethical and fair. I also thought this was more than a fair value! I estimated the value of the items in September Fair Treasure to be over $45 and was totally impressed with the box and delighted to be able to share it with you!