Oh sadness, August WhimseyBox didn't quite make it to me in Vermont, but that means I'll have an extra project to do over Christmas. This is really just a quick peek at what's inside for those of you interested in craft subscription boxes! I love them because
I don't have to figure out a project
I don't have to find supplies
I don't have to figure out instruction
I don't usually have leftover crap to deal with or the urge to buy ALL THE SUPPLIES. Because I totally do. Totally.
Craft subscriptions may be indicative of a bizarre no-commitment lifestyle on my part. I originally forgot to mention that WhimseyBox has introduced WhimseyBox Pro – subscribe on a 3+ month membership and get free shipping on everything from their shop!
The Subscription
:
WhimseyBox
The Description
: In each Whimseybox you will receive a new DIY craft project each month with the materials and instructions to make the craft, plus a reusable storage box and a 5×7 original art print.
The Price
: $15/month
The Coupon
: Save $5 off WhimseyBox with
my link
!
August 2013 WhimseyBox Bead All the Things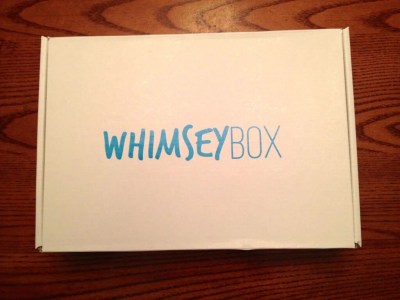 Whimseybox arrives in a clean white box.
And is so pretty! I feel like I could narrate these photos as well as you. It all worked out though because I'll be bored as sin stuck inside for 2-3 weeks at Christmas. I… don't like snow.
This is cool, it's some sort of beading project!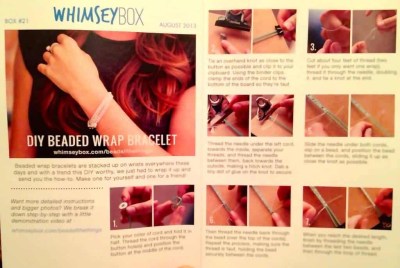 Indeed, it's a beaded bracelet. Awesome. WhimseyBox includes step-by-step photos of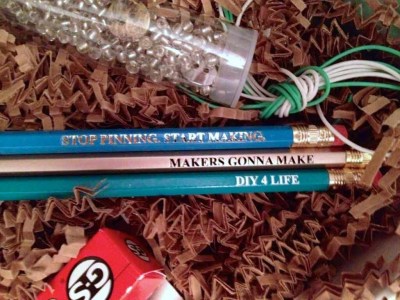 LOVE these pencils: "Stop Pinning. Start Doing." "Makers Gonna Make" and "DIY 4 Life."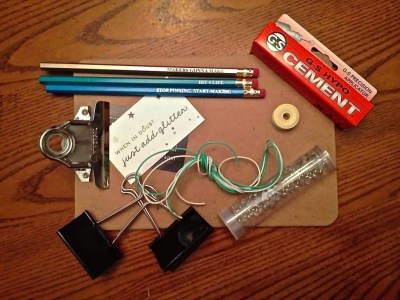 Whimseybox included all the supplies plus an obviously reusable clipboard for this project. I thought that was really cool and it doesn't assume that you have other supplies available. I do like craft & activity boxes (for little kids or big kids like me) that have everything in them. I'm excited to do this project in a few months! The card says "I'm so crafty I sweat glitter" and has a needle on the back for whatever needs needled.