I thought Oregon sounded like a nice destination, so I picked up the September Escape Monthly! I also have a beaver collection (not of real beavers, just, of beavers, it's hard to explain, I collect beavers, ok?!) and that's why I signed up for this box. Alas, no beavers were forthcoming. 
The Subscription
: 
Escape Monthly
The Description
: Escape with destination-inspired themes. Pamper & indulge with full-size luxury products from bath, spa & beauty to gourmet snacks & gift certificates plus travel guides & entertainment. One subscriber wins the escape vacation.
The Price
: $50 per month
The Coupon
: Get 20% off for life! Use code 
TROPICALESCAPE
.
September 2013 Escape Monthly Oregon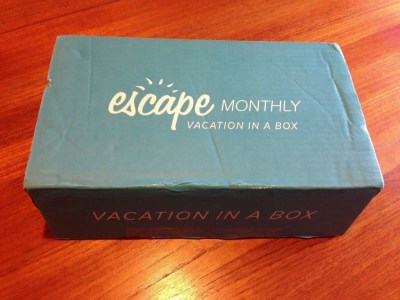 This is a nice box to get in the mail! It's super heavy, too!
I love the chevron! It's cute!
Info card I like this brochure style information card! It gave enough room to the many many items in the box and allowed for larger print sizes!
Oregon Orchard Cherry Chocolate Hazelnuts ($3.29) Bing cherries + chocolate + hazelnut. What's not to like, and totally Oregon!
Doug's Nuts ($5.95) Totally delicious and not overly sweet, just a touch of sweetness to set off the maple & vanilla.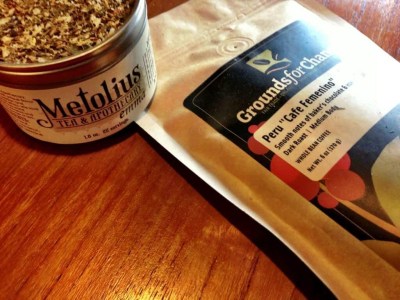 Metolius Tea & Apothecary – Emma Blend ($10) This is interesting! This tea is made of a blend of toasted coconut, lavender, and raspberry leaf, and has medicinal qualities.
Grounds for Change Coffee ($5.44) Certified organic, 100% fair trade. This is the Peru Cafe Femenino and is grown, processed and traded exclusively by women. I thought that was really awesome.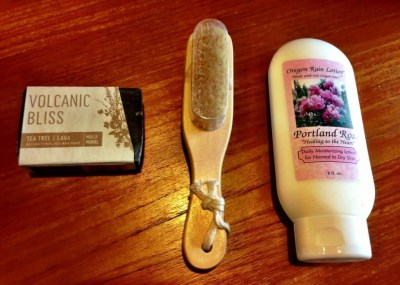 Molly Muriel Volcanic Bliss ($6) I can't wait to scrub down with this one! This hand-crafted local soap (to Oregon) has tea tree oil, lava, charcoal, and neem oil.
Wooden Pumice Brush (bonus item) ($5.99) My feet need this!
Oregon Rain Soap Portland Rose Lotion ($8.00) Well, I guess Portland, OR is the city of roses. I don't personally care for rose scented items and this is heavily scented. I'm sure this paraben, soy, and gluten free vegan lotion will make a great gift.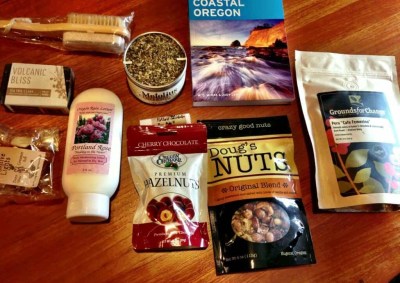 Moon Oregon Trail Guide ($15.70) I would have personally loved a Kindle version instead, and this company produces them. Perhaps Escape Monthly can offer the option of digital vs paperback in the future.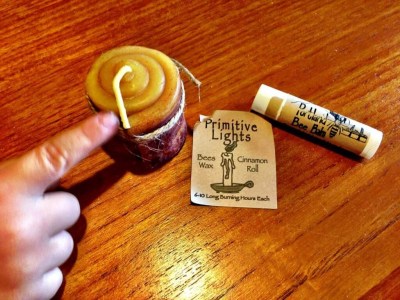 Portland Bee Balm ($2.75) I love beeswax lipbalms and I'm still forever hunting for the perfect dupe to the Body's Shop's Honey Stick from way way waaaaay back. This one is great, but I'd prefer it without the slight touch of peppermint oil (I'm a purist). I thought it was cool how it's made with honey from local bees!
Primitive Lights Beeswax Cinnamon Roll Votive ($4) I think this was my favorite item in the box! Even simple pleasures can make us happy, and this was so cute and smelled delightful. I was unable to get a photo without a paw in it 🙂
I would have personally thought this box 100% amazing if it included an Oregon Trail t-shirt…. but that's just me and I can be a little wacky! I thought it was a nice box and came up with an approximate value just over $67 (I did find that some of the prices were off, even from the MSRP, and of course I'd never tell you the MSRP on a book, but the total is still well over the cost of the box)! If you'd like a shot at the Hawaii vacation and a box full of lovely things from the islands, sign up for the October Escape Monthly box!

Visit Escape Monthly

Check out all my Escape Monthly Reviews! Don't forget to take a look at other Lifestyle & Combo Subscription Boxes.