My daughter's September Citrus Lane didn't show up at the same time as my son's, which was OK, because it gave them a chance to really get into the blocks. You can read that review here! Since I already went over it, you can check out the awesome artwork on the inside of the box there! It was really neat!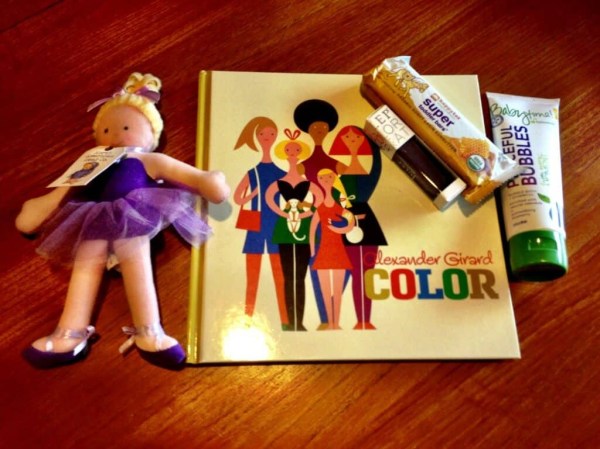 The Subscription
:
Citrus Lane
The Description
: A box of 4-5 great items per month for your child aged 0-5 years old.
The Price
: $12, 25, or 49 per month
The Coupon
:Get $10 off your first box! Use code
TAKETEN
.
September 2013 Citrus Lane 4 years 9 months old girl
Her dress is hidden under her smock, but I also love how it randomly matches the great 60s vibe!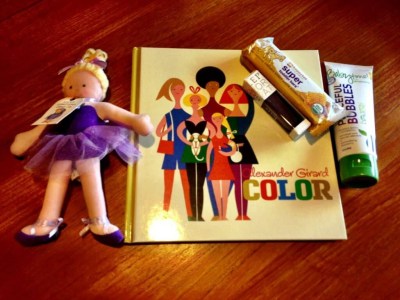 Episencial Babytime Peaceful Bubbles ($3.83) Hooray, my daughter loves bubbles!
Julep Polish ($11.20) This is a beautiful purple color. I now own three of them! Good thing I love purple!
Happytot Super Toddler Bar ($0.88) Sunbutter flavor. Kids love these bars!
Alexander Girard Colors Book ($13.45)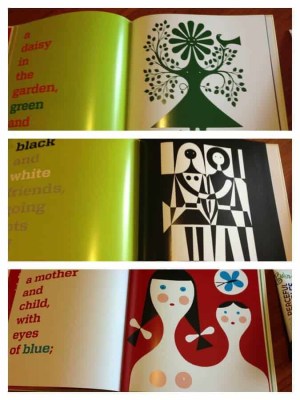 Boobies Not that I care, because I don't, but… BOOBIES!
Fancy Prancy Dancers Doll by North American Bear ($12.50) Can't beat this smile!
Though my almost 3 year old boy's Citrus Lane was my favorite ever, this one didn't quite live up for me, because the doll didn't quite fit the theme. However, my daughter would totally beg to differ, and I rely on them really to know how great the box is. What do I know? I'm just a silly grownup. She was in love with her Citrus Lane, as always! Plus the value of this box was over $40!