This is a new-to-me box that I was dying to give a try, as I'd missed out on the July Maracuja oil from Tarte. Imagine my delight when I got the July New Beauty TestTube! I might normally be a little irked, but I think it's safe to say that until New Beauty TestTube releases a new box, if you sign up, you'll get the past box. If you want this box in particular, you should probably sign up ASAP, as I'm pretty sure September Test Tubes will be going out soon.
I was totally happy to get this, no complaints! New Beauty Test Tube is a bimonthly box and as you can see, you get deluxe and full size samples for the most part. This is really just a mini-rundown, as I'm just back from vacation and have many boxes to catch up on! I really cannot wait to be able to use this stuff!
The Subscription
:
New Beauty TestTube
The Description
: Six times a year receive a TestTube filled with deluxe and full-size beauty products – top brands, time-tested formulas and targeted innovations. Subscribers receive a subscription to NewBeauty magazine, delivered quarterly.
The Price
: $38/bimonthly
The Coupon
: Email me for a referral invite to save $5:
[email protected]
July 2013 New Beauty TestTube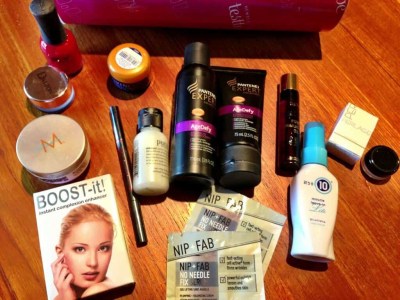 Nip Fab No Needle Fix Serum – 2 packets
BOOST-it! Instant Complexion Enhancer
Philosophy Purity One Step Facial Cleanser
Orly Nail Lacquer in Haute Red ($9) I'm not the biggest fan of this color, it's classic red, it's just.. not me?
Moroccan Oil Body Butter Unscented. Thick & rich with a whipped texture.
Pantene Expert Collection Age Defy Shampoo & Conditioner Another to add to the pile. I get a lot of shampoos & conditioners, none of them to me are like OH I MUST BUY THIS. I guess I'm not a shampoo freak, or just haven't found the right one. I do use them all though. I refuse to use any full sizes until I get through my samples!
It's a 10 Miracle Leave-In Lite ($12) I'm going to try this, because it's "lite!" I have fine hair, so leave-in products can be tricky for me.
YBF Beauty Automatic Eyebrow Pencil in Universal Taupe ($12) This is a great pencil and the end is actually a brow brush!
Tarte Pure Maracuja Oil Rollerball ($17) YES! The holy grail! This is all over my face right now and feels great. I absolutely love the rollerball applicator, oil can be messy.
Perlage Illuminating Primer
Lumene Pure Radiance Night Cream ($6) I like Lumene and you can get this brand at CVS. It's kind of nice to be able to go to the store and pick up some of these items.
Dalton Colour Creme Lip Gloss ($15.50) This had leaked a little but cleaned right up. The price is for the lip pot with a brush. I got Janie and it is a super pretty color!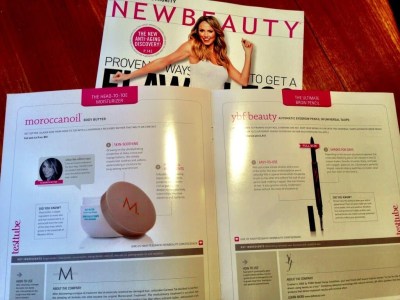 Magazine & Info Pamphlet With your subscription you also get New Beauty magazine and a whole booklet with a full-page spread on all the products in the tube.
I was really absolutely impressed with New Beauty TestTube and can't wait for the September Tube to arrive at my door! This box was heavy and huge and would absolutely get you through two months.