I basically just had to have this FabKids dress. It was so adorable and I knew my daughter would love it. When I asked her if she wanted to wear it today, the answer was a resounding yes! It is so perfectly her!
The Subscription
:
FabKids
The Description
: FabKids is a monthly subscription box of kids clothes You can select one of the outfits or skip it entirely. Free shipping & free returns. The clothing is exclusively produced for FabKids (some designed by Christina Applegate).
The Price
: $40 per month
The Coupon
: Buy one outfit, get the second free! New Members only. Current members get a $20 off 2 outfits deal.
August 2013 FabKids Girls Candy Pop Girl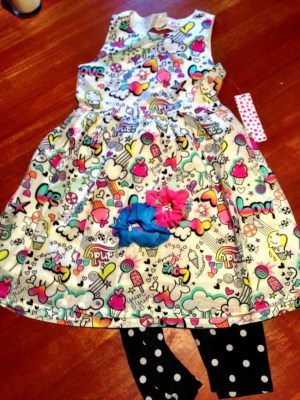 Candy Pop Dress, Polka Dot Leggings, Pink & Blue Scrunchies ($40) I loved this print. Absolutely one of my favorites, it's too cute! I think we'll use the scrunchies as bracelets, as my daughter has short hair.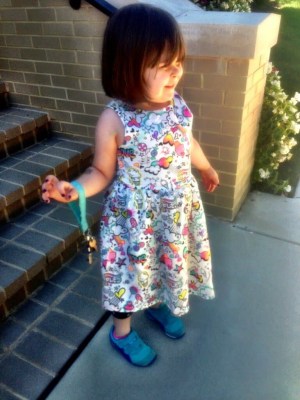 I think it's great that FabKids always have leggings or shorts with the dresses to make them playtime ready.
I loved the heart cut-out detail on the back of the dress! I don't know why it would have the zipper there, it was sort of pointless, as that part of the dress is flouncy! (When taking it off tonight I realized I think she stepped into it this morning, unzipping is good for over the head)
I was afraid this dress might be a bit snug, but it was fine. No stretch in it though so if your daughter is a bit round you may want to size up. I did on this one and I was very glad I did – it wouldn't have fit otherwise, and I wanted her to have it for next summer. I think we'll get plenty of use out if now though, because she's totally in love with it. Then she demanded to have her nails painted, so we did! (Deborah Lippmann Ray of Light)