Hot Spot sent me this subscription box for my review.
Hot Spot Monthly generously sent me a shirt to review, and sent my husband another. You can read his manly thoughts on this subscription here! (I post them, he writes them! Cool? YES!). I thought this was a really fun subscription and it can add a lot to a t-shirt collection! You may not visit these bars, but bars have the coolest shirts! Plus, maybe you'll get inspired and go on a bar hunt! My husband was certainly inspired and looked up the bars & everything. Would never have occurred to me! Anyhow, Hot Spot Monthly sends a great new local bar shirt every single month!
The Subscription
:
Hot Spot
The Description
: Hot Spot Monthly hand picks T-Shirts from the coolest hot spots from around the country, such as pubs, lounges, microbrewers, recording studios, etc. and sends them directly to your door.
The Price
: $20/month
August & September 2013 Hot Spot
The Mailer Hot Spot arrives in a mailer, which is fine, because it has a t-shirt in it. I like the sticker!
Info Card Every month you get 1 shirt, but we got 2, even though I didn't ask for that. Thanks Hot Spot! I wasn't expecting an information card, but we got one (in the form of a postcard). My husband started fantasizing about "growlahs." If you've ever lived in New England, growler fill-ups are way more popular there, and we were both surprised to see a Growler place in… Texas!
Craft & Growler (Dallas, Texas) I thought this was a fun design! It can't be easy to hunt out bars all around the country to find cool shirts. This is a cool shirt!
Back Detail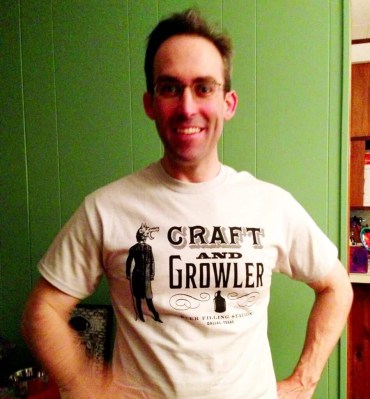 I thought the fit was great on this all-cotton shirt! My husband just lost 50+ pounds and he is pretty psyched to be wearing fun shirts again.
The Downward Dog (Corvallis, Oregon) This shirt was totally different and also cool.
These shirts were great! Reports are that my husband wears them every weekend now! (For non-regular readers, my husband works out of state!) I had them sent to VT to check them out while we were there and I forgot the kids' nightclothes, so they pulled double duty as t-shirts for the kids to sleep in! My kids totally fought over the designs so we switched every night. I think what's really cool is that Hot Spot works to find the coolest shirts from the best bars. I am sure the intersection from those two groups isn't really all that large and the curation of this box is fantastic!