Cape Cod Gift Box sent me this subscription box for my review.
This is the very first Cape Cod Gift Box and I was really impressed with the unique items I received! I think this box is great and it brings back great memories for me. I lived in the Boston area for about 11 years and of course took quite a few trips to the Cape. Everyone I have ever known that has ever visited has loved it and I think they'd all love Cape Cod Gift Box.
The Subscription
:
Cape Cod Gift Box
The Description
: Get a box filled with 3-8 hand picked unique Cape Cod treasures centering around a different theme each month. Boxes include local artisan one-of-a-kind pieces and unique Cape Cod finds – a little piece of Cape Cod every month! Cape Cod Kids Box also available!
The Price
: $47 per month
September 2013 Cape Cod Gift Box
All Wrapped Up Cape Cod Gift Box is all wrapped up very nicely with a cute Massachusetts sticker on it!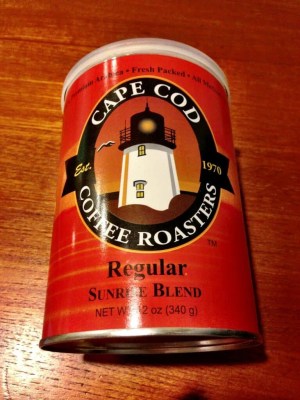 Cape Cod Coffee Roasters Sunrise Blend ($9.72) This is a blend of Central & South American coffees roasted in Mashpee. My husband is going to be so excited for this! He's a real New Englander. The kind that thinks Cape Cod in winter is a vacation! Brrr I've only been as early as June!
Harbor Mug ($~12) I love this huge Cape Cod mug! It's so pretty and has so many great details! This will hold several cups of the coffee.
Even the bottom is decorated!
Cape Cod Light House Cup Plate ($9) I was totally wowed by this! I pulled it out and all I could think is that I would have never expected this and it was so very unique! This is a historical society item and manufactured by Pairpoint, the oldest glassworks in America. This may now be one of the most unique items I own! You should have seen my face when I was opening this, I just thought it was wonderful. It is very hard to capture the detail on this really interesting piece!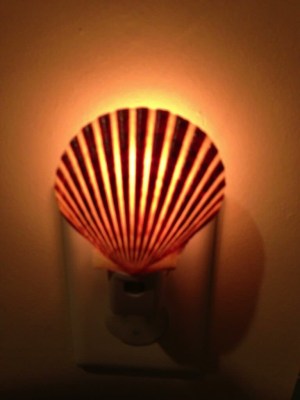 Scallop Shell Night Light ($10) Loved this and reminds me of the shell night light I have at home (like my grandparents' house home, not here). I grew up in a beach town and I have basically the exact same one (since I was 8 years old!), except this one is brown and my old one is blue. It made me feel at home! This shell was collected on Harwich beach.
Cape Cod Lighthouse Map Playing Cards ($~4) If you go to the Cape, you know you need a deck of cards, because that's what you do when you're inside.
East Chop Light Magnet ($4.50) Isn't this just totally gorgeous? I think it might be the best lighthouse photo I've ever seen. East Chop is on the Vineyard and this magnet is signed by the artist (it doesn't appear that way here but it's actually signed with a silver pen underneath the acrylic). I thought it was iconic without being kitschy in the least.
Although I had some guesses at the value of the items in this box, the products were valued at a couple more dollars than the box itself, plus the shipping is free. I'm not sure how you'd get your hands on any of these items at a price less than one single box and if you love Cape Cod, this is an excellent box for you. I could see this box being perfect for a vacationer fan or even as a gift for an elderly relative that has since moved on to more southerly pastures. The other thing that is great about Cape Cod Gift Box is the selection of items from all around the Cape! I expect that future months will continue to be sourced from various towns all over.
I liked the mix of this box, there was a little of everything, a few souvenir items, a few collectors, items, a few items for the home, and an edible good, which is about what I expected. I certainly did not expect the cup plate or the magnet. Even my four year old noticed it this morning immediately when she got up. And my new shell nightlight is really making me happy. However, I'd better get back to Massachusetts soon for a visit, it's been too long!