I was sent the Summer FabFitFun VIP Box for review.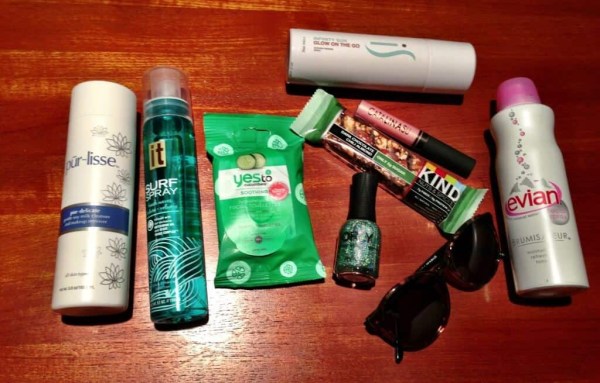 The Summer FabFitFun VIP box is here, and I am so excited to review it for you! FabFitFun VIP is a quarterly subscription box, and it has a lot more in than other lifestyle mixed boxes – it's everything you need for summer. I heard some mixed reviews of this one, but I have to say that I totally dug into this one and used just about everything right away!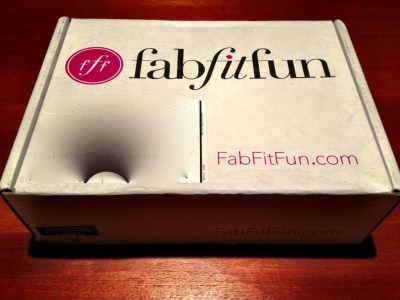 Summer FabFitFun VIP box
FabFitFun VIP has a short and sweet information card in a nice large size. The reverse has a code to share to gift a friend with $10 off their box. (Single use and mine's gone! Keep reading for the current offer!)
Yes to Cucumbers Soothing Hypoallergenic Facial Towelettes. $6. I've mentioned before that I love wipes. I'm a mom, so I'm addicted to wipes anyway and it's impossible for me to leave the house without them. I loved that these were the perfect summer-friendly scent – cucumber. They are so soothing and perfect to take with me when we walk to the mall to cool down a bit before we get our shop on.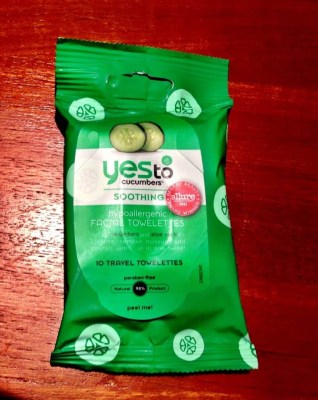 Kind Bar in Dark Chocolate Chili Almond. $1.50. This bar is super duper yummy and a little spicier than the last one I tried, which I preferred. I just bought a package of Kind bars on Amazon and I'm a fan. Getting one of these bars in the box is the perfect way to try them out. It looks like Vitacost is a better place to pick up Kind bars and if you're a new customer, feel free to use my referral link to save ten bucks. (That reminds me, I better order bugs mac & cheese before we run out).
It Hair Care Surf Spray. $7. I love sea spray for summer hair.  It's a great way to make sure your hair isn't gross and weighed down from the heat.  This bottle will last you all summer. I thought it was a great formula.
Purlisse Delicate Gentle Soy Milk Cleanser. $36. Summer is super hard on skin with the heat and sweat and the sun. I hadn't used this cleanser ever before and I found out it is all soy and oat and white tea based, so it's very gentle on your skin. It's also sulfate free and feels almost like a lotion. If you sign up for the fall box during August you will get this added to your Fall FabFitFun VIP box!! For free!
Infinity Sun Glow on the Go Sunless Tanner. $30. I love looking tan, but tanning is terrible for your skin.  This is a spray on self-tanner and it's hard to believe, but I've never used the spray on kind before! It recommends using for touchups. It says this is travel size. Looks big to me!
Evian Mineral Water Facial Spray. $12. I love water facial spray.  I have received rose sprays before in boxes and I don't care for those. This is great for summer travel (a total must have for airplanes!) and just to refresh yourself without messing up your makeup. I loved this. It's such a splurge but so refreshing. I'm sticking it in with the stroller items to refresh after walking to the mall.
Orly Nail Polish in Sparkling Garbage. $8.50. Described as "saturated green with holographic glitter." I am going to call this one a true holographic polish. I loved it, I had to stop bestie from stealing it. She loved it too. It is an awesome color and everyone should have one. I am thrilled with this polish!
Catalina Su Lip Gloss. $14. This lipgloss is from Giuliana Rancic's personal makeup artist. It was a pinky peachy color and I think very universal. It looked great on.
Ivory + Mason Sunglasses. $135. I'm not really sure what style these are. These are vintage sunglasses (I think they are new old stock) and are a bit small.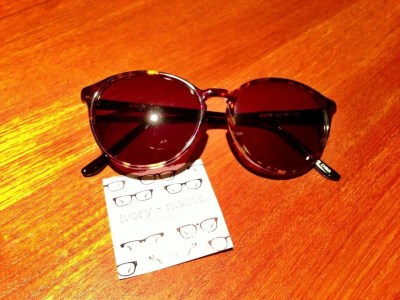 They do fit my head and look pretty good (no, I'm not that vain, I have to take pictures of myself to see how glasses look on me because I'm totally blind), but I wear glasses!.
My daughter found them this morning and claimed them. She woke me up – mommy, are these sunglasses for me? Yeah they are! She is FAB!!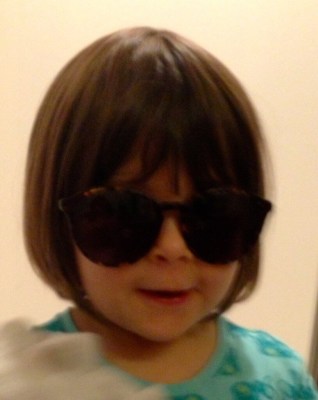 FabFitFun VIP Boxes are shipped quarterly. I loved this box and it was clearly worth the price of the box. Plus, I have used or will use every single item in this box. I signed up for myself for Fall as well. I liked that this was a quarterly box. If you're looking for a high value, low frequency subscription this one would be great. Absolutely loved this box, can't wait for fall! Just as soon as I am done with all my summer products. 🙂