The Crowded Tub sent me the first Crowded Tub box for review! Thanks Crowded Tub!

When we got the Crowded Tub Box (I am going to assume its the August box as they just launched!) I mentioned to my daughter that the box was for her. She went wild! My son noticed the cute logo on the outside of the box and said "bubbles" repeatedly.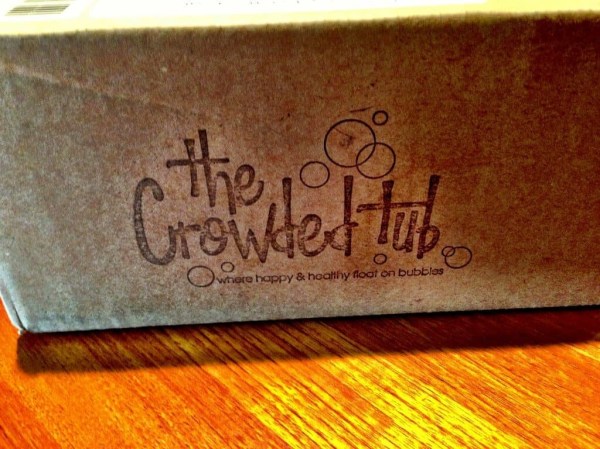 Crowded Tub is a kids' subscription box with a bath theme. Monthly boxes include toys, accessories (fun sponges and washcloths), and soaps, lotions, creams, and other bath/body products. Everything is eco-friendly! Boxes are $29.95/month with discounts for longer subscriptions. Of course I have a coupon code so you can try it out! Get $8 off by using coupon code Splurgetub8.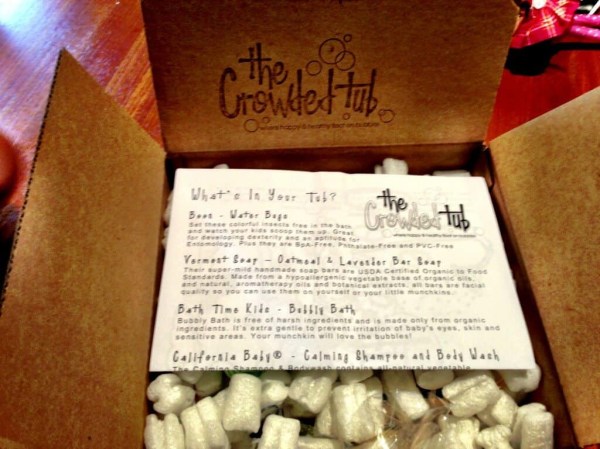 My daughter wanted to take all the pictures. Hoping I can outsource that soon but I decided to do an unboxing video instead!
http://youtu.be/KqcZUJmmJhI
The August Crowded Tub was full of packing peanuts which I thought was weird until I read the information card (the back is a coloring sheet! Great way to reuse!).
Cornstarch peanuts perfect for water play! The kids gleefully dumped them in the tub. When dinner was over (Hello Fresh chicken parm meatballs with red sauce – bath definitely needed) the kids begged me for their bath with all their new stuff.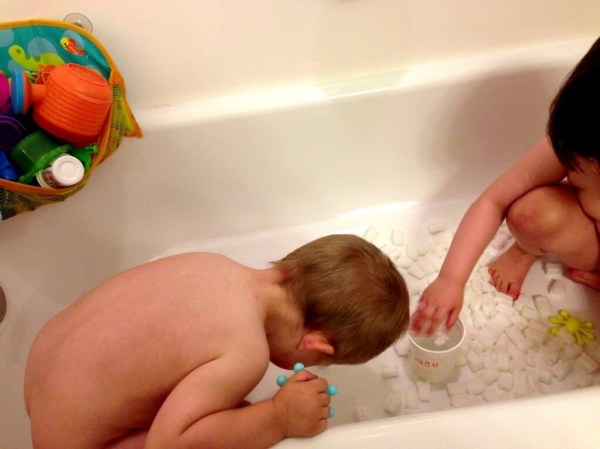 California Baby Calming Shampoo & Body Wash – I love California Baby! Even though this is a smallish bottle it takes so little to clean the kids with it and produces a great lather! The bottle will last a long time. It's scented lavender & sage. Yum. $2.50.
Bath Time Kids Bubbly Bath – the kids were super excited about this bubble bath and I was too. It's organic, lavender scented, and has grapeseed oil in it. It was moisturizing on my kids skin! $3.
BoonWater Bugs Toy – my kids were absolutely nuts about this toy. Like I'm going to have to buy another kind of nuts. $8
Vermont Soap Lavender & Oatmeal Soap bar – smells divine and is full size. It smelled delicious and we can't wait to use it. Lavender is used for simmering down crazy kids in the tub 🙂  Made from certified organic food grade ingredients. Everything in this box is totally better than ok to put in your kids' bath. Love that! $5.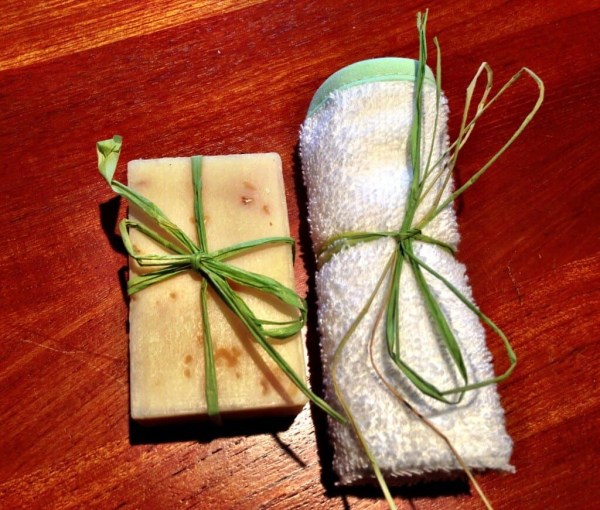 American Baby Co. Organic Washcloth – this was great and a little scrubby compared to what we normally use. I actually use all these velour washcloths (old fabric baby wipes) and don't have scrubby ones (that's weird I know) so this was a great addition to our tub, especially as my kids age but need more scrubbing! It sounds like it's rough, it's totally not, it's nice and soft. I just don't have washcloths. I'm hanging my head in shame. What kind of mom doesn't have regular washcloths? $2.50
San Francisco Bath Salts in Bubble Yum – because of Crafters Crate my daughter knew these were bath salts right away! These are for a relaxing skin smoothing bath and we will use them soon for a special bath – they smell deeelish. Obviously tonight was a bubble bath. $5.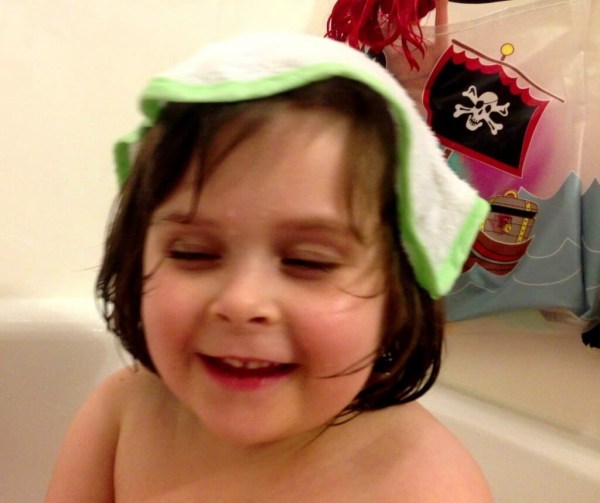 The Crowded Tub would be a fantastic gift for your own kids or for someone else's (let me tell you grandmas, I love it when I get gifts for my kids that disappear!). It's a totally giftable box and well put together but I would just pick one up for my kids because they love baths so danged much. My kids were totally enthralled with bath time tonight – it was actually an over-one-hour bath! Like most independent boxes the value works out so you're paying a bit for shipping & taxes but you'll pay a lot more in shipping to get all the items individually.  The Crowded Tub is still a great value with extremely high quality items and I totally recommend this box for someone looking for expertly curated eco-friendly kids' items. Crowded Tub is a great subscription box and I will totally get it again!
Plus, all kids need to take baths. With a bathtub box for kids you are basically guaranteeing everything inside the box will be used even if its a repeat. Score! If you want to check out The Crowded Tub and subscribe, don't forget to use coupon code Splurgetub8 to get $8 off!