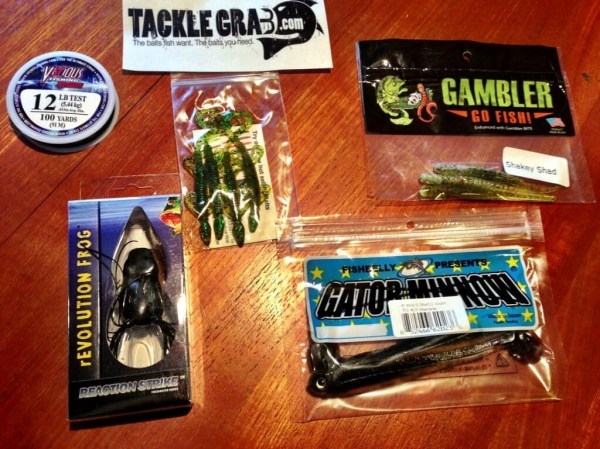 I ordered the July TackleGrab because of the ridiculous $5 deal they have going on right now. Check it out! No coupon required! Despite this being a fishing box I thought it was very well put together and cute. In a fishing sort of way.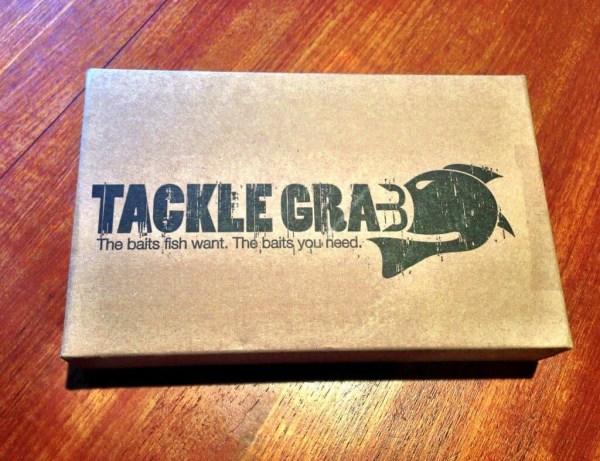 When we go to Florida we always "go" fishing – my family lives on the water and the kids love to fish. So I thought I could use this. What surprised the heck out of me is how much my kids loved this. They thought it was the most awesome thing to come in the mail and we got hours of enjoyment out of this box. The kids ran around with the bait all over the house.
I am not going to pretend I know anything about bait. I filled out the profile and made some guesses, and we got the fishing gear shown in the photo above: rEvolution Frog, Vicious 12 lb fishing line, Gambler Go Fish, Lockett Lures Fatties, and Fishbelly Gator Minnow. I will take it all home with me when we go because someone will use it, but I think for the most part we use the smaller wiggly ones. The value of this box is well above the $16 regular price and a total steal at $5! I will absolutely get another as a gift or send one home to Florida, although I may ask TackleGrab's help in selecting bait. I think some of the fish I said I fished are really huge fish! You can get a box at TackleGrab!