My Cotton Bunny is a monthly box that sends you your choice of feminine hygeine products plus a few extra goodies. I had the opportunity to review this box and I think it is really cute – like period supplies "plus"! If you are looking for a period box to take the hassle out of buying your supplies with a few extra things to brighten up that week without a smorgasbord, My Cotton Bunny is an excellent choice.
The August box is the Summer Memories Bundle, which is sort of funny, because I just did a crafting box (August Crafters Crate) with my daughter with the exact same theme! I think it is a great idea to take a moment and be a little reflective of your experiences.
The Subscription
:
My Cotton Bunny
The Description
: Get your monthly supplies, a treat, and a special surprise.
The Price
: $14/month
August 2013 My Cotton Bunny Summer Memories Bundle
My Cotton Bunny Info Card I thought this was a nice information card with suggested uses. All the items were pretty explanatory so I didn't need a total run down!
The exterior of My Cotton Bunny is branded but doesn't say YO THERE'S SOME TAMPONS INSIDE THIS HERE BOX! I think it's adorable and I like it! I do like to know what box is what, whether it's branded or just a label on the outer box. Makes life easier.
Treat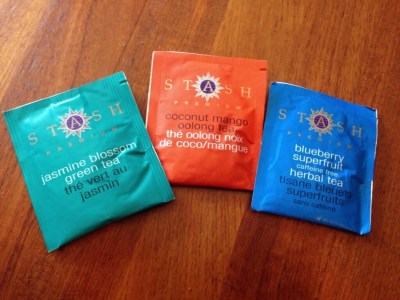 Stash Tea I got coconut mango oolong tea, jasmine blossom green tea, and blueberry super fruit caffeine-free herbal tea. I thought these were a nice choice and can be soothing or a pick me up, and I liked that it wasn't just all of one kind. I am not personally a tea drinker (my resolution for the year is to try it more often!) but I know that many (most!?) women do enjoy tea!
Gifts
Polar Bear Vintage Journal This journal is super sweet. I'm totally into little books and journals right now and I think this is the perfect choice and wasn't intimidating (nobody wanted me to write a book, just some notes to myself)!
Hook On Bookmark I thought this bookmark was really pretty and it was a good reminder to crack open a book once in a while and spend some time with myself!
Crystal Pen What a cute pen! The end doubles as a capacitive touch stylus (like for your phone). Neat!
Supplies (tampons or pads)
Tampax Supers I received a full, sealed box of Tampax unscented supers in my review package. My Cotton Bunny is one of the few period boxes I know that allows you to select tampons or pads. For women that don't use tampons it's a great box just for this reason! (And whoops, I forgot an individual photo!)
I thought My Cotton Bunny was a great basics plus box that is affordable and fun! I've checked out some of the past boxes and think they are adorable. Plus, the items in this box (besides the name brand period supplies of your choice) are unique, so if you are getting other boxes you don't need to stress out about duplicates. Getting my period supplies shipped automatically to me has totally made my life easier and the extra treats make it a little less stressful!
What do you think of My Cotton Bunny?