MoxieJean is a new online resale, consignment, and recycling service for children's clothes. They focus on like-new midscale and upscale brands. Of course, as soon as I heard about it, I went shopping!  I don't have any clothes right now to send in to the service for resale, thank goodness! So I just bought more! I love buying clothes for my munchkins!
You get free shipping on Moxie Jean orders over $50 and if you use my link to sign up, you will get a $10 credit off a $20 purchase! If you want to sell clothes, you can request a free bag!
I loved how easy MoxieJean was to shop and navigate. Each item in the gallery is very beautifully displayed with label and price information. You can see an example of that to the right. When you're shopping, you choose if you're going to hunt in the shop or the designer room (with upscale and luxury brands). I like to get the most bang for my buck, so I looked in the shop, which is further separated by gender and size.
Once I was in the shop looking through the outfits, I noticed that many of them were tagged into MoxieJean style collections, which made it easier to find the style of clothes I was looking for! You can also select the brand, whether it still has tags, the season, or choose to shop by singles (many of the items are grouped into sets). The grouping actually solves a huge problem with consignment clothes for me – what the heck do I pair it with? I normally buy clothes in sets because I shop in advance (bargain shopper!) and I don't want to worry about finding something to match later. I purchased the following items and spent just over $40 bucks on them with my discount (get yours by signing up with my link!)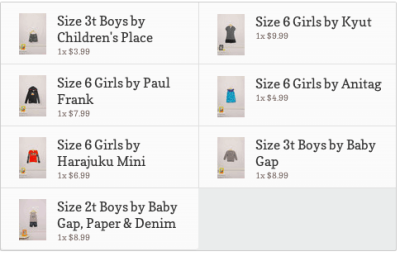 I thought the Baby Gap Captain America Tank and the Paper & Denim shorts were a total steal for $8.99!
MoxieJean
My MoxieJean package arrived in a tyvek mailer. Everything I bought was bundled with twine. How cute! I didn't notice until then that I only bought one bundle. Silly me! The bundle was the best deal! Everything was an awesome deal but a Baby Gap tank & Paper/Denim/Cloth shorts for $8? I couldn't tell that either of them were used.
The gray dress still had the tag on it. And it was from Nordstrom! My daughter loved it, and the blue tunic too. Oh my little guy is so tough in his muscle tank!
In my package was a return mailer to send in my like new clothes for resale, and this awesome stain removal tips magnet! If you do decide to sell, MoxieJean lists all its payouts right on the site so you know in advance just how much you'll get.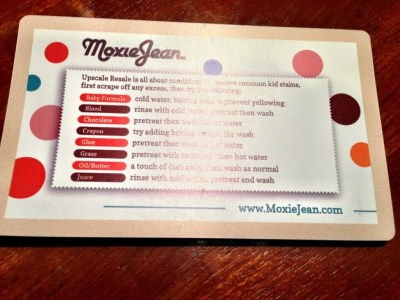 Overall, I am thrilled with my purchases on MoxieJean. The quality of the clothing was excellent and totally top-notch. I thought MoxieJean was very well-organized and super easy to shop. It was an extremely pleasant, totally not frustrating experience. That made me happy, because I love a bargain and I don't like to spend too much time on it!  I would love it if you used my link to check out MoxieJean and save $10!