July POPSUGAR Must Have Box is the one year anniversary of this subscription and… Nada. I got an email this morning about an anniversary gift in the August box (information at the end!). I don't think they are counting the first bag last July because it was a bit different? I'm not sure. Did they forget and blast that email out when the first reviews were trickling out? maybe.
But lucky me the July Box arrived a day earlier than what FedEx said it would! I was totally not expecting it!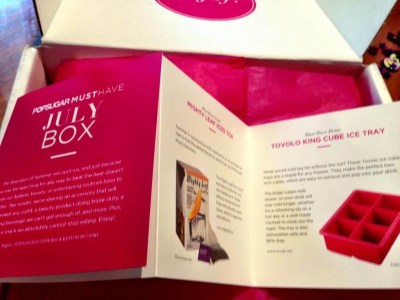 So don't think you missed any special anniversary thing in POPSUGAR if you didn't get July, but there is still a lot to love about this box! I am really happy with POPSUGAR lately!! Also I wear my hat from May everywhere.. Grocery store, playground (where I am right now. Yep, wearing it!), everywhere.
DEAL: Save $20 on your first box with this link and coupon code MSA20
I removed the air pillow for a picture, but this box was packed perfectly. Everything all in its place. Always totally amazed how everything always seems to stay together!
July POPSUGAR Must Have Box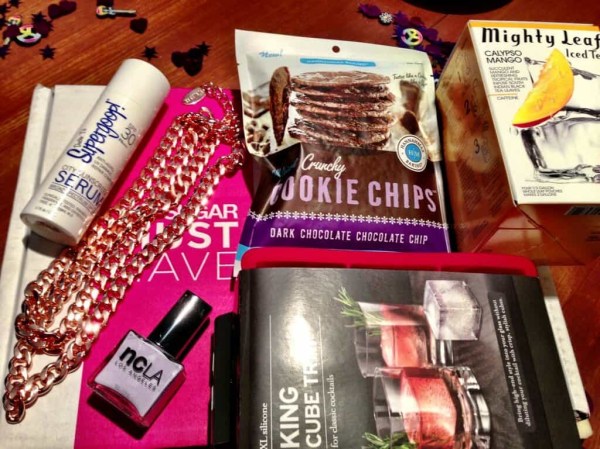 The July Box is all about battling the dog days of Summer. Yuck, it's nasty out, I promise (playground, remember?).
Must Have Fashion
Baublebar Rose Double Curb Chain Necklace.  I loved this necklace. I have said a couple times I am all over rose gold for this month (hey the July Locket is rose gold too). I bought Rose Gold earrings with a Pop Sugar Box code from the other month too. Yay!!  Anyways, this necklace is some serious bling. It weighs a ton. I don't know what a curb-link is but that's what the links are called. I think it will look great with black or white. Basically with my entire wardrobe. It's a little out there because of its size, but I love that PopSugar kind of pushes the envelope just a tiny wee bit. Even though it's really super heavy it didn't feel that heavy on at all! $28. There was also a 20% off code in the box. Don't forget to go through Ebates when you shop!  If you want to use an invite to use up, feel free to use mine, but I don't think you get anything for doing so (boo!).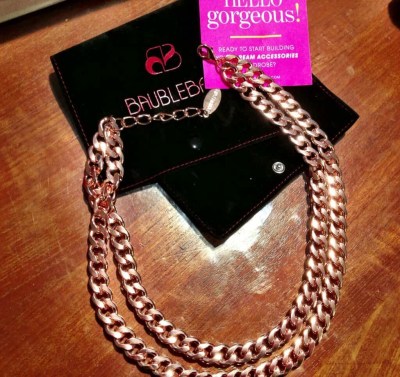 Must Have Home
Tovolo King Cube Tray – I don't have any ice cube trays so I was psyched to get this one to make GIANT ice cubes! We go through a ton of ice in the summer and I've never had a giant cube tray before! I can't wait to see if the cubes are as "crisp" and "stylish" as promised. I've certainly never had stylish ice cubes. $8.
Must Have Food
Hannahmax Dark Chocolate Crunchy Cookie Chips. These are really crispy and light and super dark.  I was surprised how dark they were.  They're similar to the Brownie Brittle at Costco but not exactly the same at all. I was surprised to see that it was a no-GMO, rBST snack made with cage free eggs. Call me impressed! $4.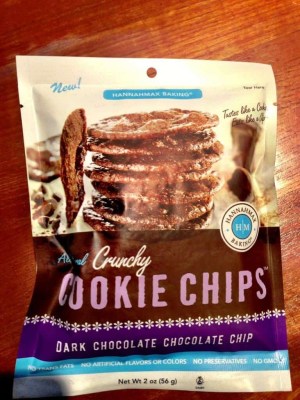 Mighty Leaf Iced Tea in Mango Calypso. My husband loves tea (I do not) so these won't go to waste. I really wish I liked tea. This has caffeine in it, so it's not great for the kids either, but the title of it is so seductive. I should learn to drink tea. But how awesome is this – the box has four 1/2 gallon compostable pouches!!! It's so great to get such a huge quantity and the mango flavor is perfect for beating the heat. I booked tickets for my husband to come visit again in a few weeks and this will be a great treat for him! With giant ice cubes! Sorry if I sound like a 50s housewife but when he's here we try to make everything sunshine & rainbows. $7.
Must Have Beauty
Supergoop SPF 30+ City Sunscreen: I got samples of this in my June Stork Stack and I actually was super impressed with this sunscreen. I stick all my sunscreen minis in the stroller because we always need more. I used it the other day to slather on the kids' legs (super important when using a stroller!) and I loved the consistency. So happy to get a huge container! $40.
NCLA 5-free Nail Lacquer in As If! I think this might be a first – everyone got the same color!  I will never ever complain about anything purple, you know I love me some purple.   But… I kinda wish they had sent some of their awesome looking glitter polishes! I am always so happy to get polish that I feel is safe to use on my kids too and this polish is 5-free and not tested on animals. Needing Black Diamond. If I could paint my nails like a normal person, that is! $16.
The July POPSUGAR Box has about $100 worth of products inside and I think we'll worth the $35 I paid for it. Awesome! Although I was a bit sad that there wasn't any sort of mega birthday gift inside I loved this box and am looking forward to August! Oh right, I promised information about that box! I have no idea if this is only for current subscribers, but I received an email this morning telling me this would be inside!  If you want to sign up for August or find out more, you can do it here.
DEAL: Save $20 on your first box with this link and coupon code MSA20