Mission Unboxable sent me Missions 1 & 2 for our review! Thanks Mission Unboxable!
Mission Unboxable is a new kids' subscription box that is focused on role-playing a super secret spy mission. You know, instead of intensive arts & crafts cleanup. Awesome.  We've played secret agent for the past week and are ready to report in! With Mission Unboxable you get new missions every month that include creating a disguise and a spy cover, cryptography (aka secret decoder), target practice, and more. There are 12 secret missions total.
The first month of Mission Unboxable includes this nifty briefcase so it comes in a great big package addressed to the kids and labeled top secret! The kids are wild about the briefcase and it provides a great place to store items that you'll use again the next month.
Mission Unboxable
Mission Unboxable is a family affair and is mostly created by a kid and his siblings, with some help from mom. I thought that was really awesome and entrepreneurial!  Our Mission Unboxable box had the first two missions.
Mission 1: Master of Disguise
In Mission Unboxable Mission 1, we got notes on creating our spy disguises, black sunglasses, and awesome staches. Because my children are on the young side for this subscription – the target age is 6-10 years – I did have to do some explaining about what a spy does.  They were very receptive! Kids of all ages love dress up! The missions come in manila top secret envelopes.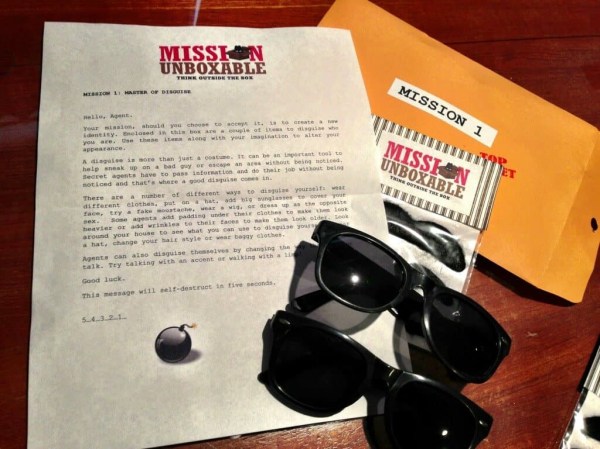 The kids thought this was hilarious.  E selected a lovely beach bum ensemble (very CIA of him).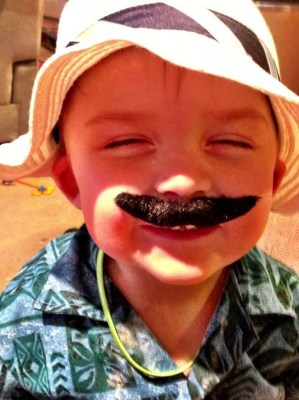 Not really sure what A's disguise was, but she decided she needed a big fat belly if she was going to be a man. The kids really got into this and we took the spy game outside! They ran around hiding and squealing for quite a long time. I would expect older children to be able to complete the missions themselves.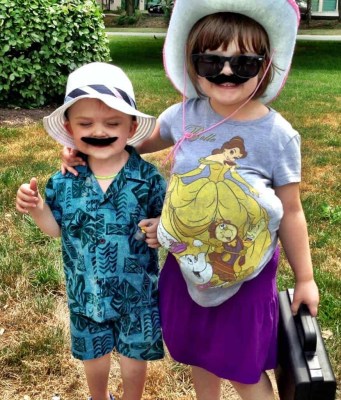 I wore my husband's hat and was totally incognito. You absolutely can't tell it's me.

I'm not really sure what went on in their little sweet brains but we played spy for an hour in the heat.  I call that an excellent result.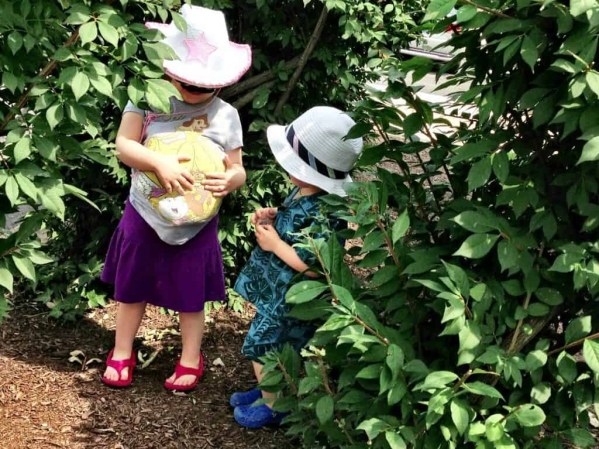 Mission 2: Operation Incognito
The second Mission Unboxable mission extends the first mission, and we were given the tools to select our spy names. A was Silver Tiger and B was Silver Rider. They each had a spy badge which you are supposed to store in your spy briefcase for future missions. Ours are there now! Unfortunately we had such a good time with the mustaches we used all of them up.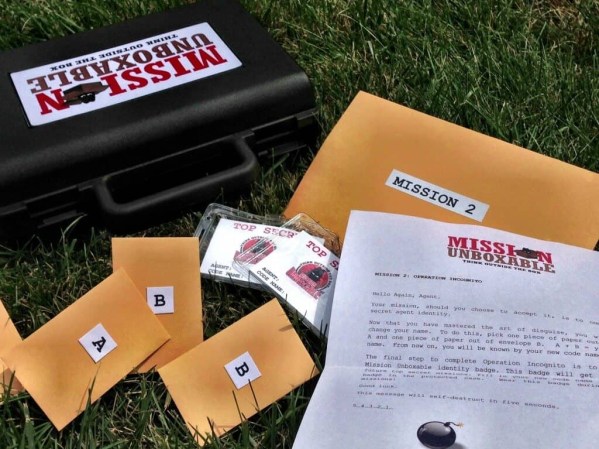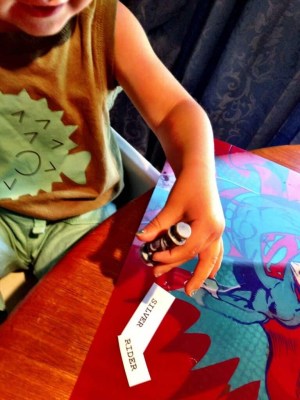 Wanted sign. I thought 150k was a bit low for my daughter's antics. There's also a word search but I'm saving that for A during E's naptime. If he ever takes a nap again. 
The kids refused to take their badges off the rest of the day!

After we completed Mission Incognito we were inspired to play a rousing game of hide & seek. I liked how this box prompted me (without telling me at all) to do some physical play time. It just seemed appropriate for the activities in the box. This box is great for giving kids an outlet to exercise their imagination.  I really liked Mission Unboxable because it was totally different from other kids subscriptions and we really did have a fantastic time. The kids were occupied and engaged with all the activities. Although we did the missions over the course of a week, I'd expect children to be playing spy all month long while they await their next orders. The missions are $10 per month but you get $5 off 6 and 12 month subscriptions with coupon SPLURGE5! It expires August 1, so you'd better get cracking!
E is a great hider, at least the first time. He hides in the same place every time.

I hid behind the clothes in my closet. Took them 10 minutes to find me. I got so much work done!  Thanks Mission Unboxable!