Crafters Crate sent me their subscription box for girls for review! Thanks Crafters Crate!
Crafters Crate is a monthly subscription box full of crafts for girls.  Each month comes with hand-picked girl-focused crafts with detailed instructions.  The crafts cover a variety of learning areas and are designed for around ages 5-10! Each crate is $19.99/month plus $4 shipping, but you can skip the shipping fee with a 3-month subscription. There is an option to double the supplies for a sibling – I think it would also be great to add extra supplies for a best friend! Until 8/31 use code SPLURGE10 to save $10 off any Crafter's Crate Subscription!
Crafters Crate comes in a brown box with a pink-elephant on the front. My daughter loves it and it's currently storing her treasures. Love being able to reuse a box! The whole vibe of the box was crafty and really aimed right at the target age group. I loved the presentation, it was darling.
Crafters Crate boxes come with parent instructions and guides. I found that we didn't need parental guidance for the crafts – although I liked the prompts on what to talk about during each craft. I often don't think of these things myself and I need reminding! It just makes the whole craft and activity experience even better for us. Anyways, my daughter was able to follow the crafts using the pictorial instructions, even though she's only starting to sight read. I can't stress enough how awesome this is in developing independence and also perfect for kids with reading issues. They don't need to feel left out. Plus, it gives all kids the opportunity to get the general idea and then read the words for additional information. As a parent I appreciate this pedagogical technique.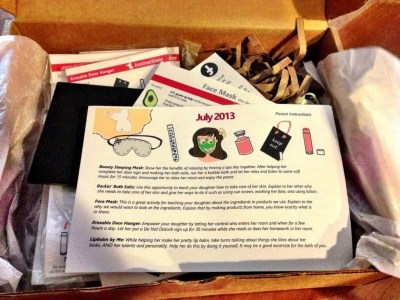 July Crafters Crate Review: Spa Box
The July Crafters Crate theme is the Spa Box! As my daughter is a water baby and loves taking a bath, she was immediately excited when we opened it.  The Crafters Crate Spa Box came with 5 crafts and projects plus a bonus item: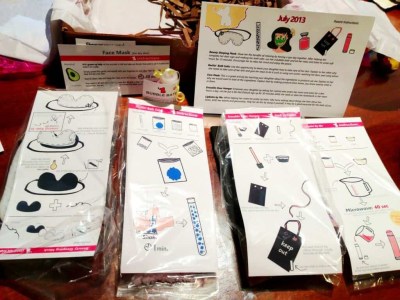 I really loved how this box encouraged me to discuss relaxation with my child. We all need it and she is pretty high strung. We even do yoga and deep breathing! I never thought of spa day in my arsenal and now it will find a home there. Bubble bath to calm down? Why not!
Door Hanger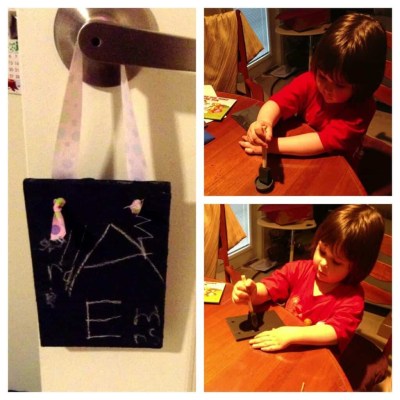 We started this one the night we opened the box and painted one side. The next morning the reverse side had been mysteriously painted before I woke up (there's a reason that solid wood table has glass on top)!  A wrote her name & her brothers' name on it and we hung it up! There was plenty of chalkboard paint included and I loved being able to do a chalkboard activity without buying a huge amount! She loves this!
Rockin Bath Salts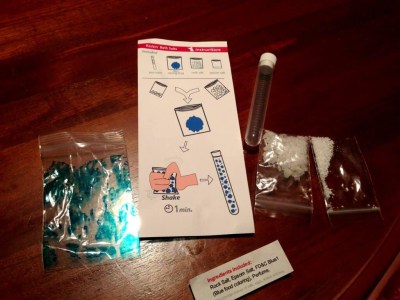 A loves bath products. She can't get enough of them. This craft was right up her alley! She put everything together following the directions without my help. The bath salts have since been used and the tube is now her treasured "experimentation tube."
Lip Balm
This was a great craft! We checked on the lip gloss' progress frequently after placing it in the fridge and the kids have used a substantial portion already testing out their creation. She loves that she was able to personalize her lip balm and it is ensconced safely in her purse. Obviously I helped with the microwaving & pouring.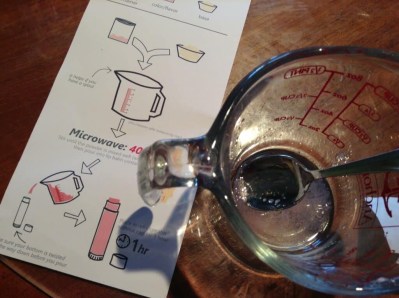 Sleeping Eye Mask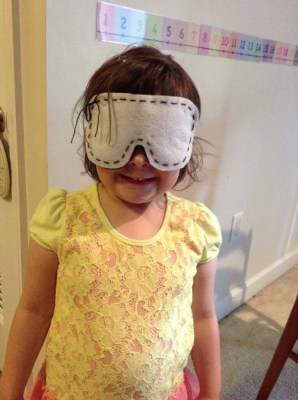 My daughter doesn't quite have the hand-eye coordination to sew quite yet, so with her "direction" (following the really excellent pictorial instructions – she knew how to perform all the activities!) I sewed up this cute face mask for her. She hasn't taken it off. Really. She's eating a milk slushy right now wearing the face mask.  There was plenty of elastic for an older girl – I cut a nice chunk of it off.
Face Mask
I didn't really get a great picture of this card and it's in A's room right now. This will have to do! I also loved that Crafters Crate encouraged girls to do the crafts their own way!
We are going to Target in the morning and picking up an avocado while we're there to try out the face mask! My daughter can't wait, she said she's going to wake me up as soon as the sun comes up (yay?).  I love seeing her so excited! The card tells us to relax together while we are moisturizing. While we could make some other sort of face mask, she's super interested in using a food to do it! We will talk about what foods do for our bodies too!
Bonus: Bubble Bath!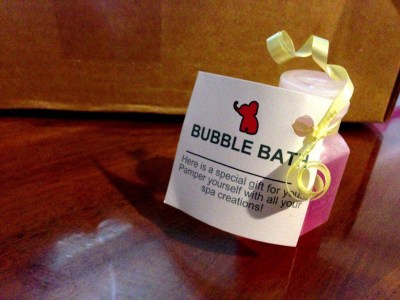 My daughter is a bubble bath freak. (Do you remember the Honest Company bubble bath incident? The one where she poured half a bottle into the bathroom rug? SIGH). She asks for bubble bath every day and I thought this was the perfect inclusion for the Crafters Crate Spa Box!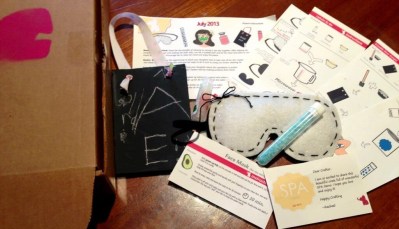 We have extended the spa theme by testing multiple moisturizers and doing a nail salon too (see, sleeping mask! I believe they are rocking some colors from the Julep Brights collection). Overall we loved this box and the kids were especially intrigued with the mixing and stirring instead of just general activities. I referred frequently to the grownup guide to go back to the talking points. Even better – I do not have the items to complete a single one of these projects on my own. And if I did, we probably wouldn't get to them.  Although my daughter is a bit younger than the target age range she was able to do most of the projects without any real assistance. Don't forget to get $10 off any Crafters Crate subscription by using the code splurge10!!