First up! New Martha Stewart GLOSSYBOX available. Sweet! Just go here, hit the GLOSSYBOX logo to go to the home page and it's at the bottom. I'm dying to know what's in it! It's $15, has 3 items, and comes with a 6-month subscription to Martha Stewart Living! This is a one-off box. But it's a box. With a subscription.
Noticed that today's MeUndies deal is 30% off your cart (code MON30)! Awesome deal today, love me some MeUndies!
Loving Scoutmob. So much fun to shop. Nope, not a referral link or any special deal, just love getting it in my inbox!
Just back from the mall. Is it ever hot out there!  Here are some snaps!
Party City clearance haul – Pinkalicious Party stuff – $2 total! (plus Costco Animal Crackers)
These can't be actually flattering on anyone.

Costco
We stopped to grab lunch at the food court and when we were leaving there was some sort of altercation. It was nuts. I said KIDS! STROLLER! NOW! and got the heck inside. I don't mess around with stuff like that.
Anyways, I saw this. Costco is playing dirty. Massive loads of Biscoff for $7. We left them on the pallet and got blueberries, strawberries, bananas, and a papaya instead. And animal crackers. It occurred to me while I was there that I should probably mention that I own Costco stock. Not as any part of some sort of blogging scheme. Just because I love Costco. I love their stuff and I love their business and the way they treat their employees.
Target Clearance Haul
Didn't get a chance to go yesterday and ours was cleaned out and we missed out on the kids chairs. Such a bummer. Here's what we got. The kids are currently gardening in the living room. Awesome. The kids artfully arranged their own stuff for these ones. We got a gardening tool, bucket, watering can, shovel, and gardening gloves set for each child for just a few dollars! A is now telling E that he's ready to go green and help the environment! Plus there's Justice League placemats, stickers, velvet coloring squares, coloring rolls. And one Wonder Woman divided plate and tray. I thought the tray was so cute and retro and I have no idea what I'll use it for. Psyched about those watering cans. Under 2 bucks each and the kids begged me for them last week!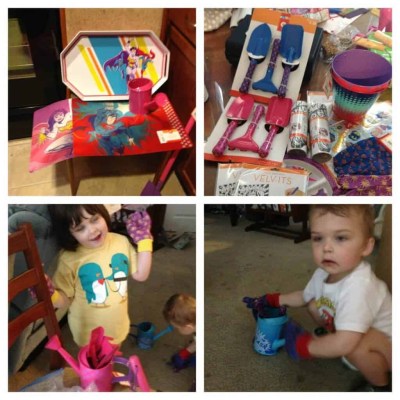 I love doing one little newsy post a day but I'm kinda terrible at themes, so It's Monday! Any great finds today?