Petit Vour sent me this box to review.
Petit Vour is a vegan and cruelty-free beauty subscription box. It runs $15 a month and contains 4 curated beauty samples for you to try as you hunt for those elusive vegan products. Petit Vour is a play on petit four (you know, one of those dainty beautiful little sweets that are usually boxed up in sets of four).If you join up (currently you need to request an invite) and feel so inclined, email [email protected] to let them know Brandy at MommySplurge sent you!
The box is green and super cute and has their lovely logo on it. I love that logo!
When you open the box you will see that underneath the flap it says "Be Bold.Be Kind." I thought the tied with a string packaging was cute. The black wasn't typical for a green/vegan subscription and I thought it was refreshing. Can black be refreshing?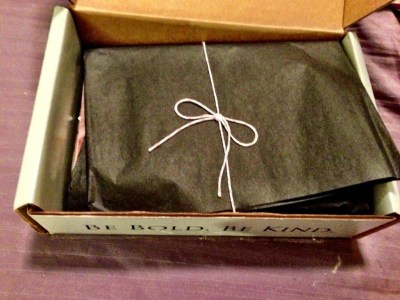 The information card in Petit Vour is black and white. It tells me if I buy directly from the PV store I will get a reward of 20% of the product value back in PV points! Nice! It also says you can leave a comment on the blog to earn points. I'm not sure how that works but I am sure as Petit Vour grows they will start doing that! (I got an email yesterday that it will start soon!)
The back of the card gives the four products you are getting in your box in silhouette. I kind of like this because it doesn't spoil the inside of the box. Honestly I only look at the cards afterwards. I like seeing what I am getting!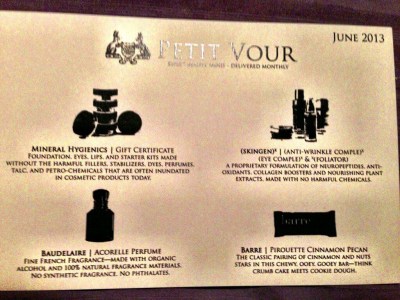 What's in the June Petit Vour Box?
I don't know why my group shot is so terrible today!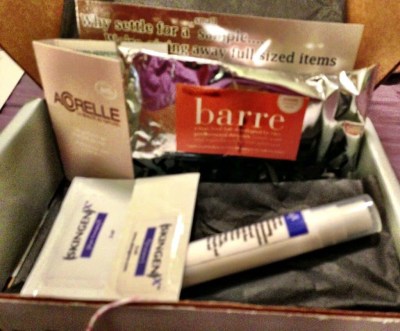 Barre Pirouette Cinnamon Pecan Bar. We have had these before and they are very tasty and full of cinnamon goodness. My kids really like them too. Petit Vour nailed the description – like a chewy crumb cake. Nutty without being too sweet.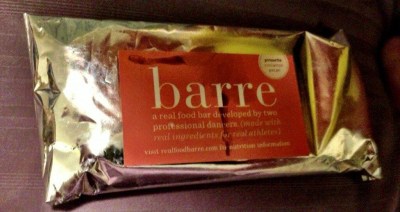 If you have never seen the kind of bar Barre Bar is (haha I had to write that), I stole it before it got eaten to take a picture! It's the squishy kind.
SkinGenX Anti-Wrinkle Complex, Eye Complex, and Xfoliator. I applied some of the Anti-Wrinkle Complex. It was really scent-free which I liked. I love smells, but not on my face. It has nourishing plant extracts and no harmful chemicals. It's all full of neuropeptides and other stuff to improve my skin. YAY!
I don't have my head in a hole, there are complaints that anti-aging products were included in this box. But seriously, 20 year old women should use anti-aging stuff too. Bestie can tell you I have been taking care of my skin for years and have sometimes been on her case about it. I get compliments on my skin! I don't do anything crazy like Clarisonic, I just use products. (my big problem is hormone related melasma, which I am working on!).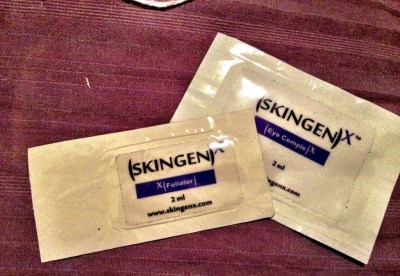 Baudelaire Acorelle Perfume – Lotus Bambou Relaxing perfume with bergamot, orange blossom, and cedar. I LOVE this perfume. It is so bright and happy and not perfumey. It is 100% natural and does not contain synthetic fragrances or phthalates and uses organic alcohol. I am sniffing my wrists right now. It is really delightful.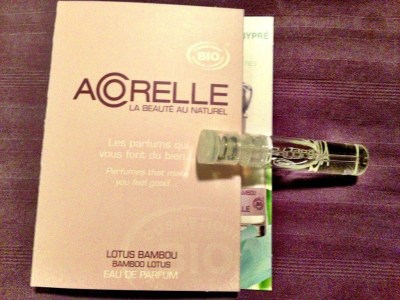 Mineral Hygienics $15 Certificate. Instead of a sample, you get a coupon for a mineral makeup product. There is shipping involved with this coupon, and to compensate, PV says
the full value of your shipping costs associated with the gift certificate will be added to your PV account in the form of PV Points. For some of you this means your next box will be FREE (for prepaid accounts, a Petit Vour is added onto your subscription), because you've reached 1500 points! We will also make sure that shipping costs are included in any gift certificates in the future.
I was impressed with this response. Petit Vour is a new box and is still working out kinks, and certainly that is more than Pop Sugar will commit to. I think this showed a nice commitment to their subscribers. Petit Vour is extremely receptive to feedback.
I was happy with this coupon and I purchased a mineral finishing powder for $4 before shipping (Petit Vour is reimbursing me for my shipping costs because this is a review box). I will be super happy with my new powder. If I had paid for the box, it would have been $19 for everything including the powder, plus points on my PV account.
I complain when companies do coupons sometimes (I just spent 20 bucks redeeming a coupon from another box earlier this week, ouch!) but this one was a good one (after the points/dollars reimbursement), because it was relatively high compared to the prices of the products. I needed this anyways and if you can't find what you want for $15, the cost above that is minimal, and you are getting full size and exactly what you want! I almost bought some (of a different brand) yesterday because I couldn't find mine on Monday and I had to use a mineral finishing powder with mica in it and I felt too sparkly. Unpacking still!
Oh, also my order from Mineral Hygienics was shipped 13 minutes after I placed it.
My only complaint about the coupon is that they didn't use a unique code. If you're a regular reader you will know it's a pet peeve of mine. I contacted Petit Vour and gave them my feedback on that!  That may be my particular axe to grind but I think we may see that happening in the future! Remember that Petit Vour is new! If you need or want this style of product, you know that it's hard to find, and I am happy to see my workload and tasks diminished in any way possible. That's why we like boxes, right?
I thought overall this was a great box. It is a few bucks more than what you'd pay for Birchbox, but again, all the products are vegan and cruelty free. I was surprised to see stuff like Skingen in the box (I always think of those kind of things as chemical-y), I wouldn't have thought that would be something that meshed with Petit Vour's philosophy, but obviously manufacturers have really stepped up their game.
This is an extremely natural box (without being crunchy!) and you will pay a premium for it, but if that is something you are committed to, I would recommend this box! I love that veganism is more universal now and embraces more commercial beauty products.
I'm looking forward to the July box.  I have been particularly impressed with Petit Vour's customer service and how well they listen to suggestions and I personally believe that the box will be improved next month. That being said I personally liked this box. Especially the fragrance sample. I love my herbaceous smelly smells! I will update my review when I get my mineral makeup.
(I'm not a vegan, I love meat! sorry! I was a veggie for years and quit because I wanted a hotdog. Please don't judge.)
I got my Mineral Hygienics finishing powder (I got the regular, not the matte – I have dry skin) on Friday afternoon but I was lame and didn't check the mail because my mailman dumps packages off at my door for me but not small things. I don't understand it either.  Anyways, it came with a catalog, a voucher for some tea, and my powder.
I loved the cap on the powder. You can seal it off! I looked everywhere for the ingredients and finally found them on the bottom of the canister. Rice powder, magnesium stearate, zinc oxide, and iron oxides. It's a bit of a different texture than I am used to, like more wet, except it's not wet. Hard to describe, but works great! Its soft and in a totally different way than Bare Minerals, which is what I had before. It's not gritty, but it seems like the particles are larger. It's a totally different product and I think it will be excellent for really "setting" your makeup. I thought it went on best with a little buffing, so you might try a kabuki-style brush.