I was so excited to get this box! My nails have been a train wreck with all the travel – I haven't kept them painted properly and they have been peeling. Gross. I had this box sitting around a couple days and last night I gleefully busted it open (to paint my nails… while watching Glee!). Julep is a nail polish and beauty box (and boy have they have been branching out!). It's $19.95 a month and you can pick to skip or change your style profile after seeing the colors. Love it!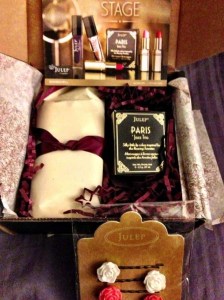 What's in the May Julep Bombshell Box?
I loved the packaging for the May Bombshell box. It sooo went with the lovely Roaring Twenties theme and I can't wait to go see Gatsby with my grad school bestie this weekend! She's visiting and I am so excited!
Zelda: Pink champagne metallic. That's exactly how I described this one in my head before looking it up! Name went perfectly with this color! It is a lovely color and doesn't clash with my skin tone as I had feared. This is more of a toenail color for me, but as you can see, I went for an accent nail.
I have never done that before in my life! I thought it would be fun!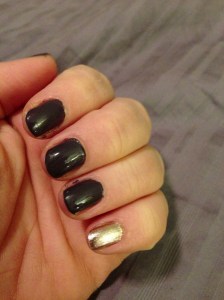 Gabrielle: Smoky mulberry crème. I had trouble coming up with a color name for this in my head. That's probably right.  And oh my goodness, this is my favorite nail polish color. EVER. Literally ever. It's basically a purple greige and the best best best neutral color for me. Now I normally love Julep's tiny bottles because I just think switching it up all the time is so much fun, but I know I am going to feel sadness when this one runs out. Which it will. Quickly.
Paris Jazz Lipstick Trio: Silky little lip colors inspired by the Roaring Twenties. Set Includes: Charleston – Cranberry lip sheer, Sweet Lorraine – Bubblegum pink lip sheer, Lady in Red – Matte crimson lip color. I loved how sheer these colors were! I get a little antsy about dark dark lip colors but I love them sheer. Amazing staying power too. The Paris trio is out of stock but the New York Trio is still available.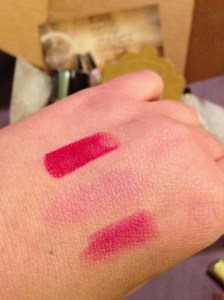 Cute little barrettes. I know a little girl who will love these to pieces!
I still haven't received my add on polish, which is Millie: Vintage indigo crème, from the Boho Glam box. I can't wait. Although I don't want to take off Gabrielle, I love it too much!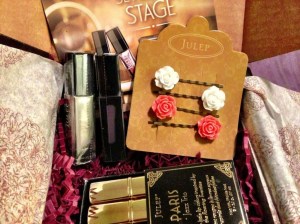 Should you splurge?
I thought this was a gorgeous box! I probably would have upgraded this month but I just can't add 8 polishes to my collection every month! I think everyone should be a Julep Maven and you can sign up here with my link!  ALSO if you want to pick up a single polish use code DERBY to save 30%!  Don't forget you need to be a Maven for the free shipping and if you haven't already sign up with the code FREEBOX! You know… To get your first box free!